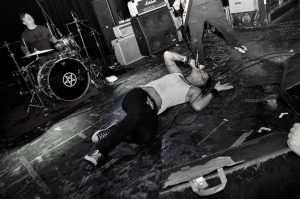 When Seattle punk band The Derelicts first formed in 1987 it seemed like they "were in the right place at the right time playing the wrong kind of music."  While grunge started to take hold, the band doubled down on their punk and hardcore sound, delivering a vicious blasts of invective, that still managed to find them an audience, not just for their music but also for their in-your-face, chaotic live shows. They also lived fast and hard, so the band only existed for five years before breaking up.
After breaking up, the members of the band lived hard lives filled with drugs, jail and death. It looked that was it for The Derelicts.
But, then in 2016, the band came together for a show. This new line-up featured original vocalist Duane Lance Bodenhemier and along with original guitarist Neil Rogers, along with Zeke drummer Donny Paycheck on drums and a succession of bassists. (Though, right now, they have Jason Freeman on bass.) The gig was a roaring success. The Derelicts were back.
This all leads to this album we have right here. Life Of Strife is one adrenaline shot of a punk record filled with vicious riffs, slamming drums and ripping guitar solos. It contains a bunch of new songs along with a selection of older songs from their catalog, all played with a wild, life affirming energy. It rocks, rages, and then rocks some more. Bodenhemier voice is still expressive as ever, and the band seems to be savoring their second chance at life, by making the most of it. Not to mention, it's perfectly captured in all its raw powered glory by the legendary Jack Endino, who also produced their material back in the day. So, for any fans of punk rock, getting this album is a no brainer. It will slay you.
Do call this a comeback. A big time one.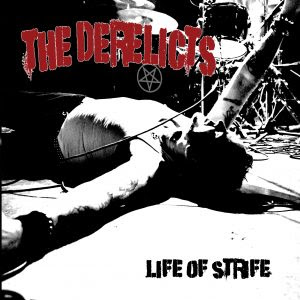 Connect with The Derelicts on Facebook and the web.  Photo by Christina Rogers, courtesy of Fly PR.  For more from Alternative Control, find us on Facebook, Twitter, Instagram, Soundcloud, and bandcamp.