After seeing the video premiere for "Trapped" off Crystal Spiders' debut studio album Molt, I had to find out more about this entrancing North Carolina band. Frontwoman and bassist Brenna Leath talked with me about what's going on with Crystal Spiders, as well as how she got her start as a musician, her other projects The Hell No and Lightning Born, and more. Enjoy!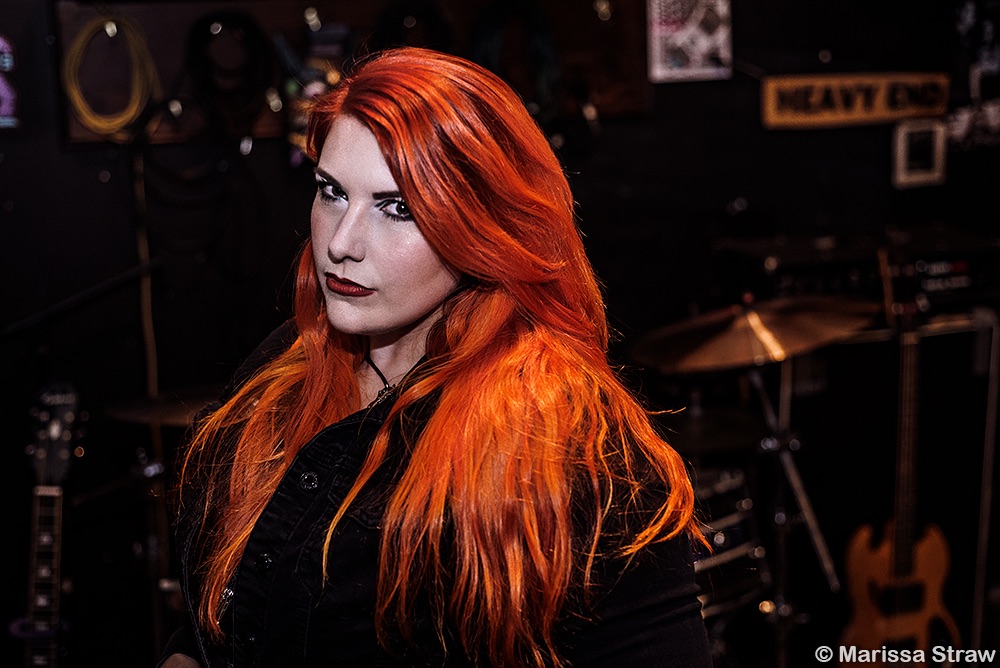 Alternative Control: Do you have a "main band" or would choosing between them be like picking a favorite child?
Brenna Leath: Right now, I have three bands — The Hell No, Lightning Born, and Crystal Spiders. All of them are pretty firmly seated in the rock / metal family. The Hell No has been going for about 10 years now; the last album has some classic rock influences, but in our latest incarnation, I'd say we are leaning a lot more NWOBHM / power metal.
Lightning Born first got together in 2016; we wanted to do a more stripped down "protometal" type group that kept it classic and true to '70s old school stuff like Deep Purple, Blue Cheer, and Black Sabbath… what you might call "the primary colors."
Crystal Spiders, like a lot of third children, was "an unplanned accident" in 2018 and has the tendency to be less restrained than the other two. (because only crazy people have three or more bands) – but, they're all very different bands and I love all of my "children" equally. They're all my favorites!
Mostly I just operate on the philosophy that whoever has the most stuff going on that month gets the most time – sometimes it's a precarious balancing act when they've all got back to back shows and runs in the same month, but usually it's not an issue.
AC: What inspired you to start the Crystal Spiders project?
BL: I had played rhythm guitar here and there in the past, but never really felt comfortable playing while singing lead. I decided to try out bass, and took to that much more naturally. People had told me that singing and playing bass is harder than singing and playing guitar; but for whatever reason, I found the opposite to be true. So, I had picked up the bass and started messing around.
When a friend of mine posted on Facebook asking if anyone wanted to start a fuzzed out rock and roll band, I thought that'd be the perfect chance to experiment and have some fun. Tradd Yancey, our drummer, was a killer addition for the tunes — he's been the perfect bandmate and creative partner. We started jamming, and within a couple of months, we put a demo out and started playing shows.
AC: What was the songwriting and recording process like for your upcoming album Molt?
BL: The bulk of the record was written in 2019 with me, Deloatch, and Tradd pooling ideas in between shows. We'd write a basic structure then refine them as we went. Mike Dean of Corrosion of Conformity was the natural choice to produce the Crystal Spiders album. Dean and I have done three records together now and he is also my bandmate in Lightning Born. He's an incredible producer – a fountain of knowledge with the patience of a saint.
We recorded most of the album in Dean's studio to analog tape right before the pandemic, but then Tradd and I had to finish remotely because of quarantine. I learned Ableton and recorded the guitars / bass / vocals for the last track ("Fog") by myself at home to an electronic drum track, Tradd replaced the e-drums with real drum tracks from his house, and then we sent the tracks to Dean to add finishing touches. Tradd and Dean constructed the drums and percussion for "Headhunters" and I recorded the vocals at home, then we sent all the individual tracks to Dean to mix. I have learned a lot more about home recording than I ever thought I would!
AC: The video for "Trapped" is really cool! The black and white gave it a creepy vintage vibe and the reverse footage was a neat effect. Can you tell me a little bit about the making of the video?
BL: A friend recommended Chariot of Black Moth to do an album trailer for Molt; we loved it so much that I asked if he would be willing to make a full length video. He did an amazing job!
AC: I know this is the "What does your band name mean?" question of 2020, but how have your musical projects been affected by the COVID-19 pandemic? And how are you dealing with it personally?
BL: Lightning Born and The Hell No haven't been able to get together since March. The Hell No's last album was out in 2016 and we were actually about to gear up for a new one before coronavirus hit, which would have been our first album with our new lineup. Lightning Born was also gearing up for the studio for our sophomore, so that's likely delayed. LOTS of gig cancellations… a short run with Plainride for Lightning Born, some shows with Heavy Temple for Crystal Spiders, several festivals. Most of us are feeling extremely disappointed right now. We pour our heart and soul into our albums, booking, and performances and it's depressing to watch it all fall apart.
On a personal level, I have been working from home all of quarantine, which has gotten increasingly intense. I am an application security engineer for an analytic software company, a job that requires a lot of problem solving and can be very stressful. It sucks not having the outlet of live music. But, everyone has a different sort of stress right now and we're all doing the best we can to stay safe and healthy. I'm just trying to stay positive and focus on writing the sophomore Crystal Spiders and Lightning Born albums. Some days that's easier than others.
AC: You have a very powerful singing voice. What is your musical background like? In regards to singing, any tips for a noob vocalist like myself?
BL: Thank you! When I was younger I did some theater and chorus type stuff — although usually I would get rejected from most singing activities I would try out for. One teacher told me my "voice didn't play nice with others," and I guess that is true, because over the years several people have told me they have trouble harmonizing with me… which may also be because a producer once told me that I am always "slightly under the note?" So, maybe my harmonizing troubles stem from the fact that I am always singing the wrong notes? Haha! That is probably why I was always drawn to heavy music. Some of the coolest voices out there aren't technically correct, and that's what makes them interesting.
Anyway, a couple of years ago, my buddy Mike Dean suggested I take some vocal lessons to condition and train it a bit better, since I would lose it or weaken it occasionally trying to switch back and forth between Hell No and Lightning Born. The vocal coach gave me a series of exercises that take about 10 minutes to do, and I would do them in the car every day as a warmup, before every practice, and before every show. Sounds that easy, and it actually was — the vocal cords are like any other muscle; they get stronger with repetitive exercise. After a couple of months of the daily drills, I didn't have any issues with vocal fatigue anymore. I'd recommend anyone who wants to get serious about singing take at least a couple of lessons with a good coach, get some vocal training exercises, and practice.
AC: I feel like the metal scene has changed a lot for women (in a positive way) over the past couple decades. Would you agree or disagree, and why?
BL: I would agree. Seems like there are a lot more new bands with a strong female / non-binary presence these days. In the media, you see less hypersexualization / reductive talk and more appreciation of musical skill regardless of gender. There's still work to do, but I think at this point, there are more allies for diversity in the scene than there are detractors. I think we're on the right track.
AC: Who are some of your musical inspirations?
BL: Depends on the day! Haha! Bass / vox, obviously Lemmy and Phil Lynott, but I think my bass rhythms and riffs are a bit more beat shaded and take some contemporary influences like Earthless into account. Although while we were writing the debut Crystal Spiders album, I was listening to a lot of Diamond Head and drilling Judas Priest songs for a couple of cover shows, so I definitely hear some Sean Harris / Rob Halford-isms sneak into my vocal melodies at times.
AC: Is there anything else you want to tell the readers of Alternative Control?
BL: Amplify black artists and support black-owned businesses. Try to be kind to others and be kind to yourself. Stay safe, stay healthy, stay gold, and with any luck we'll see you on the other side of this!
Molt will be released via Ripple Music on September 25th. Preorder digital copies from the band here and other formats from Ripple here.
Featured photo by photo by Marissa Straw Photography, provided by the interviewee.
For more from Alternative Control, find us on Facebook, Twitter, Instagram, Soundcloud, and bandcamp.  Plus, follow our 2020 coverage playlist on Spotify!
Enjoying our content? Support the site on Patreon!