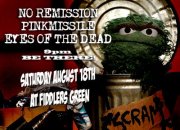 A satirical work of fiction…

SETTING – A local dive bar during the day.
AT RISE – Pink Missile is auditioning for some city officials. The song is  finishing up "CONNECTICUT TO HOLLYWOOD, SO WHO WILL BE THERE?!?!?!?!"
DANNY
Thank you very much!
Awkward silence. The city officials whisper to each other.
SUIT
Yes, uh… Thank you for coming in to play for us…
DANNY
Want to hear another?
ANOTHER SUIT
No, that's okay. I think we have the picture.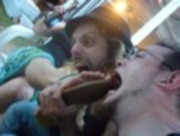 Beat. DANNY looks at his bass player.
DANNY
Are we done?
JESS
Looks like it.
JIM, the drummer, plays a rim shot.
DANNY
Thank you! We'll be here all week! Try the prime rib!
JESS laughs. They start to break down their equipment. SUIT walks up to DANNY to have a talk with him.
SUIT
Yeah, Danny. You guys are great. I love it, you have a great following, you're known, you've got bumper stickers on all the stop signs in town. You know, brand recognition. But you're just… You're a little too…
DANNY
What?
SUIT
You know what I mean, this is a family event, open to the general public. You're not everyone's cup of tea.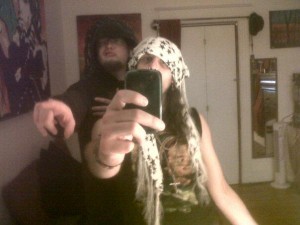 DANNY
You got that right, I'm a fuckin' cup of gin!
SUIT
Yeah, see, we can't have that.
DANNY
What?
SUIT
The language.
DANNY
English?
SUIT
The swearing.
DANNY
Oh, well, fuck that!
SUIT
Yeah, this is a city event – you guys don't fit in, unfortunately. You're just too heavy metal for us. Not really what we're looking for.
DANNY
What the fuck are you talking about? We're too heavy metal? What the fuck is that?
SUIT
Uh–
DANNY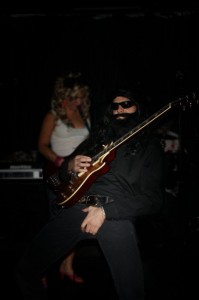 First of all, it just proves you fucks don't know what the fuck you're talking about. Just because I play guitar and it's loud and I have long hair and tattoos doesn't make me heavy metal. Have you ever heard heavy metal? DON'T ANSWER THAT, MAN! Because I don't want to fuckin' know. Because you don't want to fuckin' know. You wanna know about this town and music? Heavy metal music? Hard rock, rap shit, mother fuckin hard core punk mother fuckers? Fuck you! I'm from this town! This town made me! You think people in Stamford don't like metal? Don't like heavy music? You think we all like sitting around listening to pop idol shit? Fuck you. Mother fucker, we wore out Appetite for Destruction driving on these streets. You know how many times you have to play a CD to wear it out? What do you think kids do in this town? We go behind Stillmeadow School and listen to fucking music, that's what we fucking do. That's what you do in Stamford – BECAUSE THERE'S NOTHING ELSE TO FUCKING DO! But NO! Let's fucking close down the downtown and let fuckin' pop shit-fucks play for UNDERAGE DRINKERS – because you know they don't have any-fuckin-else thing to do in this fuckin shit-fuck, back-asswards, boring fucking town. Why can't you just support us? Man, we're fucking from here. This is serious, man. Fuckin' tax dollars at work, mother fucker. Let's close the downtown and have bands come from other places and have people come from other places to watch them. And children from New Canaan so their fucking daddies can bail them the fuck out because they HAVE TO DRINK TO SIT AND LISTEN TO SUCH FUCKING CRAPPY MUSIC!
SUIT
Well, I can see we have a difference of opinion.
DANNY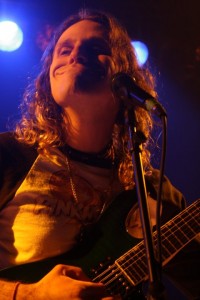 Yeah, it's my opinion you suck. You're fucking fake, that's what you are. You say you're doing this for the city, for the citizens– Fuck you, I'm a citizen. Jess is a citizen. Jim is a citizen. Your fucking tax dollars educated us. You paid for the music teachers that taught us. And we're not fucking good enough for you? Fuck you. YOU MADE ME! You made me hard, fast, furious, fucking, heavy, fucking, metal, in your face mother fucker! I spit on you! I spit on you as you spit in the faces of our citizens. This is serious! Stamfordites! Stamfordians! Stamford be dammed! This town in bullshit and it will remain bullshit until it gets a sense of civic pride. Oh, yeah, mother fucker. I said it. Civic fucking pride. You should be proud of the music that comes from this town, from its streets, from its citizens. But instead you fucking sanitize it, censor it and refuse to support it because it's too fucking heavy metal? You don't know shit about Stamford, mother fucker. We ARE metal. We are in your fucking face, loud mother fuckers and we're not fucking leaving until you let us fucking HEADLINE all fucking summer. You hear me motherfucker?
SUIT
Yeah, that's not gonna happen.
DANNY
Fuck you! Come on, guys, let's blow this fucking shit-stick popsicle bullshit.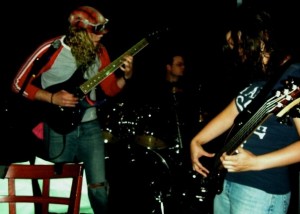 ANOTHER SUIT
Thank you for coming in.
DANNY
Drop dead. Come on, guys, let's go drink some gin!
JIM
Wait, our equipment.
DANNY
Oh, fuck. I had the perfect exit line! Now I gotta do this shit?
JIM
It's a tough life.
DANNY
No, shit. Why do you gotta have so many drums man? What are we? Heavy metal? This is bullshit. "CONNECTICUT TO HOLLYWOOD, STAMFORD TO BOLLYWOOD, CONNECTICUT TO HOLLYWOOD, SO WHO WILL BE THERE!"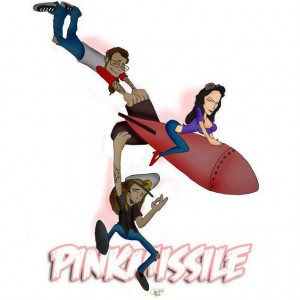 The lights fade as DANNY defiantly sings and the suits shake their heads.
BLACKOUT
by Vanessa David, ©2012.
Pink Missile might have been too metal for Alive at Five, but you can still see them in Stamford and elsewhere this fall:
8/18 @ Fiddlers Green in Stamford, w/ No Remission and Eyes of the Dead
9/8 @ Seaside Tavern in Stamford w/ Lyra, Xenosis, and Edenborn
9/12 @ Trash Bar in Brooklyn w/ TBA
9/22 @ Rack n Roll in Stamford w/ Physics of Demise and TBA

10/27 @ Rack n Roll in Stamford w/ Lyra, Hell & Back, and The Midnightmares
For more from Vanessa, visit her blogs Vanessa David – Actress, Playwright, and Rockin' Chick and The Headbanging Hostess.