By Pixie
I wanted 10, but well, that's on you, AFI (Marilyn Manson) and Gaslight Anthem (I don't even KNOW). I used to love you, you assholes!!
1.  The Theatre Zombies — In Early Mourning
Local band or not, this is the best fucking album of the year. The Theatre Zombies, since the first time I heard them, and then saw them, can do no wrong in my book. They are the perfect blend of everything. Horror punk? Check. Songs that get stuck in your head in the good way? Check. Songs about monsters? Check. Amazing lead vocals? OH MY GOD, Check. Harmonies? Double check. There is literally nothing this band could do wrong other than stop making music. They know their horror. (Hell, this album has an awesome song named "Dorsia" that blew me away first listen). They know their punk. Their instruments. Their talents. Do not doubt The Theatre Zombies. Do not taunt The Theatre Zombies. This band should be a national best-selling act. Get the fuck out of this state, my friends (and yes, I admit they are my friends – but only because I insisted they be my friends as a fangirl who was honored they agreed to play a show with one of my former bands). Do you not know The Theatre Zombies? Start with this album. Or any of theirs. They may well be one of the most consistently-kick ass bands ever, in that, I cannot think of a single bad song by them and buying this album the day they released it, I was in no way disappointed.
2.  Against Me! – Transgender Dysphoria Blues

Oh, Against Me! The relationship this band and I have. When singer Laura Jane Grace was known as Tom Gabels, I was working for a music Web site as the punk and metal writer and general content manager. Tom was off-kilter at this time. The band's music was… well… not as great as older offerings. And Tom was always getting into trouble. Fights. Violence. Bad shows. You name it. Well, Tom was dealing with a lot of shit. Like the fact that he needed to do all he could to become Laura Jane Grace. And I mention this all because it not only is the theme of the album, but once again, I hear genius lyrics and heartfelt passion and something more than pure anger from a singer I have liked for some time. Good for her. She found her place and turned it into a phenomenal album. I had the luck of seeing this band at Toad's Place in January of this year and it was amazing. But the real thing – aside from all the catharsis Laura Jane is feeling – is the drumming on this album. Dear God me I wanted to kidnap the drummer of this band and make him my own – and I am married to my favorite drummer ever. But there was something amazing about what this guy was dong on a 3, maybe 4, piece kit. But beyond that, I love this album. Favorite song? "Dead Friend". I have a few of those this year. I just don't miss them like Laura Jane does.
There are a lot of singers who can almost make you feel what they were feeling when they wrote and recorded their songs, but nobody comes close to Craig Owens, with his huge range of vocal styles that go from almost a whisper to the most pained scream you have ever heard. Chiodos is almost a "sit down and pay attention and feel this sort of band," but not entirely. Their music is entirely enjoyable without that sort of dedication to the lyrics and vocals, probably because the music is just so damned good. Walking the lines between hardcore, metal, emo, and punk, all equally capable – with even some slowed down moments (but nothing like Craig's acoustic side project, Cinematic Sunrise). I just loved this album from the first moment I heard it; from the first whisper to the last scream. It was an album a long time in the making from a band nobody was sure would reunite – especially after Craig started D.R.U.G.S. and toured with them. (And yes, there is definitely a lot of influence from that album – "Why the Munsters Matter," for example, would be equally at home on that band's single album as it is here.) The thing about Chiodos is, though, if you don't like Craig's voice, you won't like this band. And I don't think there's much middle ground on loving or hating the way he sings. Happily for me, I love it, and this is one of those bands that I hope keeps handing us albums (no matter how long we have to wait for them) as long as they have the passion and fury. Judging from "Devil," I don't think we're in much danger of losing them again any time soon. Right on point, boys.
4. Cry Havoc! – Let Cry the Dogs of War
I already reviewed and raved about this album. Let the review speak. It's fucking awesome. Our state breeds some amazing bands.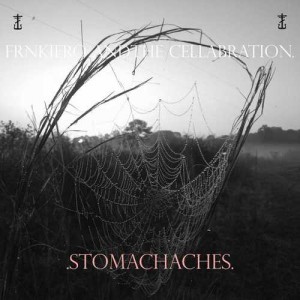 5.  Frnkiero and the Cellabration – Stomachaches
I'd be lying if I said I haven't loved pretty much everything Frank Iero has ever done. From My Chemical Romance, to Leathermouth, to now, Frnkiero and the Cellabration. It sounds absolutely nothing like either band – somewhere between the (almost – there was the inexplicable "Danger Days" –which really should have never been recorded, as the album they scrapped to release that was 50,000 times better) untarnished history of MCR and the raw howling assault of Leathermouth, this is a fully realized project that I'm not sure he could have done with any of his previous bands. It just came together perfectly and, as much as I love Gerard Way's vocals, listening to this album, I sometimes wonder what would have happened if they had shared lead vocal duties. Or maybe, if they had, this album – which is perfect in pretty much every way, while being almost impossible to express what it sounds like – is it punk? Yes, but not in the traditional way. Is it garage? Sort of. Is it garage punk? Not exactly. Is it emo? No, despite the reputation. It is an album that defies labels and genres and just rocks start to finish – which is really what punk rock is all about, right?
6.  Say Anything – Hebrews
I have always loved Say Anything. Max Bemis has such an amazing voice and a way with words. I actually have lyrics from him tattooed on my arm – "I keep trying to draw infinity" – and can I just say how annoyed I am at how trendy the infinity symbol has become and how little people even fucking understand what it even means? Digressing, as usual. But seriously. Say Anything – since "In Defense of the Genre" has, as much as I hate to say it, been inconsistent. They released a travesty of an album – Anarchy, My Dear, which I really really wanted to like – and love – but could not. And the song "Lost my Touch" even says "some say I've lost my touch in crafting Say Anything songs" – which is exactly the self-aware snarkiness that made me fall in love with Max and his band in the first place. Hebrews feels so much more like older Say Anything than anything he's done since Two Tongues – which was a side project. Fact is, he's happy. His crazy is in check. He's married to a woman he loves (and being married to the love of your life is so phenomenally life changing… I can attest to this as my greatest moment of 2014 was marrying my husband) and he has a kid (thankfully, I will never know that).. but he wrote another great album and I love it. And he screams a bit. Which is always nice. I'll never be able to pay back their guitar tech for literally picking me up and sitting me on stage at Max's feet at a show at Toad's place – and this was maybe 2008. It was the best, most amazing thing ever.
Much like Say Anything, Bayside is a band I have loved pretty much forever. This album was released with virtually no fanfare or even acknowledgement. Anthony's voice is as pitch perfect as ever, but the music is harder. Not hardcore, per se, but harder. More aggressive. More downpicking and beating the living hell out of the drums while Anthony is doing his usual emotional, harmonic vocals – with songs permeated by ripping solos and some of the best drumming I have heard this year. If I was willing to do research, I'd swear they borrowed Against Me!'s drummer, or vice versa. Absolutely a perfect album with the usual lyrics. "I have to lose the minor chords…and I'm not so sure I could because I'm the voice of the depressed… and that's what people expect…give the people what they want… then it hangs over your head.. I'm stuttering… because I never know what to say… I'm stuttering… because I never know what to say…"
Which ends with "sacrifice myself for you."
And it all led to a goddamned amazing album. Bayside can do no wrong. I mean "Who do I think I am kidding? Like I'm Robert fucking Smith?" Yes, Anthony… you are. YOU ARE. Believe in you. I have never listened to an album and wanted to hug a singer before this one. Anthony Ranieri needs a hug. Darlin, you are the singer and songwriter of one of the best punk bands of the past decade. You are loved. Welcome to the world of a truly tortured but talented artist. I adore this album beyond words.
8.  Rancid – Honor is All We Know
Well, it's a Rancid album. So it's great. Just ignore the opening song "Back Where I Belong" because it's trite and boring. Otherwise, it's a Rancid album. The overly ska songs suck – as always. (The only good ska song ever is "Ska Sucks" by Propaghandi—FACT.) The punk songs are great. It is what it is. I like it. Do you like Rancid? You'll like this. Do you hate Rancid? It won't change a goddamned thing.
9.  Gerard Way – Hesitant Alien
Well, here's another My Chemical Romance offshoot. The solo album from their singer. I like it, I do. It's very 80s and he has such a great voice and vocal styling, but it has to be hard to be outclassed in every way by your guitarist (Frank Iero). Though whatever the hell his brother's project is… well… Notice that did not make this list. This album kind of snuck in – I needed a 10th and went back and forth between this and Gaslight Anthem and decided the latter actively annoyed me, while this makes pleasant 80s inspired type background music. I feel like it could have been so much better with a stronger backup band. The drums are weak and the bass is almost imperceptible. It's a good first start… but a better backing band and a better mix will be how I decide if his next album makes it at all on to next year's list.
Disappointments:
AFI — Oh my GOD, why are you being Marilyn Manson?
Gaslight Anthem — You got beat by a barely passable Gerard Way album, probably because of my decade plus love of MCR. STEP IT UP.
P.S. The truly best thing of 2014 was marrying the love of my life. I love you, Steve. Even if you hate all of this music.