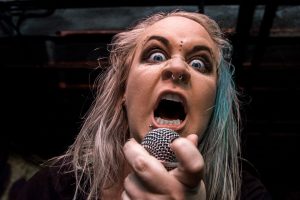 Alternative Control is psyched to premiere the title track off Casket Robbery's upcoming album From Hell.  These Wisconsin death metallers said of this song,
"We're super excited for the audio premiere of our single 'From Hell!'  Our favorite part about this track is that we got our fans involved and included.  We ran a contest for our fans to send in their best evil laugh.  But then we decided to include everyone that sent in their laugh, mixed the laughs all together, and created this creepy layering throughout the choruses in the song!  We have always had a close connection with our fans and we're happy to include them in each release we do.  Lyrically, the song is inspired by the gruesome Jack the Ripper killings in London in 1888.  Get crazy with this one!"
Welp, you heard 'em — listen below to get crazy!
Casket Robbery is…
Megan Orvold – Vocals
Cory Scheider – Guitar
Jeremy Kohnmann- Guitar
Derek Silloway – Bass
Alex Simpson – Drums
Check out Casket Robbery's summer tour dates here.
For more from Alternative Control, find us on Facebook, Twitter, Instagram, Soundcloud, and bandcamp.