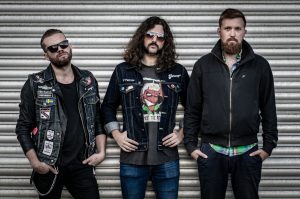 Action Rock is the title of The Drippers' debut album, set for release August 2nd, 2019 on The Sign Records. The album was recorded and mixed by Tomas Skogsberg (The Hellacopters, Gluecifer, Entombed and Backyard Babies) in the legendary Sunlight Studio in Stockholm, Sweden. The eleven-track album holds that classic Swedish 90s sound, but with just enough modern touch. This recording is a full on, raw power freight train of action.
Check out the Motörhead-esque preview track "Bottled Blues" below and let us know what you think!
If you're in Europe, you can catch The Drippers live at the following appearances:
3 August – Molotow, Hamburg, Germany – Weltturbojugendtage XV
22 November – JT Soar, Nottingham, UK – with Hip Priest
23 November – Black Heart, London, UK – with Hip Priest
For more from Alternative Control, find us on Facebook, Twitter, Instagram, Soundcloud, and bandcamp.