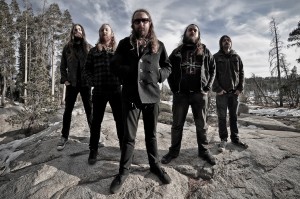 In our grand tradition of interviewing bands that go on tour with Skeletonwitch, Alternative Control had an electronic meeting of the minds with Early Graves guitarist Chris Brock, a few days before the band's third album hits the shelves October 30th.  Here's what he had to say about Early Graves' past, present, and future:
Alternative Control: Red Horse is your third album in four years. How do you feel your music has grown since the earlier releases?
Chris Brock: Our music has grown certainly since our first two releases because we have grown as people and as musicians. I am proud of our first two albums as they are our first twenty songs and represent five people sitting in a room making the best and most honest songs that they can. However, I am also proud of how much stronger the songs on Red Horse are.
AC: What motivated the switch to No Sleep Records?
CB: No motivation, no other label wanted to work with us the way No Sleep has.
AC: This is your first album with vocalist John Strachan. How has he changed or added to your sound?
CB: His voice is different but we didn't change our approach to music; we just made songs and tried to make everything sound as good as we could. There was never a change in what we wanted to do so that it could fit him or vice versa. You can't make chemistry, it either is happening or it isn't.
AC: After the unfortunate death of your original vocalist Makh Daniels, what made you decide to continue playing and touring?
CB: We continued to play after Makh died because we had to. There was no other option that felt right.
AC: Your recent Abomination Tour with Skeletonwitch and Havok had a pretty impressive schedule. What is it like being on a month-long tour with only one day off?
CB: I got drunk with some of my best friends and new friends in Witch every day for a month and drove around the country where I saw a bunch of my other friends, all the while getting to play heavy metal every night. It ruled. Being from home and not making money sucks obviously, but touring is fun.
AC: You guys came through Connecticut on that tour, to a place called Cherry Street Station. How was that show, or is it all a blur?
CB: BLUR. I remember drinking beer in a van and then headbanging with people and hanging with some friends.
AC: What regional bands on the West Coast would you recommend to us yankees that we might not have heard of?
CB: AcXdc, At Our Heels, Tigon, Kowloon Walled City, Bridgejumper, God's America aka The Seeds of Rape, and Corruption Scheme.
AC: What are your plans after your October shows and the album release?
CB: We are going to tour home and see what happens next. I will probably start writing because I like to do that. Maybe something in January, but not sure yet. See you soon. Check out our new album Red Horse, out on October 30th, and order it from www.nosleepstore.com.
There you have it, folks.  Early Graves has some shows booked on the West Coast…
10/25/12 Corona, CA @ Mayas
10/26/12 Los Angeles, CA @ Vacation Vinyl
10/27/12 Ventura, CA @ Bombay's
…But Alternative Control will keep you posted if their van heads our way anytime soon!