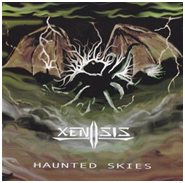 Progressive death metal is an oft-overlooked genre in the vast expanses of Metal-dom.  While sharing in the knuckle-dragging brutality of traditional death metal, the progressive side adds elements of jazz and prog-rock to create a more cerebral, angular product.  The newest release from CT-based Xenosis, entitled Haunted Skies, is tech-death to the core and an example of what can happen when great musicians stretch out their collective abilities.

With a running time of forty-eight minutes, Haunted Skies encompasses nine songs and one futuristic interlude full of well-executed, technical death metal.  Song arrangements twist and turn, doubling back just when you think a straight patch of road has been found.  Mid-paced sections, reminiscent of Domination-era Morbid Angel, morph into double-picked blast parts followed by a slow, jazz-influenced interlude.  Easily digestible background noise this is not.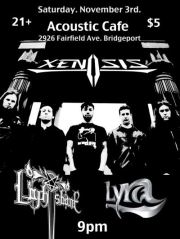 Guitarists Mark Lyon and Alex Perez intersperse beautiful harmonies with teeth-grinding dissonance and the requisite low-string chugging, keeping the listener off balance.  Leads, although sparse, add another facet to the material and range from Jeff Loomis-inspired shred (ending of "Through the Eyes of Devils") to melodic trade-offs a la In Flames ("Anthropophagy").  Dave Lengenhausen's bass pushes everything from underneath, occasionally rising to the top to kick off the next propulsive segment.  Drummer Gary Marotta is the key to this sonic brew – holding everything together with his mastery of polyrhythm and an understanding of when to grind and when to groove.  Newly-added vocalist Rhys Bufford tops this menagerie with his flexible-yet-ruthless growl.
Mastered by death metal OG Jim Morris (Obituary, Cannibal Corpse), Haunted Skies is dense and, as a listener, the key is to let it percolate and sink in; instead of a herky-jerky ride through a dark cave it becomes a rail-smooth roller coaster of peaks and valleys.  The biggest criticism here is while the songs have large bits and pieces that stick, Haunted Skies feels almost too ambitious.  Instead of one contiguous statement it becomes a puzzle crafted from disjointed riffs and melodic solo parts stuck together, occasionally with force, by rhythmic glue.  Xenosis sounds like a band on the cusp of releasing their Whisper Supremacy – a career-defining work that all subsequent releases are compared to.  The ability is there, in spades, and Haunted Skies shows the band is not short on ideas.
Upcoming Xenosis Shows
11/3 @ Acoustic Cafe in Bridgeport with Lyra and Lightsbane
11/30 @ Cherry Street in Wallingford with No Remission, Lightsbane, and Mortifica
12/13 @ Ralph's Rock Diner in Worcester MA
12/14 @Silk City Music in Florence, MA with Alcoholicaust, Eviscerate, and Replacire