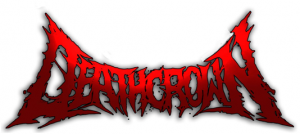 Editor's Note: Deathcrown is another out-of-town band that will be playing Slothfest 2017 at Bleachers in Bristol on Saturday, July 29th.  Let's give them some stories to take home, Connecticut!
Introduce the band to AltCtrl: who are you, where is home, and what were you drinking when the band was formed?
I'm Mikael Parks, but many call me Parks to not get confused with the plethora of "Mikes" on this rock.  I do all the vocals for Deathcrown.  We are a death metal band out of Richmond, Virginia. I'm pretty sure we were drinking dark beer and, of course, a little bourbon on my part.  I drank some water too.  Oh, coffee as well…for those early morning sessions of brutal.
Deathcrown proudly flies the flag of "old school death metal" [OSDM].  Was this a conscious decision when the band started or did initial writing sessions uncover the musical direction?
It definitely wasn't conscious decision. We just decided we wanted to return to our roots after taking decades off doing other genres. Which some were just other sub-genres of the style. Some, not so much. Our roots definitely began in the early 90s in death metal bands.  So, yeah, we decided to form one again and have fun with it. It is definitely considered old school death metal these days, but it's just full circle for us.
A quick scan of the band's social media uncovers a couple of line-up changes.  Have these personnel moves changed the sonic aspects of the band or does the "mission statement" keep the riffage on a solid path?
Nah, not really. Sonically, we remain the same for the most part. As for the content, not much has changed either. Everyone in the band has some kind of input. Luckily, our new members are on the same page and get what Deathcrown is doing. I'd also like to mention that our former band mates will always be a part of the band in a sense and we are all very close friends.
What is next up for the band in terms of releasing new music and/or touring?
We are currently recording for a split album release with a band from Sweden. I'm actually taking a break between vocal tracking sessions to write this. Anyway, it's a split that will feature 4 songs from both bands with a release slated for around the end of September through Lost Apparitions Records.
Touring? That's something we like to do a lot and as much as possible. The next tour will be four weeks out to the West Coast and back. We will be kicking that off on September 22nd.
Until then, we have some weekends lined up. We will be hitting New Jersey at the Meatlocker for July 28th on our way up to Slothfest, which we are really stoked to play– it will be our first time in CT. Then we have a weekend in VA and then we head up to the NYC Metal Punk Death Fest on September 1st in Brooklyn.
Name your "Big Four" of old school death metal.
I can't speak for everyone in the band, but I will give it a go even though it's a hard question to answer: Dismember, Death, Entombed, Morbid Angel.
Runners up: Desultory, Autopsy, Carnage, Nihilist, Bolt Thrower, Carcass, Grave, Gorefest, Massacre, Unleashed, Brutality, Demilich, Edge of Sanity.
How many band members have a picture of Dan Swanö tattooed somewhere on their body?
Everyone.  Tattooed in our minds for life!
Any other information or details you'd like to pass on to our misanthropic readership?
Yes! If you're into old school death metal that's angry, go find us on Facebook and Instagram. We are pretty adamant about keeping people in the loop. Also, bring your sweet asses to Slothfest July 29th! Oh and we love you. We also like beer, bourbon, tacos, and touring.
If you had to pick one old school death metal song to play for our alien conquerors to save the human race, why would it be "Override of the Overture" by Dismember?
Does a bear shit in the woods? Haha. Because it is one of the best death metal songs written.
Check out Deathcrown on BandCamp [https://deathcrown.bandcamp.com] and throw them a "like" on Facebook [https://www.facebook.com/deathcrownband].  Even better – head out to Bleachers in Bristol, CT on July 29th and see them destroy live with seven other brutal acts at Slothfest 2017: Easy Stud.  All proceeds from the show will be donated to the family of Ezra Langston, guitar player from Alcoholicaust and longtime member of the CT metal scene who passed away unexpectedly in June.
For more from Alternative Control, find us on Facebook, Twitter, Instagram, and bandcamp.