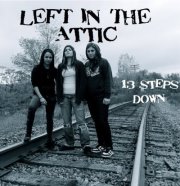 Being so close to New York, Stamford music-lovers get to enjoy a lot of great bands from "across the border."  Left in the Attic and Tied for Last are two of the many NY groups whose sound waves can't be contained by the state line.
Best friends Murphy, Crissy, and Jacks formed Left in the Attic in 2008, a reincarnation of their high school band The Closers.  Since then, the Bronx trio has recorded two albums and played shows all over the tri-state area.  Their up-tempo garage rock is reminiscent of Hendrix or a grittier Joan Jett, and you can hear it for yourself at Seaside Tavern on December 30.  They'll be playing with Arcane Malevolence, CTCR, and another great across-the-border band, No Remission.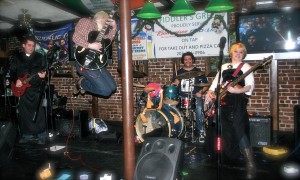 Unfortunately, you'll have to drive towards the big city to see Tied for Last, at least until the next time they're in town.  The Yonkers punk band joined The Midnightmares, Arcane Malevolence, and Pink Missile at Fiddler's Green in Stamford on December 10th and won over a room full of metalheads that had never heard of them.  Their tight performance and good sense of humor had all the bearded leather-jacket guys singing along; the hit song of the night was definitely "Please Daddy, Don't Get Drunk This Christmas."  Half of Stamford is still humming it three days later!
Connecticut folks, what's your favorite local band across the border?  New York folks, did you know that there are bands in Connecticut?  Do you listen to any of them??  Leave a comment with your recommendations, or contact us!
Upcoming Shows
Left in the Attic
12/21 @The Delancey in NYC
12/23 @ Parkside Lounge in NYC, w/ The Perverted Hymns
12/29 @ UC Lounge in NYC, w/ The Perverted Hymns
12/30 @ Seaside Tavern in Stamford, CT, w/ Arcane Malevolence, No Remission, and CTCR
Tied for Last
1/13/12 @ Otto's Shrunken Head in NYC, w/ Bloody Muffs and The Dead Tricks
2/20/12 @ Otto's Shrunken Head in NYC