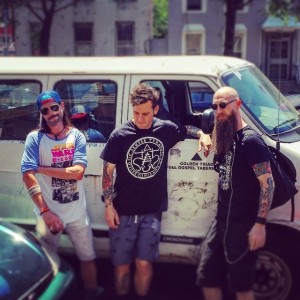 Brooklyn black metallers Prostitution will be making the trek to Wallingford, CT's Cherry Street Station on January 15th to share the stage with Xenosis and Jimmy Junk Bird and the Stiffs.  Guitarist Russ Cowen, bassist Jesse Adelson, and drummer Jason Spence talked with Alternative Control earlier this month about the band's new material, the benefits of being a trio, and more.  See what they had to say below…
First, can you tell me a little about the band's history?
Russ: My singer from a previous band met Jesse at a wedding on Long Island.  We all started jamming, with Jesse filling in on bass. Some folks dropped out and we got Ben Bloom on drums and formed Prostitution. Ben moved and Jason came on board, and here we are.
Jason: Prostitution was around for a few years before I joined up. In fact, I was in a couple of bands that gigged with them. We were at a party at Russ's place during a time when I was in between bands. Russ and Jesse were bummed that they weren't playing the Prostitution material anymore and we basically came to the conclusion that it was a brilliant idea for me to start learning the songs.  I've been jamming with them for nearly a year now.
Jesse: They got that one right. We have all been in several bands and at the right time Jason was available to be our drummer after a almost  two-year hiatus.
Your version of black metal has some really catchy moments.  What is the band's songwriting process like?  And who would you count as influences?
Russ: Oh boy. I dunno, sometimes somebody will come in with something and we will just hammer it into shape. Or we will just find something.  I like Pink Floyd and the Rolling Stones, 70s prog, 80s stuff… Blues guitar players of all kinds…  The other guys listen to all sorts of thing.  We just try to write good songs. I like catchy music.
Jesse: We mostly write on acoustics to make sure every note is heard. Distortion does just that, distorts the sound. We don't wanna pass any BS on anyone just because it's heavy. Our influences range. Mine are David Bowie, Queen, The Blood Brothers, and 80s synth pop.
Jason: I haven't written much with them yet. Jesse sent me a handful of songs, I basically learned Ben's parts and modified them to fit my style.  So far, writing consists of someone bringing in parts and we work them out… Jam them to see if it fits and where it fits. I suppose when we write, my main influences range from Gojira to 80s British pop rock to Black Sabbath to bands like Behexen and Belphegor.

Do you find any specific advantages or disadvantages to being a trio rather than a four or five-person band?
Jason: It's far easier to write music… Get parts down and it's nice to not have to rely on a 4th or 5th person to do things. My first band was a 3-piece and I honestly prefer it. Everything gets done faster… we can achieve a better feel and sound as a trio.  Traveling is easier.  The downside is that there is less of people to split the cost of all things that are band.
Jesse: More room for us to shine individually.
Russ: Trios get to stretch out more. I've always loved trios. The Police, Prong, ZZ Top, Rush… Also, less people, less hassle. Way to put the trio question as number 3. 😉
You guys have a mysteriously small amount of music streaming on the internet.  Are there secret unposted recordings somewhere?
Russ: Yes, yes there are.
Jason: Yes. Yet to be revealed. Things are changing….
Jesse: We have some older recordings, but want to release new stuff with our newer drummer. 2016 for sure will see a new Prostitution release. We have put out two 7″s that look and sound tight as hell.
Your music is available on vinyl and digital download. Obviously everyone does digital downloads now, but why did you choose vinyl over CD or cassette (which seems to be the other "hip" thing, in addition to vinyl)?  How did the vinyl sales go?
Russ: We are all vinyl enthusiasts. It seemed natural. Sales went well enough that we printed vinyl a second time… They just look really great.
Jason: Or vinyl sells rather well. Digital downloads are definitely the way to go. We will be doing some special things in that realm with the next recording.  And, fuck releasing cassettes. I get the whole nostalgia thing. Listening to a side at a time. Blah… If you're  going to spend money on something physical buy vinyl. It's a far better sound.
Jesse: Vinyl sales have gone pretty well. Vinyl rules, tapes drool.
You mentioned on Facebook that you're beginning to work on new material.  How will the new stuff be different than the old stuff, or a progression from it?
Jason: I bring a slightly different sound into the mix. It's a bit heavier overall… A bit doomier…  I have a heavy grindcore background so sometimes that shows.
Russ: Ah, you know, you try not to write the same song over and over. I try to think of what we don't do and then try to do that.  There is a point where it's like, no more strummy minor chords…
Jesse: Heavier, more progressive, sluttier.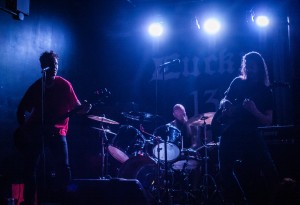 Prostitution was originally going to play Cherry Street with Xenosis in September.  How did you get hooked up with those guys?
Jason: Through Owen Burley of (Jesse's other band) Beast Modulus. They met at MDF last year.
What is the metal scene like in Brooklyn?  
Jesse: Tight knit. Everyone's down and supports each other. Lucky to be a part of it.
Russ: It's great. You know, metal people are gentle. Everybody is really friendly.
Jason: There's a ton of good bands making the rounds and a couple new venues have popped up lately that support the scene.
What are your proudest moments as a band?
Russ: Every now and again, we nail a part that we've been chasing around, playing crazy… And then it's fixed.
Jason: Our trip to PGH which resulted in us being stranded in the prostitution capital of the country, Carlisle, PA.
Jesse: Just the music we produce and the fun we have. High energy, melodic brutality. If it wasn't my band I would definitely go to every show.  🙂
Why did you call yourselves Prostitution?
Russ: It's such a good name. Clearly, we had no choice.
Jesse: It really is the best name, so it was an easy decision. Always wanted to name a band that.
For more from Prostitution, find them on Facebook and bandcamp — and get your ass out to Cherry Street on January 15th!  Event info here.
And for more from Alternative Control, find us on Facebook or follow on Twitter/Instagram at @AltCtrlCT!
Photos courtesy of the band.