How many bands is that guy Charlie really in??  Alternative Control talks with this fixture of the eastern Connecticut metal scene to get to the bottom of many pressing questions…  But first, have a listen to "Plague, Take Me," the debut single from one of Charlie's many bands Low Moments. This is in fact a high point on our upcoming Volume Doom compilation; as much as Charlie and the other Low Moments members make fun of themselves, the moving doom rock song is an optimistic outing for a group that played their first show just six months ago.  
Like it?  Of course you do.  Come see Low Moments along with Mourn the Light, Owl Maker, Pinto Graham, and Gorge at Altones in Jewett City this Friday (2/22) — free CD copy of Volume Doom with entry, so you can listen to Track 11 on repeat!
Now back to those questions with Charlie…
So you sing and play bass with Low Moments, do vox and guitar for Sentinel Hill, and….. Any other bands I'm missing??
I'm in a 90s English grindcore-themed band with my 7 y/o daughter called Animal Schoolbus.  We put out a CD when she was 2 and it can be found on Youtube.  I also have a solo acoustic thing called Charlie Sad Eyes.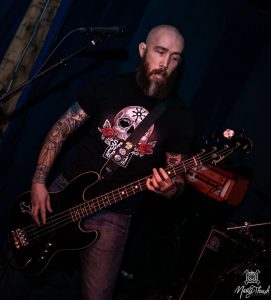 What happened to your previous bands Banth and Holding onto Nothing?
Holding On To Nothing came first and just sort of fell apart.  We were getting some momentum, playing from NYC to Maine, even got to play with Life Of Agony — but it just dissolved.  Right after that, Rob and I got with the Punzalan brothers and did Banth for awhile until Tattoo Jake moved to New York.  Too bad, that band was fun.
Both Low Moments and Sentinel Hill seemed to have started around the same time.  Why start two new bands instead of one?
Low Moments happened after Banth went away. Rob and I realized we weren't done with HOTN-style self-deprecating sad rock so we put Low Moments together.  We wanted to mix doom rock with hardcore and it came out sounding like sad alternative pop-punk with some doom riffs.  But whatever, it's fun.  Sam and Laken from Low Moments can't get out and play as much as Rob and I would like to, so we started Sentinel Hill with Aaron from When The Deadbolt Breaks for that reason.
Low Moments is contributing a track to Volume Doom, and you guys are currently in the process of recording a larger release.  Can you tell me some details on that?
We're recording two EPs, six songs each.  We're doing it at Rob's studio, Project 7:06.  We don't have a realistic release date because we're also recording a Sentinel Hill demo and Rob is finishing up Feed The Beast's album.  We're psyched to be on the Volume Doom comp. "Plague, Take Me" is the first song we've recorded.  We can be sort of an intermission between the good songs…
Is  Sentinel Hill recording too?  And how'd your first two shows go?
Yes, the three-song demo first but we have a 45-minute full length written.  First two shows were good and we're aggressively booking more.  Nobody is getting any younger over here.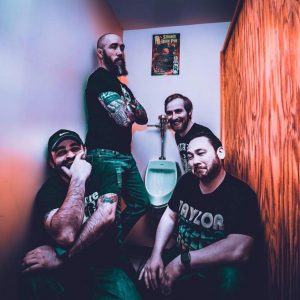 Low Moments has a schtick about being a "bad" band — what's up with that??  I saw you guys and definitely did not have a bad time.  How did the Low Moments lineup came together?
Rob has been friends with Sam for 20 years and brought him in on lead guitar.  Laken is Scott Of The Earth's (Salt Of The Earth Records) son-in-law, so that's how we met him.
As for the "bad band" thing, Andre from the mighty Pinto Graham grabbed me at a show once and said "We can't figure you guys out.  Is it schtick or do you mean it?"  And the answer is both.  I am pathologically self-critical and funnel it into self-deprecation.  But the truth is, we're not a good band.  We've never played a show without noticeably messing up.   In the Eastern CT scene, when a band screws up and has to restart a song, it's officially called "having a Low Moment."  The songwriting is mediocre.  We're not heavy, or technical, or charismatic.  We're awkward.  The lyrics represent this belief.  Have you ever seen a band who wasn't good but thought they were?  That's a major turn-off, so we're just real honest about it.  It's more truth than schtick.  What we lack in talent, looks, youth, hair, and charm, we make up for with being fun.  That's all we can hope for.  We're sad clowns.
What elements do you think about when you're writing a song?  And who are some of your songwriting inspirations?
Dwayne from Mourn The Light writes insanely catchy hooks, and he attributes it to growing up in the 80s when all the hair bands were shooting for huge arena choruses.  I'm the same way.  I came up on Def Leppard.  I want that contagious, sticky hook that you can't get out of your head (I still haven't found it).  I essentially write formulaic pop songs and dress them as metal or whatever.  I also love punk and the straight-forward simplicity of it.  No frills, get to the point.  Social Distortion has been my biggest songwriting influence, no matter what style I'm writing.  Technical music bores me to tears.
I've seen some cute pictures online of your kid doing martial arts.  How do you balance family life and work with all the music stuff you do?
Easy, workaholism.  Family, teaching jiu-jitsu, three bands, and I'm also the flyer maker for SCENE Productions and the New England Stoner & Doom Fest, so I'm extra busy.  I live off of a To-Do list.
What are your thoughts on Connecticut local music scene these days?
It's great.  I started going to hardcore and metal shows in '93 and have been around for a few of the peaks and valleys in that time.  I'd say it's really solid right now, and the cool thing is there's almost this separate middle-aged metal scene where all of us 30-50 somethings can hang out and not get moshed to death.  It's my only social outlet and I've met a ton of great people.  I just hope people don't start taking it for granted, because that's when it dries up.  The best thing to do is to get to every show you possibly can, regardless of who's playing.  That's how this thing will continue.  Shout out to the Eastern CT metal scene, which is really vibrant right now thanks to Dwayne Eldredge and everyone who comes to every show.
What do want to see your bands doing in the next year or two?
Low Moments: release those two EPs, play semi-regular shows, half-heartedly try to escape mediocrity, release a best-selling shirt with our logo but a picture of Casting Shadows on it.
Sentinel Hill: record the demo, then full-length, play out of state a lot.
Charlie Sad Eyes: record a full-length (underway now) and play out a bunch.
Animal Schoolbus: try to get my daughter to listen to less Taylor Swift and more Bolt Thrower.
Thanks for the interview!  I hope this isn't a Low Moment for Alternative Control…
Oh we've had far lower moments than this one, sir….  Catch Charlie at one of the following live appearances: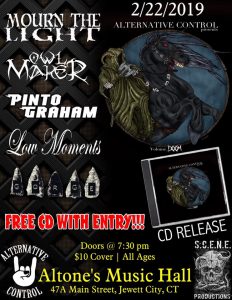 Low Moments
2/22 — Volume Doom CD Release at Altones in Jewett City
4/12 at Altones in Jewett City for Record Store Day with Sundrifter
3/7 at 33 Golden in New London CT with Mourn The Light and more
3/8 at Ralph's Rock Diner in Worcester MA with Inverter and more
3/16 at Strange Brew in Norwich CT with VRSA
3/30 at 33 Golden in New London CT with Conforza and more
5/3 at the New England Stoner & Doom Fest
5/11 at Cherry St with Just A Pipe Dream and more
3/9 at Altones in Jewett City with Victim Or Victor and more
About Volume Doom
Spotlighting artists that have been reviewed on the Connecticut-based music blog Alternative Control, Volume Doom features twelve songs representing an array of subgenres under the doom/stoner umbrella.  
Volume Doom Track Listing
Year of the Cobra (Seattle, WA) — The Descent
Howling Giant (Nashville, TN) — The Pioneer
Mourn the Light (Norwich, CT) — Embrace the Darkness
Owl Maker (Milford, CT) — Sky Road
Gorge (Tariffville, CT) — The Great Dying
Witching (Philadelphia, PA) — False Martyr
Pinto Graham (New Haven, CT) — High Flyer
Eye of Nix (Seattle, WA) — Lull
1476 (Salem, MA) — Winter of Winds
Dust Prophet (Manchester, NH) — Revolutionary Suicide
Low Moments (Norwich, CT) — Plague, Take Me
Kurokuma (Sheffield, UK) — Dope Rider Pt. 1
"Lull" and "Winter of Winds" courtesy of Prophecy Productions.  "The Descent" courtesy of Magnetic Eye Records.
Volume Doom will be available for streaming and digital download through bandcamp.  All proceeds will go towards Alternative Control's website maintenance costs.  Pre-order for $1 or more, or name your price of $0 or more beginning February 22nd.  A limited number of CD copies will be available through the participating bands.
For more from Alternative Control, find us on Facebook, Twitter, Instagram, Soundcloud, and bandcamp.