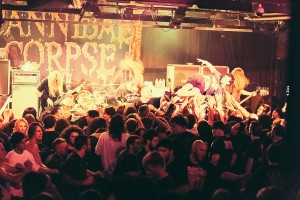 Photos by Steve Walter.
On a random Tuesday night in New Haven, my friend Steve and I walked through a sleepy, closed college town and turned a corner straight into the un-relenting force of doom.
Headlining the Decibel Magazine tour at Toad's Place, Cannibal Corpse was the main attraction of over four hours of double bass drums, down-tuned guitars and the nihilism that scares the parents and the mainstream while attracting the youth. 
"So why is it so tame?" I asked Steve as we showed up in the dying seconds of Naplam Death's set. As Steve unpacked various lenses and attachments, I scanned the crowd and saw nothing more than a nice cross-section of men and women milling around, exchanging pleasantries and basking in the overall glow of being normal folk in a normal environment. Without the standard black band t-shirts, the crowd looked like it could have been hanging out around the corner on Broadway earlier in the day. How was this going to all end up in mass chaos, like we researched in various You Tube videos?
It wasn't more than one minute into the opening set when I realized that this mellow pre-band crowd was just saving up that one last push of energy. Cannibal Corpse took the stage with a calm, workman-like demeanor, plugging in and sound-checking as if they were seconds away from a set of jazz standards. They plugged in, said hello and then launched what looked like a controlled bonfire.
As the band ripped through a now 25-year catalog, the show became the Cannibal Corpse experience we all think of: shoulder tackles in the circle pit, bodies being lifted up to mosh and coming right back down to earth in seconds while the band wills it all on in an almost playful way. There was just enough time between songs to pick yourself up and throw yourself back in.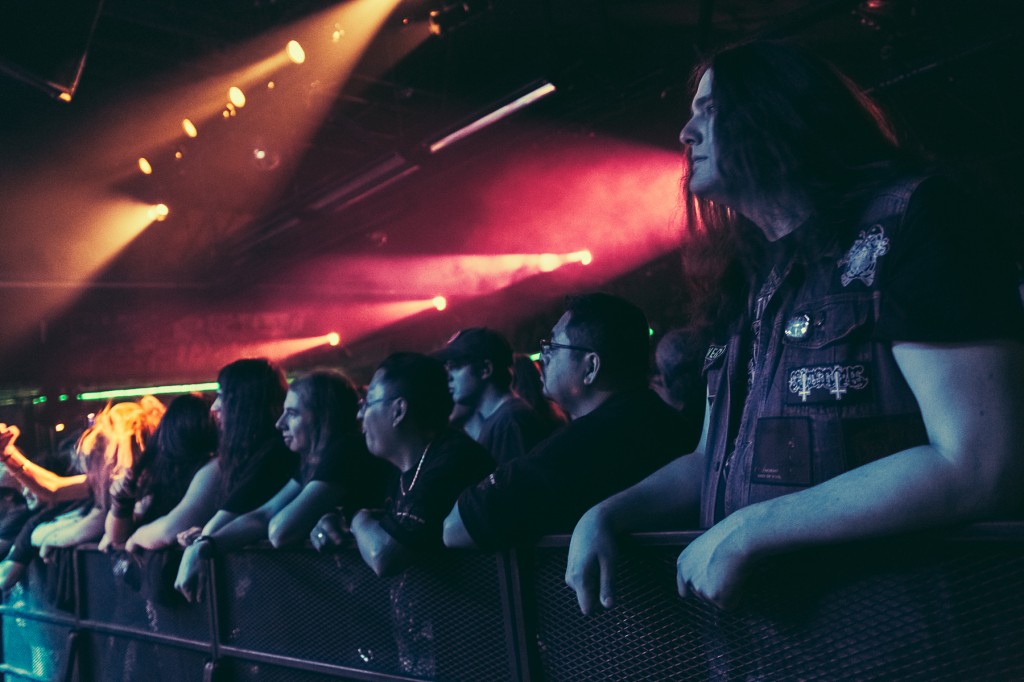 To see the complete album, visit our Facebook page.  Be sure to check out 9479.net and stevewalterphoto.com!