Hailing from Sarasota, Florida, The Distinguished Order of Disobedience (also known as The D.O.O.D.) will embark on an East Coast tour this month that brings them to Connecticut not once but twice.  In anticipation, we emailed the band some questions about their new EP, their stage show, and one member's hometown connection.  Here's what singer Brian Amoroso, guitarist/vocalist Raynus DOOD, bassist Jonzey DOOD, and guitarist Andy Thomas had to say.  (Well, Raynus didn't have much to say — but we learned that he's the growly type!)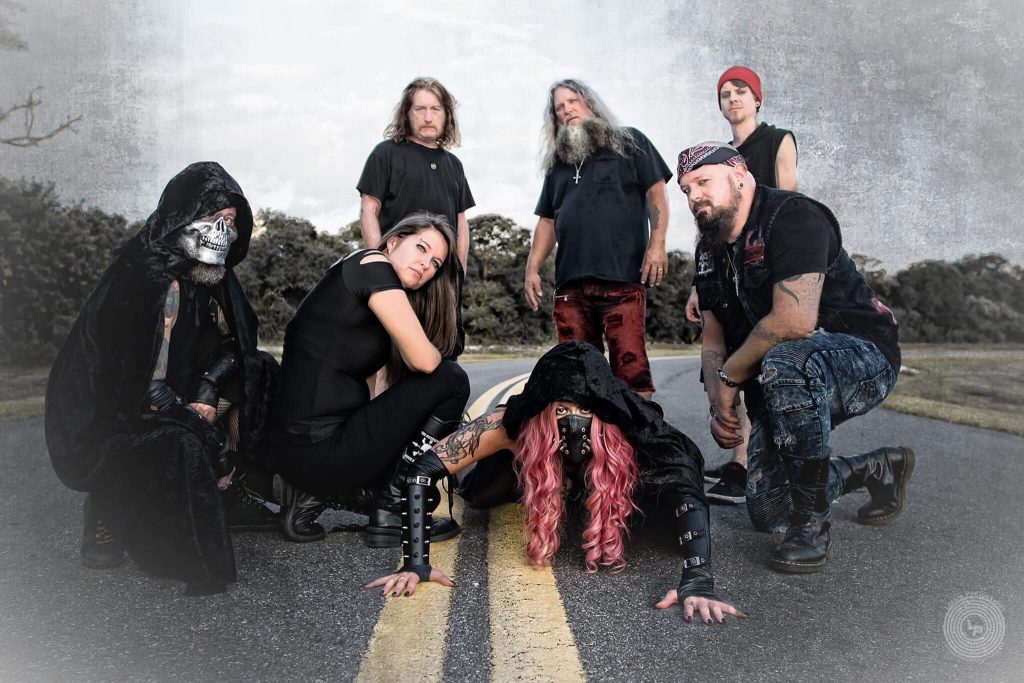 First of all, what does your name mean?
Brian: The Distinguished Order Of Disobedience.
Andy: That's a real thing.
Ray: Grrr…
Jonzey: It was an Austrian Medal Of Valor, given to an officer who wins a battle by disobeying a direct order.
Brian: History is fun.
I assume you guys all have day jobs — how do you fit in The DOOD with regular life?
Andy: Work is over by that time, and as owner of a company my hours are flexible I let my employees do all the work while I sit on my arse.
Jonzey: Work hard, play hard.
Raynus: Hmm, Grrr.  (Doing other things) What do you want to know? I don't understand.
Brian: It is kind of a second job for me- thankfully my day job is at night. I am a DJ, which isn't a job for grown ups. Truthfully I do spend a good portion of my week either doing business or writing music or rehearsing and playing shows.
Tell us about your new EP, The Beautiful Ride.  What was the recording process like?
Jonzey: Old School, we did all the instruments live with no vocals.
Andy: It was like being in a 1970's punk band, we had played a show the night before.
Jonzey: Not just any show, it was a crazy show.
Brian: Andy was still wearing the makeup from the halfway to Halloween show that night.  It was a very quick process and a bit grueling on no sleep.
How would you say it builds on your previous material?
Brian: We were looking for a very stripped down natural feel but with good quality, I think we managed to do well. There are no samples in the music this time. The thing is that this material all except for the cover song is all previous material from before Playtime In the Apocalypse.
Raynus: I like it rough, I mean it's rougher than the previous album.
You guys have an impressive stage show.  Anything special in store for this summer's tour?  Do your stage performers tour with you?
Jonzey: First off, thank you, We are bringing the performers and the full stage show on tour with us this year. Munson and Carla are incredibly creative and take our show to the next level. We can't give away all the details but you can be sure that it will include blasphemy and reverence, and of course lots of blood. Brian put on 20 pounds for the show so it is sure to be bigger!
What's your craziest tour story? 
Brian: There are many stories, being stuck in a train station in New Jersey for hours while extremely drunk, tattoos that I don't remember getting exactly- but the craziest story was on the way up to Connecticut last year. We were in Georgia and this guy in a pickup truck was frantically waving his arms and pointing at our back tire as we were on the highway.  We pulled over and looked at it. There was nothing wrong only the rear end seemed to be riding low.  We decided to find a U-haul and have the hitch checked out.  We used GPS to find the closest U-haul which was not close at all and followed the directions.  We exited the highway and drove following the directions which took us down streets that increasingly looked less and less like there would be any business on them let alone a U-haul. Eventually the pavement disappeared and we were in farm country but scary farm country, like Georgia Chainsaw Massacre Territory.  Finally the road just ended.  There was a clown with makeup and no pants selling lemonade at the end against the fence, balloons in one hand and the other one behind his back.  We turned around and just drove the sixty miles back to the highway.  Never bothered to have the truck looked at, just went straight to Connecticut.  Almost all of that story is true, but it taught us not to trust GPS blindly.
What advice would you give to a local band who wants to book a multi-state tour?  It seems like quite an undertaking!
Raynus: Network, start now. Support bands that are at the level that you want to be at. We get out of town bands gigs, promote their shows, and even give them a place to crash if they need it.
Brian: Don't do it for the money, do it because you love your music and you want to get it out there. Oh and start booking early- at least six to eight months in advance.
Andy: Support every band that you gig with. We are there from the beginning to the end of every show possible.
What are some of your favorite places to play? 
Andy: The State Theatre in St. Pete has become one of staples and is an amazing venue in which are able to play with lots of nationals. Kelly's Live in Sarasota has also been a place to call home. We also loved playing at Cherry Street Station and playing at the Chance Theatre was an honor. We have fun at every venue and look forward to finding some new favorites.
What's the Florida scene like compared to the reaction you get on the road?
Jonzey: It is hard to tell the scene from one night in one club, but around here most of the metal bands are friends and we all support each other.
Brian: We get a very good reaction on the road.
Raynus: On the road, not everyone knows us or our music, so when people react favorably it is a good feeling. So far we have had a lot of positive feedback.
Question for Brian — tell us about your connection to CT.           
Brian: Well I was born and raised in Bridgeport and Fairfield.  I attended Fairfield High School.  I used to play in the music scene there when I was just a little guy, met some of the best people I have ever met there, and learned some of the best things I know about being a musician there.  I still have family in the area but I only really get back there when I come through playing music these days, it still feels like home.  I'm incredibly lucky to see old friends like Simon (Tuozolli) — who was one of the first bass players I ever worked with and still one of my favorite people — and many other friends who are still in state, and make new ones.  And I get to have my Duchess.  Probably my reason for living. Eating Duchess.
Catch The D.O.O.D. on their upcoming tour!  Also, you can hear them on OFNR Tuesday June 20.
For more from The D.O.O.D., visit their website and Facebook page.
And for more from Alternative Control, find us on Facebook, Twitter, Instagram, Soundcloud, and bandcamp.