By Nicole Monroe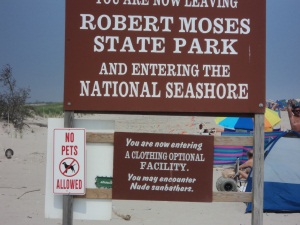 Past Jones Beach, on the less populated, car accessible west end of Fire Island, sits Robert Moses State Park. Every bit as beautiful as Jones Beach, if not more so, Robert Moses boasts 5 miles of soft, sandy beach in which beachgoers can swim, surf, or fish. There is a small playground near the entrance, a typical beach-food shack serving soft pretzels, fries, etc., and a golf course. Although family friendly, not all of the beach is heavily populated with kids – particularly, on the east end. For there, on the east end of Robert Moses, lies a designated "clothing optional" bathing section. It is to this designated section of the beach that my infamous book club traveled to celebrate a member's birthday and discuss the sexually explicit, yet well-written autobiography, The Sexual Life of Catherine M.
Upon arriving at the beach, we found Michelle's naked neighbor, Jake, lounging in his beach chair. Sensing the apprehension of some of our more timid members, he got up out of his chair and gave one of them a big naked hug to break the ice. After getting over the initial awkwardness of speaking to a strange naked man who hasn't bought me a drink, I found Jake and his wife to be really awesome, clearly outgoing people, who travel from Weston, CT to Robert Moses every weekend in the summer to enjoy some naked sunbathing. They kindly invited us to come over during our next book club meeting to hang out in their hot tub – clothing optional, obviously.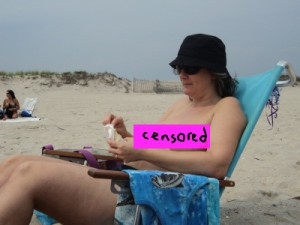 Strolling along the nude beach, we met and saw some interesting people with no tan lines. As expected, there were a lot of old men with beer bellies and more hair on their balls than their heads, but there were many young people too. It was actually a pretty "typical" beach atmosphere. There was a young couple canoodling in the surf, a guy chillin' with his acoustic, people having cookouts, and a guy with a pierced penis playing paddle ball. There were some people who were in some precarious positions, like the woman sitting on her boyfriend's lap in the shallow water, a girl squatting to pee with friends standing around her (it looked like she was about to about to perform fellatio), and a guy getting a little excited during a back rub. When we saw something interesting, so as to not be rude by pointing, we devised a system: Larry = left, Roger = right, Stan = straight, Barry = behind. "Hey, was that Larry over there?" Was code for, "Look at that dude on the left's penis!" To be fair, the water was really cold that day, which we took into account.
Often during our strolls, Julie, the birthday girl, would stop to make conversation. When spotting an attractive guy, she asked him how to reach the Fire Island Lighthouse, which can be accessed by the boardwalk from the Field 5 parking lot, or walking to the end of the beach. We plan to visit it next time. Overall, the people were very friendly. They would approach us and make conversation totally uninhibited by their nakedness. You may be embarrassed, but they aren't.
We only experienced one skeevey moment when a guy came over to invite us to a party there the following weekend. He was nice, although uncomfortably brushed my leg a few times – with his hand (get your mind out of the gutter!). His large, square friend, however, felt the need to keep touching his junk and told my friend she has a nice ass, which was uncomfortable. Aside from that, we had an awesome time. I recommend this beach to any beach lover. Even if you aren't into baring your body, you can still sit in the "clothing optional" section, or you can sit near the border and enjoy the view. Because there aren't any kids around, you don't have to worry about having sand kicked on you by screaming children running by, which is reason enough for me to go back!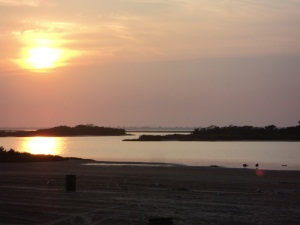 For the record, I wasn't nude. I am of the opinion that for teachers, like politicians, public displays of nudity are unwise.
Walking on the beach, I remembered a poem I once wrote that started, "I love you best when you are naked" about a guy that only talked about himself when he was lying naked. There is something about baring your body that forces you to bare your soul. Sure, there are some people on the nude beach that think they're hot shit and like showing off their bodies. But, I feel, the reason why most nude beaches are largely inhabited by "old" people, is because they are wise enough to be comfortable with who they are inside and out. Maybe when I'm 80 and retired, I'll be brave enough to face the world with no clothes on.
http://www.nysparks.state.ny.us/parks/7/details.aspx