There are approximately two Falafel/Middle Eastern places in our general area that everyone mentions: Mamoun's in New Haven and Layla's in Stamford and Fairfield. For years now I hear more about Mamoun's than Layla's so for this review I opted to shed more light on the OTHER good Middle Eastern joint, Layla's Falafel.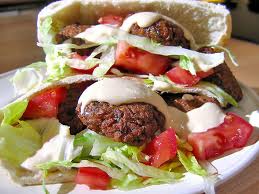 I went to the Fairfield one, which sits amongst a strip mall on Black Rock turnpike. It's primarily a take out place, but if you really want to squeeze together with young, upstanding middle management on their lunch breaks, they do have a few tables and a window bar set up. My party and I got the falafel (because you have to try the staple/most popular dish), the Arabic Chicken Schwarma and the Baba Ghanoush. Full, disclosure – I used to work at a terrible office job in the area so I've been to Layla's countless times. Since it's been a few years, it's disheartening to see that it hasn't held up as well.
Mind you, this isn't going to be an all the way 100% negative review. I will assume that if you hit Layla's at the right time (I'm thinking dead in the center of lunch, around 12:30) the food will be fresh, delicious, cooked right when necessary and prepared well. The downside of this is that if you go when I went (around 1:30), you're going post lunch, which could mean that you're getting the end results of whatever was prepared for lunch – the left overs if you will.
That's the real issue with Layla's and a lot of other lunch/takeout places – If you don't go when everyone else is, the experience differs. In previous visits the Arabic Chicken Schwarma (marinated grilled chicken, wrapped up with sides of garlic dip and hummus) is better than any wrap you'd order elsewhere. The chicken is well marinated, the garlic dip is the best I've had, even the fistful sized side salad is fresh and compliments the entree. This time around, the chicken was a little more over-grilled and the wrap came off as bitter tasting, which is tentatively odd for what looks like a wheat wrap. The Falafel at noon-ish is lightly fried until golden, a great blend of garbanzo beans well spiced. The post lunch version was a lot like the french fries that get stuck near the bottom of the fryer; very dark brown, too crunchy and they taste more like the fryer than the contents.
The last item reviewed was the Baba Ghanoush, a blend of smoked, roasted eggplant, tahini, garlic and lemon juice. It's absolutely an acquired taste (first timers to this cuisine may get overloaded with the odd mix of flavor), but overall the Baba Ghanoush is well done at both times of the day. It's strong in that sense of flavor, with the eggplant coming off as smoky, paired with garlic and lemon that leave the rest almost tangy.
Again, it's not that Layla's is bad per se – for the Fairfield location with a tiny cooking space they churn out a large number of orders really quickly, all of which are going to be good if the place is busy. But when its post-lunch rush, delicate food like Middle Eastern gets hurt when it's not fresh, hot or rushed to prepare. As for the rest, the menu is priced well (between $6 for just falafels to $12 for platters), you get a lot of food for the price and if you have never tried Middle Eastern food, Layla's in Stamford (two locations) and Fairfield is a great place to go. As long as you go at the right time.
For more from JW, visit http://9479.net/.