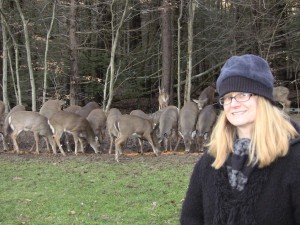 With this being the month of love, I thought I'd share a relationship secret with you. Relationships are a lot of fucking work. As with most brilliantly constructed sentences, you can take a statement more than one way. One, relationships are a lot of work: real work, hard work and sometimes downright ugly work. Two, it's the fucking work that makes all the other work worthwhile. And doing that work in a new place? Well, that just plain rocks.
The first time we went to the Poconos was to celebrate our one-year anniversary. It was my husband's idea, and to be honest, I thought it sounded cheesy. Everybody, sing it with me "Beautiful Mount Airy Lodge!" Actually, the place we went to is Cove Haven (www.covepoconoresorts.com) in Lakeville, PA.  Located on Lake Wallenpaupack, the resort offers paddle boats, speed boats, and waterskiing. In the colder winter months, they have tubing and snow skiing. They also have a ton of indoor activities like mini-golf, pool tables, bocce, and an arcade. Plus, indoor and outdoor pools, bars. You get the picture.
Some of the rooms feature the "world famous" heart-shaped tub, some the champagne glass. Most rooms have a pool or a round bed or a sparkling ceiling. They all cost an arm and a leg.  But when you consider how every room includes all-you-can-eat breakfast and dinner, along with a complete entertainment schedule, you realize it's worth the cost.
The great treasure of Cove Haven is Honest Phil. His official title is CXO, but he serves as a game show host, magician, comedian and deer whisperer. He hosts an XXX Newlywed Game that is splendidly raunchy and hilariously revealing of its couple contestants. At dusk he walks into the woods, yelling "COME AND EAT!" at the top of his lungs, and the deer come out in droves. This past trip we saw about 40 deer lined up to get fed by Honest Phil, and some of them were there before he was. You can see that they trust him; Mamma deer didn't just eat out of a bucket but out of his hand. The buck was more skittish but still reached out his nose to smell the corn and molasses in Honest Phil's hand. The deer are my favorite part of Cove Haven.
Since our first visit, I've become a fan of the resort thing. At first the whole "dining with strangers" thing was odd to me, but I've become more outgoing in my old age, I guess. On this past trip we decided to have breakfast with strangers and dinner by ourselves. In the past you could only get a table for two if it was your anniversary, but now you can request seating for two if tables are available. The food is usually good. This year I thought it was top notch. On the first night I had shrimp and artichoke heart penne in cream sauce that was surprisingly good. The Christmas Eve Buffet was heavily influenced by Italian tradition, with lots of seafood choices balanced with numerous side dishes, including baked ziti, glazed carrots, and a carving station featuring "really good" roast beef, according to my husband. Both mornings we were treated to a breakfast buffet. You can actually eat breakfast on the day you arrive — if you get there early enough — and that's a nice perk. And you can also order breakfast in bed (and still go to breakfast!) You get where I'm going. The food is plentiful.
On our way up, we planned a stop at the Crossings Premium Outlets in nearby Tannersville. This place is amazing, and I hate shopping. They have a ton of top notch stores, never a long line, and the sales people are nice and helpful. You know, all those things you don't find in Fairfield County.
It takes an hour on some nice backwoods roads to get to Cove Haven from the outlet stores. It's a relaxing drive that is shockingly void of liquor stores. Thinking he wouldn't be able to find wine, my husband sought out a store for some beer. They were selling Smirnoff smoothies to go, but no wine. Mountain life is different, I guess. We ended up finding a liquor store nearby on Route 6. The prices blew my husband away, much cheaper than Connecticut.
After checking in we went out to lunch. We attempted to go to The Settlers Inn, a farm-to-table restaurant with chicken and waffles on the menu, but they were closed to my great dismay. We ended up at The Falls Port Inn, a beautiful old hotel we'd eaten at before. The food was quite good; my husband's burger looked like a filet mignon on a bun. We both started off with French onion soups that could have served as our meal. Large crocks covered with bubbly cheese and packed with perfectly cooked onions in yummy broth. In the lobby of the hotel, you'll find the old guest register, an amazing little piece of history. They're brave to keep it out there! But an old photo of the original owners is keeping guard. They look like your great grandparents. The Falls Port Inn is a charming little place, one of the many gems in the Poconos.
Browse www.800poconos.com for more information on your Poconos vacation. You can drive there in just over two hours, but it's a world away. Your sweetie will love you for it, and that's what it's all about. Happy Valentine's Day!