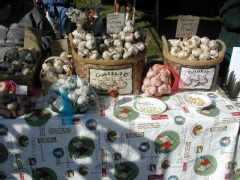 Where can you get garlic ice cream? At the Connecticut Garlic & Harvest Festival of course! Last year we flocked to this festival where we were greeted by the scent of garlic before we even entered the grounds. I was amazed at how many other garlic-philes there are in society. These people are passionate about this silly, pungent onion. It reminds me of the joyous moment Blind Melon's "Bumblebee Girl" found her tribe.
Locally harvested garlic stored in a cool, dark, and dry place will last throughout the winter and is way superior to the kind you find in the grocery store. Garlic's many health benefits far outweigh the
vulgar breath that no Listerine strip can cover up. It is an antioxidant that reduces cholesterol, prevents cancer, boosts the immune system, regulates blood pressure and most importantly keeps the Twilight tweens at a comfortable distance.
This outdoor festival has an assortment of vendors selling everything garlicky, plus maple foods, local
produce, raw honey, and sweet handmade local crafts. Being a thrifty bastard, I particularly like the
free samples to taste with no pressure to buy. Samples range from garlic dips and oils, cheeses, maple
candies, and fresh baked bread. The crowds surrounding each booth are a bit overwhelming at first but
after years of riding the 6 train in the Bronx and going to metal shows, I have honed the skill of forcing my way through a crowd.
An outstanding collection of vendors were selling hand-crafted garlic roasters, wool crafts, masks, wood
art, fudge, air-brush tattoos, jewelry, gardening stuff, hand-blown glass, soaps and candles. One of
my favorite vendors is Kathie from Superseedz who sells roasted, shelled gourmet pumpkin seeds in
ridiculously awesome flavors. I got a bag each of Sea Salt, Original Curry, and Mocha Chocolate! There
are demonstrations throughout the festival like; How to Grow Garlic, Cooking with Herbs (legal herbs),
and the Honey Bee Swarm. You can hear live music while having lunch at the food court if you are still
hungry after devouring free samples. They offer lots of comfort food like soup bread bowls,
fried dough, garlic roasted pulled pork, whole roasted garlic cloves, garlic apple knots, sweet potato
fries with garlic mayo, cheesecake, garlic soft pretzel, garlic meatball subs, gelato and kettle corn. The main attraction for me was the vanilla ice cream with bits of roasted garlic. This bizarre combination of creamy vanilla ice cream with bits of soft, sweet garlic was delightful. Don't judge me!
Irish sculptor Augustus Saint-Gaudens once said, "What garlic is to food, insanity is to art." Well, it
makes sense that I enjoyed the festival because I like my food cooked with garlic and my art created
from insanity.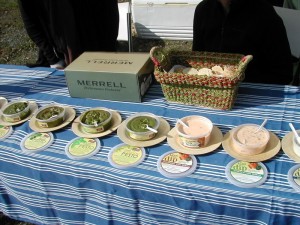 Where: Bethlehem Fairgrounds, Entrance at 304 Route 61 (Main Street North), Bethlehem, CT
When: October 8 – 9
Time: 10:00am to 5:00pm (leave way before closing due to parking lot traffic)
Cost: $6 Adults, $1 Children under 12, Vampires free
Web: http://garlicfestct.com
Pictures borrowed from the Garlic Fest website.