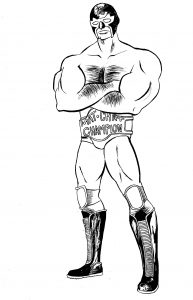 So, it's been about two years since I  wrote my last one of these columns. Have I been busy? Yes. But not just with wrestling related things. I have an intense side hobby as a music writer for a national, glossy music magazine. (You can get it at Barnes & Noble.) Plus, I work a full time job. But despite all that, I still find time to consume a whole bunch of wrestling. And not just WWE. In the past few years, I've been to three Chikara shows in Connecticut. All completely excellent and entertaining. Some of the talent from those shows are now wrestling in WWE, like Ruby Riott (Heidi Lovelace in Chikara) and Drew Gulak. Plus, I got to see indie sensation Keith Lee, who totally lives up to the hype. He has vicious chops, too. Well, since it's WrestleMania season, let's take care of the elephant in the room.
WWE
All I can really say about WWE is that they do some stuff really great, other things not so well. NXT is the main reason you should own the network. They have a stacked roster and their Takeover live events are sometimes better than the main PPVs. Did you see that Johnny Gargano/Andrade "Cien" Almas match at the last one? Pure magic.
Oh wait, I'm supposed to be talking about WrestleMania. Well, I bet the AJ Styles/Nakamura match will be aces, along with the Miz/Rollins/Balor three way. Charlotte/Asuka has the potential to steal the show. Don't really care about Reigns/Lesnar match, but I would rather see Reigns with the belt because he is there all the time, instead of having it in the possession of a very part-time part-timer. He's asked to do so little, and he does less than that. At least when Cena and Jericho are there, they give it their all, unlike Lesnar, who seems to be on autopilot. Why the fans still cheer for him is beyond me. Hopefully, the rumors are true, and he'll be leaving after Mania. Though, the main thing I'm looking forward to the most about WrestleMania is watching the spectacle with two of my very best wrestling buddies, Luke and Brett. Get the wings, Luke.
NO TO THE YES MOVEMENT
Hell froze over in the WWE this week because Daniel Bryan was cleared to wrestle. You know what, I don't think he should. Let me say, he is one of my favorite wrestlers, he loves the business and the fans love him, too. But, head and neck injuries aren't to be taken lightly. He has a newborn now. I don't want to see him end up as a vegetable. It sucks, because he loves to wrestle and for a while he couldn't (and I say shouldn't), while CM Punk could and didn't want to. (And has become a mega-asshole to his wrestling fans.) Life is truly strange. So, if Bryan returns to in-ring action, I just hope he doesn't get majorly messed up. We'll always have WrestleMania 30. (I'm sure my friend, co-worker, and fellow wrestling fan Sarah will agree with what I just wrote in the above paragraph.)
THERE IS A WORLD OUTSIDE WWE
Yes. I watch other wrestling organizations. I try to go to any indie shows that take place in my home state of Connecticut. I like to go to the indie shows that feature the hottest up and comers, not the shows that feature a bunch of old timers geezering it up for one more paycheck. Luckily, Chikara comes to the state. I wish Ring Of Honor would come here, but I don't know of a venue in state that could accommodate them. They're either too big, or too small. (Which is also something I hear when talking about why many touring bands don't play our state.) New Japan Pro Wrestling, which is definitely not an indie, and is, in fact, the second largest wrestling company in the world, is starting to make waves in the US, by actually having wrestlers wrestle and put on great matches. Even WWE company man Chris Jericho jumped ship and had a fantastic match with Kenny Omega. Everything about it was superb. It's a Match Of The Year contender.) ROH takes a similar approach by putting wrestling first, but on a smaller budget. Though, they have grown quite a bit in the past few years. I just wish they had a greater television presence where I live. Honestly, if I had more money, I would get subscriptions for both ROH and NJPW. One time ROH was supposed to be on NESN on Sunday night, but instead they went with a cheesy local fishing show. WTF?
MUCHA LUCHA
I honestly thought that Lucha Underground, which is my personal favorite wrestling show, was done after their third season. The writing seemed to be on the wall. But surprise, they're back for a fourth season, with a lower budget, which means fewer episodes, and  a new location. Why do I like LU so much? Well, outside of the fantastical backstage vignettes (which I know certain friends hate, but I love), I think they have some of the best wrestling you're likely to see anywhere. Their roster is deep and even a mediocre episode of LU is better than a good episode of RAW or Smackdown. Plus, all the John Morrison haters should shut up, because the dude kills it in LU. Why aren't any of you begging for his return to WWE? He can still pull off great matches, unlike some of the usual suspects that you guys want to return to Uncle Vince's Crazy Flying Circus. Plus, they do more 
in one hour
, than WWE shows do with double and triple that time. I can't wait for this to start up again.
Well, that's about it for now. Expand your horizons. Look for something cool outside of WWE. There is a lot of good stuff out there. I mean, you can like all kinds of wrestling, it's not an either/or proposition. I watch WWE and I watch other stuff, too. Though, sometimes I get more excited about the "other stuff". That's just how I am. Jeeezus!
Custom artwork by Chris Generis.