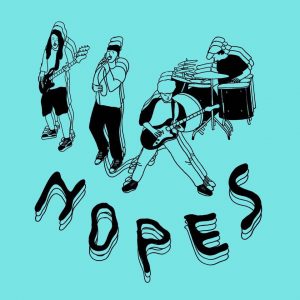 On the eve of releasing their second full-length album, Stapler, Alex and Gabe from the noisy California punk band Nopes carved out some time to Nerd Talk one of their favorite topics: horror movies.  The band's in-depth look at this film genre will be divided into four installments: Oldie Goldies, The New Fleet, Jokers, and Date Ruiners.  Stapler lands July 27th via Magnetic Eye Records; pre-order here.  And while you're waiting for that download email, let's see what twisted imagery is floating around in Nopes' collective unconscious…
On tour, watching a horror movie can be the best break in your reality. Sometimes, a creepy, brain tickling tale can be that surreal slap in your face that you're sorry worn ass craves and needs. Other times, it can be disturbing and induce extreme paranoia (don't watch Final Destination). Do horror movies make us fear life, or do they make us feel better about our daily lives? Do the journeys into darkness help us feel better about living in the bland and purgatorial grey? Does it make us more appreciative? Yeah, maybe, I don't know, but all I'm saying is you gotta see these movies, man.
Part I: Oldie Goldies (Classics)
Classic Horror Movies can be such a controversial term amongst nerds. Some prefer Frankenstein and Nosferatu, while others push for Friday the 13th, Nightmare on Elm Street, Poltergeist, etc. The point is, they're all pretty damn good. In fact, you should probably just watch all of them. However, you're a "busy" person that doesn't have "all the time in the world," but somehow you're also a lazy sack of shit that can never decide on a movie to watch. This is why we're here writing this article instead of watching another movie ourselves. Stop what you're doing, and pay your horror movie history dues by watching these masterpieces:
American Werewolf in London
This movie is super British. It's dry, to the point, and has their classic tongue in cheek sense of humor with this twist on the age-old werewolf tale. It's extremely well made for it's time, highly entertaining, and leaves you wanting more. When I first saw it, I became unreasonably disappointed in myself for not seeing this movie sooner. I still haven't forgiven myself.
Hellraiser
Weird, creepy, and fun. Hellraiser has it all – satanic and doomy elements, creepy creatures from the beyond, and a mysterious object that leads to a twisted adventure. This adventure quickly descends into madness. It's straightforward, creative and delivers. Hop on this train if you haven't already.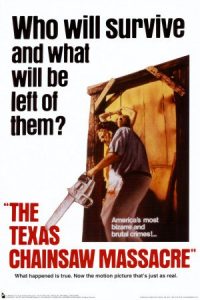 Texas Chainsaw Massacre
Never has a movie made me smell fear. At times, I couldn't tell if it was that, or the smell my mind was simulating for the abundance of meaty gore in this film. This movie has frightening historical ties to serial killers, especially Ed Gein, which makes this movie all the more terrifying. Texas Chainsaw Massacre was one of the movies that all the kids would talk about seeing. I remember kids in elementary school bragging about stealing their dad's VHS, and having a viewing party at their house. I also remember a couple of those kids swearing off horror movies for good after that. I love a good ghost story, am a huge sucker for cryptids, and am always down for a satanic jaunt, but there's something about the depraved and barbaric aspect of humanity that when properly portrayed, cannot be beat. These are the stories that are more likely to happen to you.
Suspiria
Colors, man. Colors. Sound, man. Sound. This movie is just incredibly beautiful in its making, and hits you with an age old tale that feels close to a Hans Christian Andersen, or a precursor to great mysterious horrors of the modern day like Black Swan. Darkness, colors, beauty, and more darkness. Out of the three Italian horror movies mentioned in this article, this is the one you should see. The other two will fuck you up (keep an eye out for Part IV, Date Ruiners).
The Shining
This is another great movie that portrays the genuine and real horror of someone losing their mind, particularly someone you're close to. The paranormal elements are constantly in question as this journey into the surreal and absurd vigorously pulls you through this Winter Vacation from hell. This is some prime time Jack Nicholson too, so make sure to catch this one if you haven't already. Another thing to note is that a ton of "normal" people I know love this movie and find it to be one of their all time favorite films. Like this is a movie they put on for kicks, or when they're feeling down. People like HR Managers that are mothers of two. People are fucking sick and twisted.
That's a wrap for now…  Stay tuned for Part II: The New Fleet, coming soon!  And in the meantime, find Nopes on Facebook and of course find your favorite blog Alternative Control on Facebook, Twitter, Instagram, Soundcloud, and bandcamp.
Thanks to Red Lead Media and Magnetic Eye Records for hooking up this Nerd Talk Takeover.