It's my privilege at this time to sit with a tenured veteran of both the local wrestling circuit and the big time, a former WWE superstar who has also appeared for the original ECW, as well as any other promotion you can name, Slyck Wagner Brown!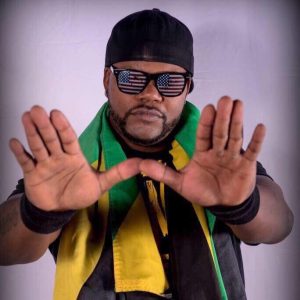 Before we get into your professional wrestling dojo, Test of Strength Wrestling, what can you tell me about yourself? How long have you been in the business and what accomplishments and moments are you most proud of?
I was born in Kingston, Jamaica, West Indies. My parents, like many before them, came to America so their children could pursue the American dream. I fell in love with wrestling at a young age, shortly after coming to the United States. The wrestling ring is my sanctuary, and it has taken me around the world on multiple occasions. I've been in the game for 20 years and still going strong. I've accomplished many things over the years, from winning championships, traveling the world, wrestling on television, and sharing a locker room with some of the biggest names in our industry; however, the best is putting smiles on faces doing what I love.
That is awesome to hear! A fan wants to know that the professional wrestlers they idolize, who are both athletes and artists, love to do what they do.

When you learned the art, you studied at Killer Kowalski's school, one of (if not THE) the most recognized and revered such establishments in the country. Did your experience there influence your decision to open your own dojo? When did you decide you wanted to help create the next generation of talent?
Absolutely man, the training was tough! We bumped often, since we were working out four days a week. Kowalski had a head trainer who focused heavily on bumping and blow-up drills [Intense cardio to push yourself to the limit – RB], so most of our guys were in good ring shape and could bump their asses off. After three years or so I was asked by Kowalski to become the head trainer, and that was the beginning of something different for me, because I enjoyed helping others chase their dreams as much as I did chasing my own. After being a trainer at Kowalski's, I knew that I wanted to do my own thing one day, and in the fall of 2014 I realized that dream as well, by opening TOS. I enjoy helping people accomplish their goals, and will continue to do so for as long as I am able.
You're clearly doing a great job sharing your expertise, considering that the attendance and recognition for the school seem to increase week by week. But what challenges exist in owning and operating a professional wrestling dojo?
Some of the challenges we've faced are finding a good location, and also growth, because most aspiring students want to train with formerly-signed WWE talents. They feel that if those guys made it, they can too, or that it's an easy road into the WWE. Therefore, I'm always proud of the fact that people choose to train with us, or feel like we can provide them with the proper foundation that they need to succeed in this business, based on everything I've accomplished without a WWE contract. Our goal this year is to create some buzz, and get at least one of our guys or girls a look from a TV company, specifically WWE. Another enduring goal is to continue building our brand to the point where guys and girls all over the world want to work with us.
Those are some lofty goals! But with that drive and altruistic intention, I'm sure they're well within reach.
One way that these big companies can get a look at your students is a monthly show that is free to the public, right at the dojo, that you call Training Day. What can you tell us about TD, and what it provides for both the fans and the talent?
Training Day is titled after my favorite movie, but it's also the day that our students and outside wrestlers get to apply everything they've learned so far, in front of both a live studio audience and people watching on a global scale on Facebook Live. Talent of all levels have the same opportunity to do their thing in hopes of acquiring more bookings. Truth is, the independents are practice for the next level. Granted there are guys on the independents that have managed to build their brand without a major TV contract, mainly because of their willingness to get in the car and drive, as well as their strong use of social media. Training Day provides fans with an opportunity to see talents before they get that TV contract. It also provides all fans that same opportunity whether they can afford to pay or not, because Training Day is free to the public. It's our way of giving back to a community that provides us with an opportunity to do our thing and build our brand. Thank you to every fan or talent, in the ring or behind the scenes, that supports us; now, tomorrow, and forever.
Facebook Live definitely makes it accessible if you can't get to East Hartford, CT on a Sunday afternoon! It streams during the event and the video also remains afterwards! Rumor has it, however, that you'll be running for a larger crowd in attendance sometime in September, Test of Strength's first such show at a bigger venue?
Yes, on September 15th, 2018, Test of Strength Wrestling presents Fight For Your Dreams. This will be our first live event outside of the dojo, and will include many of the characters we've come to know, love and hate. We're also looking to add a familiar face or two to the event, so let us know who you'd like to see! General admission is $10 and ringside is $15 at the door. Tickets will also be available at the dojo at a discounted rate before the event.
Best  of luck with what I'm certain will be a successful debut! I know for my part, the only thing holding me back from wrestling school when I was younger was not understanding just how feasible and enjoyable it would be to learn the craft. If somebody is reading this who dreams of being a professional wrestler, what would you tell this prospective student who is looking to begin their training?
Train hard, be consistent, take notes, have fun, and welcome to the family!
That is solid advice for any walk of life, good stuff! I guess the last thing I would ask, less for a potential student and more of a reflection of where TOS has been and where it's going, who among your current crop of students do you feel are best representing Test of Strength Wrestling? And are there any students from the past who you are particularly proud to have trained?
I'm grateful for the opportunity to have helped Eddie Edwards, Sumie Sakai, Nikki Roxx, Tony Delpfonso, and the late DC Dillinger create a solid foundation at the Kowalski dojo in Boston, from which they could successfully build a career. As of right now, there are some good trainees that do an awesome job representing themselves and the Test of Strength dojo, namely Ty Shyne, Sammy Diaz, Dicky Moon, and El Jabronie. Also, keep an eye out for Daywalker Sevin, Tyler Johnson, and Ryan Fraust, who recently made their returns or are debuting. The key to victory for all of them is consistency.
Those sound like some names to look out for, for certain. The school also has a close association with Heelsh/t Apparel & Design, which makes for some awesome show posters to say the least. What brought about that relationship, and are there other allies of TOS that should be recognized?
Alex, the owner and operator of HS, is related to one of our students, so he was always at practice. One day he brought in a T-shirt for me that he designed. I was intrigued, so I asked him to redo our Test of Strength logo, and he did an awesome job with that; the rest is history. Many people help us do our thing, including a former student Jim, who allowed us to store our ring at his home for a short period. Antonio & Doc, who offered us a sweet deal on their 16 foot ring. Beau, who picked up our original ring with his crew, brought it to Connecticut, and helped us with the setup. Norm's Gym in Waterbury, which was our original location, and Davienne, who gave us a great deal on our original ring. Kara from Pro Wrestling Academy, who referred most of her students to us after they closed. And last but not least, my girlfriend Shannon, who's been nothing but supportive throughout this journey. Thank you.
Well, it's exciting to talk to somebody who is so focused on and devoted to helping other people achieve their goals and realize their dreams. Thank you so much for your time, and I look forward to hearing about more great things coming from Test of Strength Wrestling!
Visit Test of Strength on Facebook and the web to learn more about the wrestling school.
Editor's Note: This interview will also published on Test of Strength's website.  Bair is a referee and athlete at Test of Strength, where he is known as the mighty Ryan Fraust!