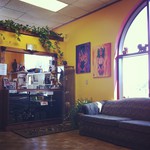 Last month I wrote a column of tattoo musings before going to get some linework finished… For all the readers on the edge of their seats, here's how it went!
I was a little nervous on my way to Transcend Tattoo in Branford – it was my third time being tattooed and the first time going by myself.  I know, I'm so tough…  And due to the placement of this tattoo, that meant I was going to be alone in a room with some dude looking at the side of my ass for like an hour.
Well, tattoo artist Nick Trammel made me feel very comfortable sitting there with my ass hanging out.  (Don't worry, Transcend has private rooms.)  As he filled in my heart and dagger, we chatted about jobs, spouses, and "kids these days."  And what everyone told me was true: getting the color hurt way less than getting the outline.  Nick even said that I "sat well," which made me feel like maybe I was a tough chick after all.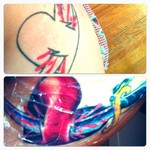 My tattoo had looked like an untouched page of a coloring book for so long that I couldn't picture it filled in, but I'm really happy with the finished version.  In our conversations, I learned that Nick has a soft spot for old-style American ink, taking pleasure in designing the distinct shapes and bold palettes.  The contrast he created inside the heart with shading and a stripe of "blank" skin is my favorite aspect of the tattoo, with the bright green hue of the dagger's handle a close second.
Nick does a variety of styles, though; he's working on a futuristic, black-and-white sleeve for my friend Lee, complete with an eyeball, an octopus, and a lot of stuff that looks straight out of Alien.  You can see more of Nick's work on Transcend's website, along with the work of the rest of the staff.  The shop also does body piercing and functions as an art gallery.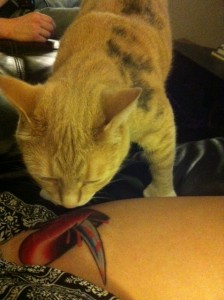 While my tattoo experience is limited, I can say that the environment at Transcend was peaceful and professional, and that I'm very pleased with the work.  I don't mind the drive from Stamford because it gives me an excuse to visit my hometown, and I would definitely get tattooed there again.
Transcend Tattoo is located at 906 West Main Street in Branford, CT.  (203)481-9372