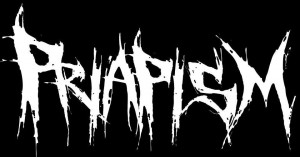 By Bob Bagman
Originally published in Metal Cyndicate.
I've known the guys in Priapism for quite some time, so I really can't find the words to describe what an honor it was for Agrippa of The Metal Cyndicate to offer me the distinction of doing a review on this new CD…
Priapism – Prey, Pay, Obey.
This is the second CD review I was asked to write in the past couple of months!! This will be my first for The Metal Cyndicate, returning me too fond memories of about 10 years ago when I was running a web page that was a precursor to (the all but dead bigwigs) Myspace. Sprialmadness.com was the name (not the band from Poland). I had built up quite an impressive collection of bands (Over a couple hundred at last count) that I did Album reviews for. The site also featured show dates and each band had their own bio pages etc. Since starting up broadcasting a weekly radio show a few years ago focusing on Independent Underground Metal, I have had many awesome opportunities to do interviews with some truly terrific bands live on the air. Priapism was one of these bands…. Featured On "THE BAGMANS NATION OF DECIMATION" NOV 7th, 2011 On Official FN Radio.com. That broadcast was and still remains one of the best and most chaotic shows I've ever been apart of… Never the less lets review this bitch…..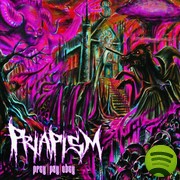 CD Cover and Packaging
At first glance the CD artwork is really impressive!!! Created by Anthony Plaza of Transcend Tattoo out of Branford, Connecticut. It Features A striking scene centralizing a church with many symbols of corruption, greed, death and destruction all outlined in a devilish red/pink florescence. The Back? More Art work symbolizing the same idea as the front set on a more rustic tan background. Just by the cover alone you really cant help wanting to open it up and see whats inside. What's inside? You ask….The booklet comes complete with lyrics which is always awesome. Band photo and of course shout outs to many bands from the "Connecticut Metal Scene" among others (Thanks for The OFNR SHOUT Guys!!! \m/\m/)  Pop the Cd in and  you get probably the best representation of music and chops ever heard in Priapism's 10+ year career!!!!
The Songs:
Right off the bat the beatings begin with the opening track (01 – PETRIFIED GREED) – Lyrics Like "Taking us down, this nation's ripped apart and cant be saved at all, Our money deficit has stripped us of our goals" Are just a morsel of a song surely written about the band members distaste for our government, with oil prices the way they are and unemployment ever increasing. One of the definite highlights of "Petrified Greed" are the spastic highs Mike is able to summon from his axe. A most definite nod to what Dimebag Darrell had done on many of his solos with Pantera and Damage Plan…… Of course when he was still alive. There are some solid reports that the band are currently putting finishing touches to and plan on releasing a music video for this song sometime in the near, near future…
To read the rest, visit Metal Cyndicate!