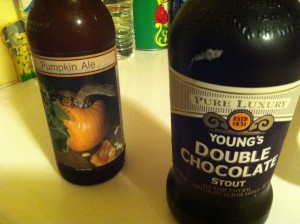 Alternative Control is trying to bring the nation back to reality by writing about fall… during fall.  No Halloween in August for us; it's fall until December 20th, so the way I figure, this article is right on time.   One thing I like about living in a place with seasons is that it prevents what psychologists call "hedonic adaptation" – the phenomena of getting used to something.  Sure, it would be nice to live in southern California, but after awhile all those warm, beautiful days would start to seem ordinary.  Here in New England, though, the hot and humid summer makes us welcome fall's cool weather — and the snowy winters are just long enough to make us miss that same heat and humidity were complaining about several months ago.
I enjoy different aspects of all the seasons, but fall definitely has the best food and beer.   That's right, pumpkin everything.  My go-to seasonal beer is Shipyard Pumpkinhead, but Smuttynose Pumpkin Ale and Harpoon's hazy UFO Pumpkin are some other good ones; Stamford locals should try Half Full Brewery's pumpkin offering as well.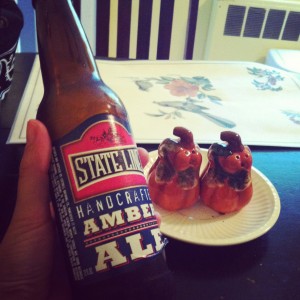 If you're not into overwhelming yourself with pumpkin flavor every single day like I am, there also are plenty of "October-fest" beers to choose from – even Narragansett has one now!  At nine bucks for a six-pack of tallboys, it's a better deal than the fancier brands and the flavor compares quite well.  Another tasty and economical beer I've found recently, albeit a non-seasonal one, is State Line Amber Ale from Pawcatuck's Cottrell Brewery.   The six-dollar six-pack tastes similar to Sam Adams and is only available at Trader Joe's.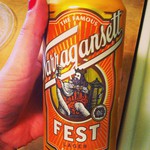 Now onto fall food.  Last year I cut out a pumpkin baked ziti recipe from some ladies' magazine, taped it into my recipe book, and forgot all about it.  Well, yesterday was the day I finally cooked it.  Here's the recipe as written by Libby's: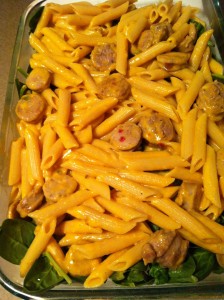 Ingredients
Nonstick cooking spray
4 cups (12 oz.) dry regular or whole-wheat ziti
1 can (15 oz.) LIBBY'S® 100% Pure Pumpkin
2 tablespoons all-purpose flour
1 teaspoon garlic powder
1/2 teaspoon salt
1/4 teaspoon ground nutmeg
Pinch cayenne pepper
1 can (12 fl. oz.) NESTLÉ® CARNATION® Evaporated Fat Free Milk
4 links (12 oz.) fully-cooked Italian-seasoned chicken sausage, cut into 1/4-inch slices
1 pkg. (6 oz.) or about 4 cups pre-washed baby spinach
1 cup (4 oz.) shredded part-skim or 2% milk reduced-fat mozzarella cheese
1/2 cup (1.5 oz.) shredded Parmesan cheese
Directions
PREHEAT oven to 425º F. Spray 4-quart baking dish with nonstick cooking spray.
PREPARE pasta according to package directions. Reserve 1/2 cup pasta cooking water and set aside for later use. Drain pasta; return to cooking pot.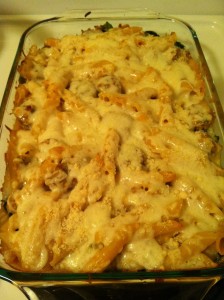 MEANWHILE, COMBINE pumpkin, flour, garlic powder, salt, nutmeg and cayenne pepper in medium skillet over medium heat. Slowly add evaporated milk, stirring until smooth. Cook, stirring occasionally, for 2 to 3 minutes or until mixture begins to thicken slightly. Pour over pasta in pot. Add sausage and reserved pasta cooking water; stir well.
SPREAD half of the pasta mixture into prepared baking dish. Top with spinach. Cover with remaining pasta mixture. Lightly spray piece of foil with nonstick cooking spray. Cover ziti with foil, greased side down.  BAKE for 20 minutes or until heated through. Combine mozzarella and Parmesan cheeses in small bowl. Remove foil; sprinkle with cheese mixture. Bake, uncovered, for an additional 5 minutes or until cheese is melted.
I added two more sweet Italian sausages in addition to the four chicken sausages; I also used more mozzarella cheese, less spinach and less evaporated milk.  This recipe was a good break from the tomato-based pasta dishes my husband and I usually make when we do our weekend cooking.  I give it a 7 out of 10; if I make it again, I'll add some sautéed garlic to make the pumpkin sauce mixture more flavorful.
What are some of your favorite fall foods and drinks?  Leave a comment or email us!