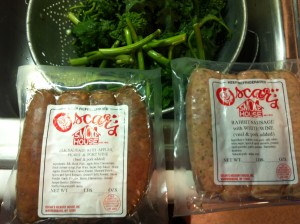 The best thing about Alternative Control?  One minute we're writing about local metal and the next minute we're writing about sausages!
Broccoli rabe and sausage is one of my all-time favorite meals — so when my husband and I picked up some rabbit and elk sausages (yes, you read that right) on a visit to upstate New York, I had to attempt recreating my Italian stepmother's version of the dish with this unique meat.
Hehe, unique meat.
The sausages came from Oscar's Adirondack Smoke House in Warrensburg, New York.  If you ever visit the Adirondacks, you have to stop at Oscar's on your way home to pick up some goodies.  Their cheese spreads, jerky, smoked trout, and "More Than Mustard" are unreplicable, and they have a really impressive selection of beef, pork, and cold cuts.  (Well, unless you go on a Monday – in which case, everyone else went on Sunday and bought everything.)  The elk sausage and rabbit sausage were on the specials menu and we got a package of each.
The recipe below is mostly my stepmother Gina's method, with a few changes.  Adapt it to your own tastes and enjoy!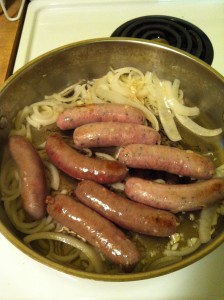 Broccoli Rabe and Sausage
Serves 4
Ingredients
Olive oil
½ an onion
6 cloves garlic
1 ½ lbs. Italian sausage – or elk sausage, whatever
1 bunch broccoli rabe
1 cup chicken broth
Salt, black pepper, and red pepper to taste
1 lb pasta
Parmesan cheese
Coat a large, deep frying pan with olive oil and heat on medium.  Chop onion and add to pan.  Chop garlic and add to pan.  Once onion and garlic are cooked, turn up heat, add sausage and sear on all sides.
(Gina cooks the sausage separately, but I don't want to wash more pans.  My husband Mike prefers grilled sausage, but I don't know how to turn on the grill.)
Put a pot of water on to boil.  When it boils, cook pasta according to directions, drain, and set aside.
Wash broccoli rabe; cut off the bottom half-inch of stems and discard.  Then separate the remaining length of stems from the leafy parts.  Add stems and chicken broth to pan with sausage.  (Gina doesn't do chicken broth.)  Lower heat to medium, cover, and cook ten minutes.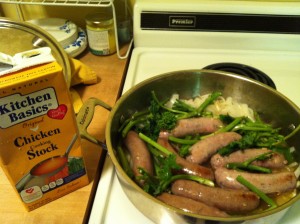 (Some people blanch the broccoli rabe before cooking.  That's for pussies and grandpas, I think you know it.)
(Seriously though, the rabe has a strong, bitter flavor if you don't blanch it.  If you like it milder, boil the rabe separately – again, more dishes to wash – for 2-5 minutes, drain, and then add to sausage.  No need to separate stems from leafy parts.)
Add salt, pepper, and leafy parts of broccoli rabe.  Cover and cook to desired tenderness (10-20 minutes), stirring occasionally.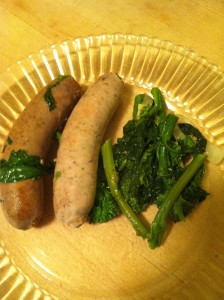 Serve over pasta with Parmesan cheese.
Mike and I both agreed that we liked the rabbit sausage better than the elk.  It had a sweet flavor that reminded me of the chicken apple sausage I've gotten from Stop and Shop's "fancy" meat case, only not gross.  As cliché as this sounds, the elk sausage was a little gamey for my tastes, but the strong flavor paired well with the broccoli rabe.
If there's one thing I've learned about Italian home cooking, it's that everyone has a different version of the basic recipes and everyone thinks that their way is the best.  How do you cook your broccoli rabe?  What are some of your other Italian favorites?
Oscar's Adirondack Smoke House  — online ordering available.
22 Raymond Lane
Warrensburg, NY 12885
1-800-627-3431
Open daily 8 am – 6pm (closed Thanksgiving and Christmas)