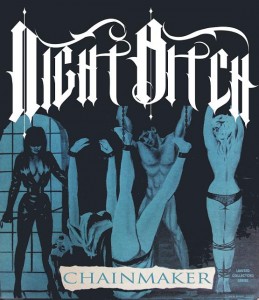 It makes you want to throw your clothing aside and writhe in the entangled mass of a thousand slaves' living flesh.  It makes you want to bathe in lukewarm bacon grease. It makes you want to consume an inhuman amount of red wine, whiskey, tequila, then finish with a dark, flavorful stout, before driving on the freeway with the top down, blasting Deep Purple deep tracks, while getting roadhead from several concubines. Nightbitch is the epitome of sleaze, the grimiest and grittiest child of hard rock, doom metal, and 1970s horror porn. With the recent release of the EP Chainmaker, this trio emphatically affirms their credo: "Wicked women, unholy passion, and fire nights."
This write-up was fated from the beginning. I cite mentioning Nightbitch in my very first article for Alternative Control, over a year ago. I had seen some of our homegrown CT-based bands come out to different venues in the Big Rotten Apple, Nightbitch among them. In the dank cellar of an otherwise ritzy establishment, succubi were conjured and danced among the packed audience during a soulful performance.
I went because I knew guitarist Ryan Adams from back in the day, as a fan of his previous band, Catalyst. It's been over a decade, in fact, since I'd trek it out to El 'n Gee's to sit through a bunch of hardcore bands so I could see the technical death metal prowess unfold. Fast forward to June 18th, 2012, and I was enjoying Nightbitch for the first time, their first time in NYC as a group. Certainly the first time I heard any band sing about werewolves copulating, and the overwhelming power of evil forcing women to disrobe.
The subject matter reflects the overall sentiment of the music. Dirge-like doom-inspired sections give way to shredding solos, with Mark Eles's bass a looming entity, encouraging the feeling of dread ecstasy. The drums are played with passion and intent, stomping deliberately and emphasizing each line that is more-than-capably sung by drummer Chris Taylor. In all fairness, I believe Taylor told me that he's a singer first, making the double-duty feat of singing and drumming even more impressive to me. He's even got one of those 'grandpa's microphones' floating over his drumkit! Which is a great segue into another charming aspect of Nightbitch's persona…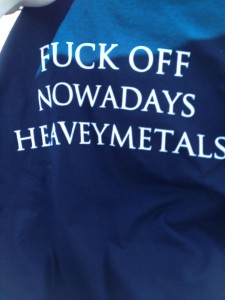 One of their mantras proclaims "Fuck Off Nowadays Heaveymetals!" The gentlemen of Nightbitch proudly tout the bands that inspired their sound, from early Black Sabbath's vilest riffage to Danzig's most sinister crooning. They also tend to release their material on the vessels of yesteryear; Sex and Magic was released on cassette, and they put everything on vinyl. There's one plan that I recall from a conversation only partly-remembered; if I'm ruining a surprise, damn me to a hell without women in chains and high heels. Because that would be the hell Nightbitch calls home, and more of a reward than a damnation. There was going to be a release on 8-track. When you purchased the 8-track, you were issued a code with which to download the mp3s. A masterful business ploy, they acknowledge and even glorify the outdated without alienating the 97.8% of people who no longer have an 8-track player. Or a tape deck… shit, who even has a CD player anymore?
The most recently-released EP, Chainmaker, is available to be purchased as a 12" record, and is representative of everything Nightbitch stands for. The selling point to me, for this specific offering, is a lovingly-crafted cover of Deep Purple's "Into the Fire" that personifies their devotion to old school riffing. Worth the price of admission on its own. The title track paints a scene where the chains are made, and I can't strongly enough suggest checking out the 'lyric video' that their label Ear One Productions put up on youtube. The song encapsulates all of what I mentioned above, and may compel you through dark powers unknown to head out and purchase the EP. Here it is: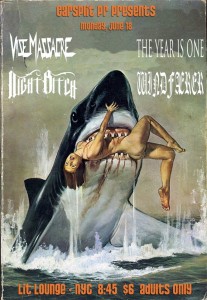 My favorite aspect of Nightbitch's potent persona, however, might be their visual design. Every album cover and flier is a throwback, depicting the sleazy, sensual, occult theme that pervades every offering, all while appearing to be out of a time capsule from the 70s. The flier I've chosen (my personal favorite) may be too gruesome; if it plays then you'll see. It's very fitting for Shark Week. If it doesn't, whatever I end up using will make my point all the same.
In closing, I exercise great restraint in withholding information from our esteemed readers. I spoke with Ryan Adams briefly before composing this ode to the night, and he clued me in on a handful of exciting developments, truly landscape-changing events for the power-trio. However, they are to be released in a timely and deliberate manner by the label, and I'm unable to share the information. Keep up with Nightbitch online and make certain to catch them whenever they're in town — the live show is an absolute blast.
Find Nightbitch on Facebook, Reverbnation, and Twitter.  You can also follow Chris Taylor, Ryan Adams, and Mark Eles.  (Fuck off nowadays heavymetals?)