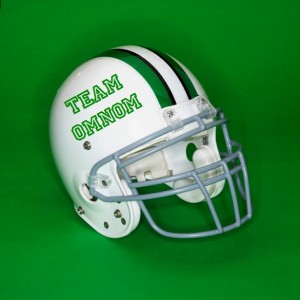 By Dan and Kristien Del Ferarro of OmNomCT
Part of the excitement of checking out Sunday's big game (we are under obligation by the mega-monopolies that rule this world not to say what we're actually talking about but to hint at what we're talking about, even though you all know what we're talking about, though of course we could ask permission, but we'd probably be denied use of the name) is the excitement, the adrenaline rush, and eating and drinking whatever the hell you want.  Yeah, there are no limits at all on the biggest game day of the year.  So, we've put together a check list of things to do on February 3, 2013.
☑ Check out Chowdafest V before the game from 11-4 pm at Webster Bank Arena.  We're talking nearly 30 soups and chowders from 25 different restaurants.  You pick your faves and they could actually win…too bad you can't pick a game winner that easily, huh?  Think of all the money you could make…
☑ Stock up on some beers at Port Chester Beer Distributors, BevMax in Stamford, Stew Leonard's in Norwalk, Harry's in Fairfield, or your own favorite ale-provider.  Don't be an embarrassment…no Coors Light… get the good stuff.
☑ Pre-game Party!  Buy at least a pound of bacon and wrap everything in the fridge with it.  Bacon-wrapped chicken, bacon-wrapped hot dogs, bacon-wrapped pulled pork, bacon-wrapped ribs, bacon-wrapped chicken wings, bacon-wrapped breadsticks, even bacon-wrapped bacon.  If you want to add more flavor to those wings, try Stamford's own Hoardable Hot Sauce!  Tail-gate in the backyard or parking lot and make sure to make lots of noise.  Leave before the police get called.
☑ Don't forget to stock up on chicken wings, too.  Stew Leonard's in Norwalk and Danbury actually sold 40,000 pounds of chicken wings during last year's big game weekend.  How many of those pounds did you consume last year and how many will you and your friends down in a saucy mess this year?  Go for the touchdown and try for at least 2 pounds per person. Raarrrr.
☑ Now, we're assuming that you're buzzed and tired and don't want to cook anything else, so we'll give you some places to check out that we know will have some killer specials on noms, drinks, and views of the game.
Black Rock
The Creek at Black Rock:  meal and drink specials, plus pick your own table by making a reservation.  If you have a big head, please sit in the back or in a corner.  Thanks.
Tautog Tavern:  drink specials (purple backs?) and a three course prix fixe dinner for $20.
Bridgeport
Barnum Publick House:  Complementary (not complimentary, it doesn't say you look hot or studdly) buffet, $4 drinks, $2 Narragansett Cans, $1 sliders starting at 5 pm.
Norwalk
Bar Sugo:  You can buy a box in their pool for $50, you can pay $45 and you'll get wings, ribs, meatballs, pizza, and beer, or for $140 you get two $50 boxes AND all the food and beer, too.  Also, they'll have delivery that day so you can slum it at home with Bar Sugo food if you'd like.
O'Neill's Pub & Restaurant:  $40, open bar and buffet during the game.  That's a freaking touchdown, wow!  Call them up to make a reservation!
Tavern on 7:  buffet for $24, giveaways, draft specials, AND bottle specials.
Tinto Bar and Tapas:  buy one get one free tapas, beer, wine, and sangria.  Call them up for reservations.
Southport
Southport Brewing Company:  pizza and a pitcher of brewskis for $12 and additional food specials.
Stamford
Bar Rosso:  $3 draft beers and $5 bar menu, starting at 4:30.  Do it up Italian style and be sure to call for your reservations.
Bar Q-Stamford:  $20 gets you unlimited Bud Light Drafts (?!) and all you can eat wings during the first half of the game.  Plus, there will be raffle prizes and giveaways.  Check out their BBQ tapas when you're there, too.  Buy your tix here.
Coalhouse Pizza:  We've heard rumors of a wing special.  Pair that with their 52 beers on tap and you've got a great place to hit up.  Plus, check out Coalhouse's new side room with TVs, darts, and other games that you can play.
Vinny's Backyard:  Domestic beers 3 bucks or buy a pitcher and get large wings for 3 bucks ($8 savings).  You SO need the wings here…really love 'um.
If you have any bars, pubs, gastropubs, restaurants, gastropub bars, or gastropub bar restaurants that aren't on here with their specials, please let us know by commenting.
And for more from Dan and Kristien, visit their blog, Facebook page, or Twitter!