This past Saturday, Starfish Junction Events hosted their second annual Beer Conn at the Webster Bank Arena in Bridgeport.  Over 1,500 people were in attendance at the evening session, including myself, Pluckman, and Designated Driving Correspondent Jesse Styles.  (She also served as Official Note-Taker, Auxiliary Photographer, and Overall Voice of Reason.)
Speaking of designated driving… You know the saying that you don't need to know how a car works to drive one?  Well, nor do you need to know much about hipster beer to drink it. I know that I generally like stouts and porters and I think sour beer tastes gross.  But ask me to analyze the newest hefeweizen's  "bouquet" and I'll quietly slink away to crack a 'Gansett.
That being said, here is Beer Conn from the perspective of a beer enjoyer but not a connoisseur:
New Favorite: Revival Brewing's Zeppelin Hefeweizen Ale (Providence, RI)
Like I said, no bouquet analysis!  According to the brewery, "hints of clove and vanilla from the traditional yeast used in fermentation round out this brew's crisp and refreshing taste."  I did find the 5.5% ABV ale refreshing and fruity, although I don't know if the fruity part was my imagination.  I've enjoyed Revival's Double Black IPA and White Electric Coffee Stout in the past, and I look forward to trying more of their offerings.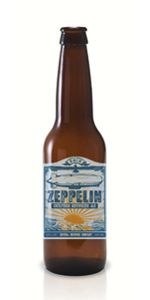 Was Already a Favorite: Narragansett's Big Mamie Indestructible American Pale Ale (Providence, RI)
Brand loyalty aside, Big Mamie might be Narragansett's best brew yet.  This easy-to-drink APA has a hint of citrus — and at 4.5% ABV, you could knock back the tallboys all day.  Big Mamie was just released in November and is named after the USS Massachusetts — a famous WWII battleship which Narragansett actually helped save from being scrapped back in the 1960s.  "Big Mamie," as the ship is affectionately nicknamed, is now part of the Battleship Cove naval history museum in Fall River, MA.
Of course I didn't take a picture of the Big Mamie, but I did capture 'Gansett intern Mike pouring my first taste of the Autocrat Coffee Milk Stout — which believe it or not, as a 'Gansett Girl and stout-lover, I had never tried before.  The malty brew was enjoyable, but didn't budge Big Mamie from her #1 spot!
On a side note, I heard Mike say to a curious beer-lover that Naragansett is working on moving its brewing operations from the current location in Rochester, NY back to the beer's home state of Rhode Island.  Fingers crossed!
Most Unique: Shebeen Brewing's JavaPig Stout (Wolcott, CT)
Made with local coffee AND local bacon — Shearwaters Organic Roasters and Nodine's Smokehouse respectively — JavaPig gets hipster points as well as points for taste.  The bacon and coffee flavors are on equal footing in this 5.0% ABV breakfast stout.  Head brewer Matthew Bellemare, left, has some imagination — and some serious chemistry skills!
A runner-up for most unique was Thimble Island's Dark Pumpkin Porter (5.0% ABV).  
Most Alcohol: Two Road Brewing's 20 Ton Barleywine (Stratford, CT)
Drink a couple tasting glasses of this 12.0% ABV elixir and you'll be just as cheerful as these guys! But wait, aren't you cheerful already? You're at a beer fest!
Overall, I had a great time at Beer Conn. (Granted, it would have been hard to have a bad time walking around drinking beer.)  Plus, this is the first tasting event I've attended during the winter months — so stouts and porters abounded whereas they were scarce at summer and fall fests.  The only drawback to this one: no food trucks, because it was indoors. But that's a pretty hipsterish First World Problem. For coverage that's a little more "connoisseur," check out Johnny Pluckman's writeup here — and for lots of goofy photos, visit our Facebook album.
Did you attend Beer Conn?  What did you think?  What's YOUR favorite craft (or "non-craft") beer?
For more from Alternative Control, like us on Facebook or follow on Twitter and Instagram at @AltCtrlCT!
And to stay updated on all Connecticut beer events, visit CTBeer.com and register your email address at BeerFests.com.
Alternative Control received two media passes to cover this event. All opinions are our own.