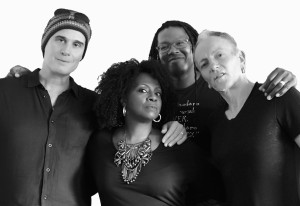 What do you get when you put together Def Leppard's lead guitarist, the Stone Temple Pilots' bassist, a soul singer who's done backup vocals for Michael Buble and Luther Vandross, and a metal-loving drummer who's worked with TLC and Englebert Humperdinck?  Somehow, you get a blues band.
Def Leppard's Phil Collen started assembling Delta Deep in 2012 along with vocalist Debbi Blackwell-Cook.  They were eventually joined by drummer Forrest Robinson and bassist Robert DeLeo, putting out their debut self-titled album in June 2015 on Mailboat Records.
At first, you wonder, "Where's the Def Leppard?"  Collen's roots in the iconic rock band start to show in the third track, "Down in the Delta," which opens with 80s-style hard rock guitar riffs that give way to larger-than-life choruses.  DeLeo adds an unexpected angle by using a funky distorted bass tone.  "Miss Me" is another one that has that 80s hand-clapping feel, with Collens lending vocals in some verses — and "Mistreated," with Def Leppard's Joe Elliott joining Blackwell-Cook on vocals, is a smoldering arena rock epic.
But not all the tracks have Leppard poured all over them.  "Burnt Sally" and "Bang That Lid" are odes to classic blues; DeLeo, who counts James Jamerson as one of his biggest influences, provides a bottom end that's in constant motion.  And don't forget about Robinson — he adds unique percussion elements to fit each song, like double-bass in the outro of "Mistreated," that show off the versatile background that led him to Delta Deep.
Whether the mood of a particular song is dark like "Whiskey" or romantic like "Treat Her Like Candy," Delta Deep is moving music.  This is one review copy that's getting added to my personal collection.
P.S.: Delta Deep wrote a Christmas song.  Check it out.
Upcoming Delta Deep Shows
Dec 20, 2015        229                                        London, England UK              TICKETS
Dec 21, 2015         Sebright Arms                     London, England UK              TICKETS
Jan 6, 2016          The Canyon Club                Agoura Hills, CA                       TICKETS
Jan 7, 2016           The Coach House               San Juan Capistrano, CA        TICKETS
Jan 10, 2016        Sweetwater Music Hall      Mill Valley, CA                          TICKETS
Jan 11, 2016         The Catalyst Club                Santa Cruz, CA                         TICKETS
Jan 13, 2016         Saint Rocke                          Hermosa Beach, CA                TICKETS
For more from Delta Deep, find them on Facebook, Youtube, Soundcloud, Twitter, and the web.  And for more from Alternative Control, like us on Facebook or follow on Twitter and Instagram at @AltCtrlCT!
This post was sponsored by Independent Music Promotions.  Photos and review copy provided by IMP and Delta Deep.  All opinions are our own.