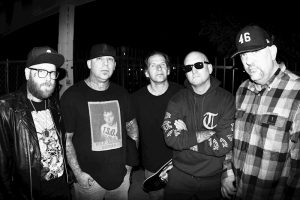 In case you weren't sure genre Dead Friends 46 is playing on their new album Hardcore, well, it's hardcore.  Released December 1st by Rank-n-File Records, the California band draws inspiration from East Coast and West Coast scenes as well as the folks across the pond.
As I pressed play on the opening track, I guessed from Dead Friends' band picture that this would be bunch of old hardcore dudes who were around for Hardcore Round 1 and survived to HC Round 3.5, gaining much wisdom along the way.  They then found a young dude with a face tattoo and started writing hardcore songs that sounded so authentic because — wait for it — these are actual real hardcore guys from HC Round 1.
And that guess was surprisingly accurate.  The band was formed in 2015 by a couple of "lifers" who wanted to pay tribute to fallen friends and speak out against the substance abuse that had brought them down.  (I hadn't guessed the straight edge part.)  According to the band, "That outspoken drug-free stance has hit home in a Southern California music scene rife with drug use and alcoholism. Yet, there is no judgment here."  Motivated by their own past obstacles, including addiction and incarceration, Dead Friends 46 seeks to spread a positive message: they want their friends alive.
Hardcore is definitely worth a listen for fans of Bad Brains, early Social Distortion, Agnostic Front, and Sick of it All.  I would go see them if they came to Cherry Street Station, perhaps on a bill with Savage World, Sonic Supercharger 66, or Damn Broads. Enjoy!
Connect with Dead Friends 46
And for more from Alternative Control, find us on Facebook, Twitter, Instagram, Soundcloud, and bandcamp.
This post was sponsored by Independent Music Promotions.  All opinions are our own.