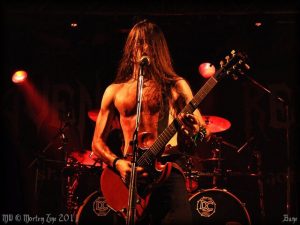 One thing I'm really enjoying about Alternative Control's Nerd Talk series is that it lets readers see a side of the featured bands they might not get to see elsewhere.  After publishing one such column by BANE frontman and mastermind Branislav, and listening to the band's new album Esoteric Formulae while posting it, I became curious about the human behind this international black metal outfit.  Branislav was kind enough to answer a few questions about BANE's music and his own personal journey…
When and why did you move from Serbia to Canada?  Has this resulted in lineup changes for Bane, or did other members move as well?
Long story short, I moved to Canada in '94 as a kid with my parents. We ended up moving back to my homeland about a decade later, and then I moved back again to Canada in the year of 2012. So yes, by coming to Montreal six years ago by myself I had no other choice but to find new band members, which I eventually managed to do so. However, I still keep in touch with my former bandmates — and while touring Europe this summer, the line-up consisted of some old friends and former band mates, so it was very nice to catch up with them and share the stage again.
The reason why I decided to come to North America is because I wanted to pursue music professionally, since it was quite a challenge to do so in the Balkans. It also made touring in North America more accessible, which again, would have been extremely difficult to do from overseas. This way it's easier to manage North American shows/tours, while occasionally going back to Europe for a few weeks at a time when the opportunity presents itself.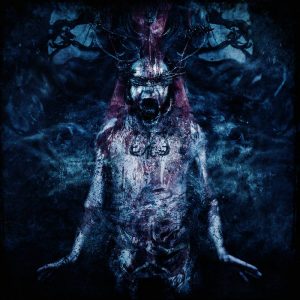 I see you are listed as playing everything except for drums on Esoteric Formulae.  Tell me about the recording process for this album.
The recording process went fine, for the most part. It was actually the first album that I recorded everything by myself (with no supervision or engineer), with the exception of the first pair of rhythm guitars which was supervised by my friend Dave Gagné. I had all the time in the world to work on my takes, which felt good as it allowed me re-do certain parts over and over again until I had finally had that one take I was completely satisfied with. It was a good learning experience for me, but I'm already looking forward to recording the next album in the same way I did this one as now I know how and what to do differently in order to achieve even better results.
What are some of your inspirations, musical and otherwise?
My primary source of inspiration is just listening to music, all kinds of different genres, really. Not that I incorporate any weird elements in the band's music per se, but by listening to different styles it makes me appreciate every next band or artist I listen to even more. Music is kind of like a never ending roller coaster ride for me – it never ceases to be amusing and exciting. In terms of Extreme Metal the list is too long, as I order CDs practically on a weekly basis and do a lot of trades with bands and independent labels from all around the world.   It's always hard to single out any of them as I constantly am listening to new arrivals.
Otherwise, I do a bit of reading which widens my horizons and occasionally watch a movie here and there when I have some spare time, which is quite rare these days to be honest. But I always find the time to listen to music, because as we all know, life without music would be a mistake, hehe.
Bane did a run of US dates this fall with UADA, Imperial Triumphant and more.  How did that tour go?  Any good stories from the road?
That was actually our very first US Tour. We were very fortunate to get invited by Jake, UADA's front man and be a part of The Blood Sand Ash Tour. We went into that run with zero expectations as I had never toured the USA with BANE before, but I was really pleasantly surprised to see how healthy and active the Underground Extreme Metal scene is over there. To play in front of nearly sold out crowds in New York City, Boston, and Chicago was incredible, and co-headlining Satan's Unholy Abomination Festival in Maryland are only a few of the many memories I will cherish for a long time. We've met fans who have waited years until they could finally to see us live and we are beyond grateful for the support we've received throughout the entire Tour. Also, to watch a band like UADA night after night was simply mesmerizing, as they are definitely one of the best bands to come out of the Black Metal genre in recent years.
As far as stories go, I think the majority of small to medium sized bands who get asked this question will have a similar answer — it's mostly driving, loading in, playing the set, loading out, crashing at someone's place, waking up the next morning, getting a coffee at a drive-though, and driving to the next location. Being a touring musician is just like any other job, really; the point is be on time (don't be late, damn it) and to give it your best performance every single day, no matter if it's a Monday or Friday. But we love doing it, and there's nothing I'd rather be doing than touring!
Your written English in the Nerd Talk is excellent.  As someone who can barely ask where the bathroom is located in a second language, I'm very impressed.  Now you have moved from your native Serbia to a French-speaking Canadian province….  How many languages are you proficient in?  Did you learn them through school or through other situations?  Any tips for learning a new language?
Thank you very much, really appreciate the compliment!  I can fully speak, read and understand three languages, which are my native Serbian, French (which is technically my second language), and of course English (which, ironically, is the one I use the most in my everyday life).  I comprehend most Slavic languages rather well at least on a basic level, but often times don't have a vast enough dictionary of words to keep up a fluid conversation.
As far as tips for learning new languages, well, learning them at a young age — that definitely helps. Other than that, pick a language you actually WANT to learn (if any), so something you actually have interest in learning (makes things so much easier). And lastly, don't be shy to ask questions about pronunciation, grammar, etc…  Sometimes all you gotta do in life is ask.
How do you like living in Montreal so far? What are some of your favorite hangouts or things to do there? 
It's alright. Honestly, I am not really a party animal, therefore spend most of my time at home when I am not on tour, so I lead a very quiet life (again, when not surrounded by people screaming and yelling into microphones until 1 in the morning, haha).  Wish I could answer the second part of your question, but unfortunately I never really "hang out" anywhere.  The only times I'll leave my apartment is to see a show, so I don't really care which venues are hosting it as long as I get to see the bands I like.
What's in store for Bane in 2019? 
More touring, that's for sure. We'll be playing a few shows in Canada but mostly focusing on getting more US dates. The main goal for next year is to promote our new album Esoteric Formulae as best as we can. And to do that, we'll just have to play as many shows as we possibly can!
…And that's a wrap from the multilingual black metal homebody that is BANE.  Check out Esoteric Formulae and keep an eye out for BANE coming to a venue and/or Dunkin Donuts drive-thru near you!
Connect with BANE 
For more from Alternative Control, find us on Facebook, Twitter, Instagram, Soundcloud, and bandcamp.