Imagine you're at summer party with that sweet young-Morrissey-looking dude you've had your eye on for awhile.  Louise Aubrie's Late 44 is the soundtrack for the moment when you realize he's had his eye on you too.  With a vibe reminiscent of The Killers and The Smiths, the London-born singer/songwriter intoxicates listeners with spritely vocals against rough-tinged guitars.  Her third album, due out next week, is an innovative work of pop-punk.
"Perfect Battle Cry" takes things in a campy surf direction, showing that Aubrie isn't afraid to get a little weird.  "Too Late" is undeniably catchy, and a couple well-placed snare rolls don't hurt either.  The vocal harmonies and surprise string synths on "One False Move" are another example of Aubrie and her band's clever composition — just enough flair to turn a simple tune into something ethereal.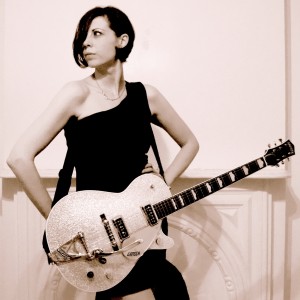 Aubrie is backed by Tom Edwards and Boz Boorer on guitar, Joe Holweger on bass, David Ruffy drums/percussion, and James Knight piano/keys.  Late 44 was recorded at Abbey Road Studios and mixed at Knight Time Studios, both in London.  Take a look at the bio on Aubrie's site — these guys have some impressive credentials, including work with Morrissey, Adam Ant, and The Kooks.  (Aside from being part of this badass project, of course!)
Out of all the promo emails I receive for AltCtrl, this is one of the few albums that's getting burned to CD and going in my car.  Late 44 will be available July 13th and I think you should buy it.
Aubrie doesn't have any local shows coming up, but she does live part-time in New York City and played a run of Manhattan gigs last year.  To keep abreast of what she has coming up next, find her on Facebook and the web.
And for more from Alternative Control, find us on Facebook or follow on Twitter/Instagram at @AltCtrlCT!
This post was sponsored by Independent Music Promotions.  All opinions are our own.