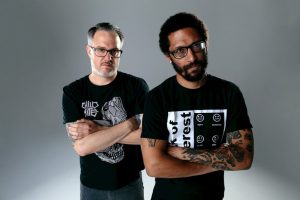 If the Milwaukee hip-hop duo Guerrilla Ghost placed a backpage personal ad in 1990s, it might read something like this:
SWM and SBM with matching beards/glasses, approaching middle age, into Child Bite and seeking a better society.  We enjoy long, windy walks on Lake Michigan.  Straightforward and not afraid to collaborate.
I don't know if they're single in real life (probably not), and straightforward is putting it lightly — the chorus of the track "Rape Culture" repeats the line, "F*** your rape culture" several times, then ends with a resounding "F*** YOU."  Couldn't have said it better myself…  Another instant classic is "Anti-Social Media," with the tagline, "It ain't cool to commercialize depression."
But those aren't the songs we're here to talk about.  Alternative Control is very pleased to debut the track "Daughters" (ft. Sarah Long), off Guerrilla Ghost's upcoming album Perpetually Sad Motion Machine.  Says Chuck Jones, a.k.a.  Bad Graphics Ghost,
"In terms of this record being a legacy I'm leaving behind for the world, this song is specifically dedicated to my children. I wanted to strip away every device I use to deflect in my songwriting and be nothing but 100% honest, especially with them. They are the future. Also, I am thankful we were able to recruit our friend Sarah Long (Fahri / Jab Jugular) as the voice of positive female empowerment. Through her own life experience, she definitely helped add the dynamic we wanted to have the song succeed. We hope everyone enjoys this different side of Guerrilla Ghost."
Perpetually Sad Motion Machine comes out on November 23rd via Triple Eye Industries.  With appearances by Carnage  the  Executioner,  Lorde Fredd33 (New  Age  Narcissism),  members  of  Fox  Face (Dirtnap Records), and artwork by Child Bite's Shawn Knight, this album brings the band to a new level of inter-scene collaboration and innovation.  If you enjoy out-of-the-box hip hop like Obnox and Aesop Rock, don't sleep on Guerrilla Ghost.  Pre-order Perpetually in vinyl, CD, and digital formats here.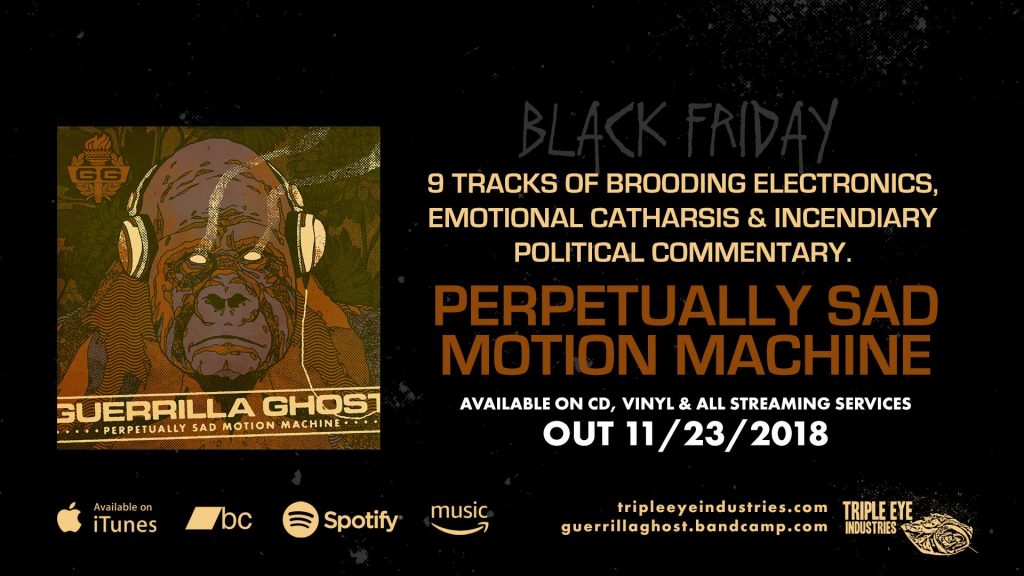 For more from Alternative Control, find us on Facebook, Twitter, Instagram, Soundcloud, and bandcamp.