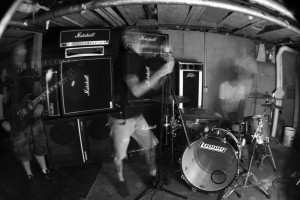 Bethlehem-based, noisy hardcore band Secret Cutter took many people by surprise last year when their self-released album, appropriately called Self-Titled, garnered them a lot of praise from all corners of the metal press. It garnered all this praise for one simple reason: the album flat-out slays. It's one heavy, slice of honestly pissed, heavy, noisy hardcore.
So with their appearance on the second day of the Death To False Metal Fest coming up, we sent vocalist Ekim, guitarist Evan Morey and drummer Jared Stimpfl a bunch of questions ranging from their unique set-up, the surprising positive praise for their most recent album, and their current situation, among other subjects.
Below are their answers.
Were you surprised with all the positive attention that Self-Titled received in the past year? Why or why not?
Jared: We weren't expecting the positive feedback and all the reviews that came out of the woodwork… We were psyched on how it turned out but we also have crippling self-doubt, so it was a nice surprise.
Evan: When we completed the record, I felt pretty good about it. But yes, I was really surprised by the overall positive reception the record received. I am proud of the record, but we can do better.
And since then, have any labels been in contact with you?
Jared: We have had a few people interested in working with us, but we'll wait and see when the next record is closer to being done.
Evan: We would be open to working with a record label if the right offer came along. That being said, we would be fine releasing our own records indefinitely. It's satisfying to see a project through from start to finish.
Have you already started thinking of a follow up? Or is it too early?
Jared: Songs are written and the recording process has already started. But knowing how anal we are it might take another year just to mix it.
In addition, was it your intention to form a band with drums, guitars, vocals and no bass? Or was this just how it happened?
Jared: We never thought about a bass player when we first started playing and Evan's obvious over-competition has left no room for any bass. I mean, Jesus…  I can't believe I'm still in a band with that guy.
Evan: Haha , Yeah I don't work well with others…. I find it liberating to be the only strings in the band. I'll change a riff 20 times before I'm happy with it. In previous bands I drove the other guys crazy. Frankly, I'm lucky to be in a band with two guys who can tolerate me.
To what extent does your hometown of Bethlehem play in influencing your music? Is it your Rustbelt muse? Why or why not?
Ekim: Nah not really. Just influenced by the positives and negatives of life from past to present (mostly negatives), until exploding.
Evan: A little bit, I guess of the rotting carcass of Bethlehem Steel is a fitting backdrop to what we do. I don't have a muse, but there are thought and images that enter my mind when I'm writing something that clicks. I wouldn't feel comfortable putting those thoughts in print. Ha.
Jared: I don't feel like I'm influenced by our area…  I didn't grow up here. Losing a parent early on in life and the chaos that followed pretty much is my influence. I took to drums as an escape.
You play a limited amount of live dates. Why is this so? Will that change in the near future?
Jared: We all work, have mortgages and I'm totally married…  So when she lets me to play a show then cool, Ha…But we're currently moving our lives into a place where touring is more accessible.
Evan: We've been playing more shows recently, and we will do more. As far as touring goes, I'm ready to burn the house and never come back. It's a struggle for most bands to balance real world/band world. We are no different.
In addition, what drew you to play the inaugural edition of the Death To False Metal Festival? What are your reasons for playing this fest?
Jared: It's a great line-up of bands, and it's a great opportunity to meet all the bands and people we've kept in contact with online.
Evan: Playing with Whiplash is pretty cool. I had Power and Pain on cassette when I was 12. That record kills.
What is next for the band? More touring? Another recording?
Jared: I don't know…play more…record more…see what happens!
Evan: Yes and yes.
Ekim: More shows for sure. And a new album is in the works! Which I think is going to be better than the previous Self-Titled. And I'm super excited about that!
To keep track of Secret Cutter, find them on Facebook and bandcamp.
And for more from Alternative Control, find us on Facebook or follow on Twitter/Instagram at @AltCtrlCT!