I love doing Second Annual anythings; it shows a consistency, a dependability that withstands the test of time. On the other hand, it also embodies a beginning to what one can always hope will be a lasting tradition. While one of my resolutions for the new year may be to contribute more often to Alternative Control, this very article stands as a testament to the fact that I'm still here, talking nonsense about popular and local culture. Sincerest thanks to our Esteemed Editor Jess, to all of my fellow authors, and to everybody who has perused my ramblings for the calendar year MMXIV.
Shit went down this past year. From the roaring beginning as Lightsbane unleashed their first full-length CD Controverting Irrelevance (an impressive effort that solidifies their standing as a local juggernaut) to the apocalyptic climax of Eyes of the Dead and Continuum sharing the release of their ground-breaking albums, The Sum of All Your Fears and 7 respectively (both enjoying radical improvements in production quality), Connecticut's music scene has shown more promise than ever. Staffers at Alternative Control churn out great music with a number of projects, and kids we've never even heard of are sending in fresh new music to review and promote. The sky would be the limit, but the USS AltCtrlCT is a starship, screaming through the cosmos! Contained herein will be a smattering of highs and lows; many of last year's awards persist, and a bevy of new awards will be given. In no particular order, allow us to proceed with the grilling:
Epic Axe of the Year: Bryan Reilly
Now, I'm not a guitarist. But I do appreciate guitars, and nature, and the merging of the two is simply wondrous. Created by 87811 Guitars out of Texas, this majestic wooden beauty belongs to Connecticut metal veteran Bryan Reilly. Behold, the Epic Axe of the Year!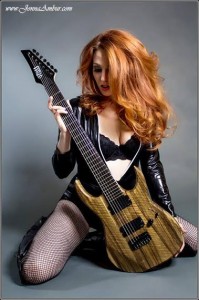 Drastic Lineup Change for the Better: Dream of Scipio
Last year, I had the misfortune to award Dread the Woods with Unfortunate Loss of a Band. This year, I have the good fortune to trumpet a reunion of DtW members as they bolster what was already a daunting lineup in DoS! Ansonia's Dream of Scipio has been a stalwart contributor to CT's metal and hardcore scene for years, have appeared on virtually every bill worth going to, and have been formidable in any form; with 2014's additions of Walter Wartooth and Jackson Knox, they're unstoppable.
Best Special Event: PWA Second Anniversary Tour
While there were a handful of truly outstanding musical events, the shindig that I attended last year that most irrevocably rocked my world was Pro Wrestling Academy CT's weekend-long 2nd Anniversary extravaganza. Starting in New Hampshire and finishing at home in Hamden, CT, this marquee event brought in huge names and showcased their own homegrown talent. Revered legends like Ox Baker and Brutus "The Barber" Beefcake, broadcast-televised wrestlers like Abyss and The Amazing Red, and catapulting regional stars like Bull Dredd and "Heart Attack" Tommy Mack shared bills that were packed with up-and-coming talent out of the school itself.
2015 only promises to get bigger, as this growing promotion adds more fuel to the fire by opening a new facility, hurtling headlong into the bright future and leaving awe-inspired spectators in its wake. The match that stole the weekend for me was PWA International Champion "The Red Knight of Deutschland" Josef Von Schmidt, taking on Connecticut's-own international sensation A.R. Fox. Stellar professional wrestling all around.
Unfortunate Loss of a Band: Crown of Scorn
It would appear that despite a solid debut recording effort, which garnered a very positive review on this very website, Crown of Scorn will no longer be riding alongside Connecticut metal's faithful. I endorsed their first outing and truly enjoyed their live performance, here's to hoping that the new year welcomes all of these talented artists exploring fresh ventures.
Remarkable Return of a Band: At the Gates
No, At the Gates are not local. But nobody else, save The King of Pop Michael Jackson, could possibly have returned and made more of an impact on Mr. Ryan Bair. Maybe Khasm, but it seems like that whispered hope may realize in time for the next annual awards article… In any event, AtG's new album, At War With Reality, is an absolute triumph, and if it were a tape cassette I would have worn it out long ago. And it just came out. I might wear it out on Youtube.
Honorary Members of the CT Scene: Thanatotic Desire
These. Guys. Slay. I first experienced New Jersey's finest at the phenomenal Festival of the Dead, everybody in EotD kept telling me how solid they are and not to miss their set. They won me over, alongside a packed-to-the-gills Cherry St. Station. You can check out their EP Silence to Violence on Amazon to see what I'm saying. Or sneak a peek at ReverbNation.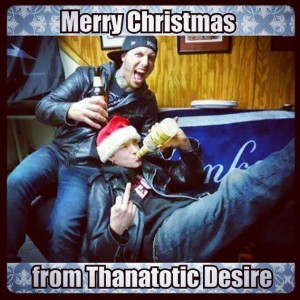 Magnificent Recovery of a Loved One: Lady Elizabeth
Those of us who run the New Haven circle know how nasty Snooty Garland is, in all of her myriad incarnations (Bair Grills… 2013 Most Triumphant Debut winner). Jazz meets soul meets funk meets metal (seriously), this ever-changing group defies logic and brings horn-section greatness to your humble Connecticut doorstep. The award goes to frontwoman Liz Dellinger, who endured a cancer diagnosis and the surgical removal of 28 nodes, in order to announce recently that all goes well with recuperation and CT's most sultry, commanding songstress will be back before you know it! No better news!
Dick Clark Award For Ageless Rocking: Mile Marker Zero
It's hard to believe that these young, sharp-dressed gentlemen belong to a brand that has endured for nearly TWO DECADES… Founder, songwriter, and frontman Dave Alley began paving the road at mile marker zero (pun TOTALLY intended) in 1997. Kurt Cobain was freshly deceased, the nWo was terrorizing WCW, and it's entirely possible you owned a swatch. IF you were even BORN yet! The landmark The Haunted was released in 2006, and 2015 will be spent touring in support of the most recent release Young Rust. And by touring, I mean the country; this outfit makes themselves at home all over the region, with a solid fanbase in Philly, DC, upstate and New York City… The best time I've ever had on Halloween was seeing MMZ perform their signature holiday set loaded with creepy hits and boo-tiful standards. Catch them when you can for a proggy-good time, and look for an exclusive AltCtrl piece on this dynamic, melodic, impressive project before the groundhog sees his shadow in 2015.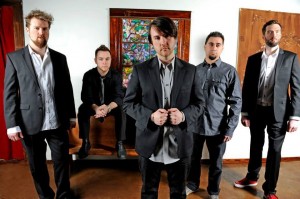 Best Non-Metal Night Out : Fight the Fear
This article is a Bair joint, at Alternative Control. And no, they aren't metal in any tangible sense of the word. But I have been known to revel in toothache-sweetness from time to time, a lot of pop and radio-friendly rock can earn my ear. Fight the Fear have shared stages with countless familiar CT mainstays and even won Best Overall Band in the 2nd Annual Connecticut Music Awards. From the vaunted pedigree of an educated vocalist to a truly outstanding rhythm section, this band legitimately rocks. Coordinated dancing and an always-packed bar complement everything else there is to love about this group.
Best Music Video: "Left to Leper" by Continuum
Continuum is another name that you don't have to hear from me; their shirts are worn at any local metal show you go to, they frequent stages from Seaside Tavern in Stamford to the Webster Theater in Hartford, they've been at it a while and recently released their strongest outing yet. Alongside the album 7, this video, a cinematic offering that tells a worthwhile story and showcases the acting chops of secret agent Darrin Yardley.
As Vonnegut said, "So it goes." 2014 is gone, and good riddance in my opinion, but here we welcome new opportunities, renewed intentions, and vigorous efforts for the better. With regards to those discussed herein, Thanatotic Desire and Mile Marker Zero promise new releases in 2015, and there is so much to look forward to… Jimmy Junk Bird & The Stiffs careen forward at all times, Lightsbane look to top last year's release, and Black Rock Social has become a huge reggae blip on the CT radar. Stay tuned to Alternative Control in order to keep current with all of the happenings, and enjoy a safe, restful, chaotic, thunderous 2015.