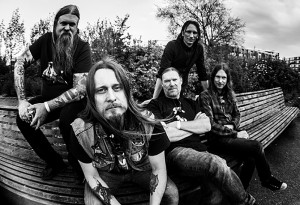 I've been listening to heavy metal music since childhood. That might seem like an exaggeration, but without a doubt I was headbanging to the generic thrash riff while the Ultimate Warrior stormed a WWF ring, when the sum of my years still amounted to single digits. In all of the time since, I've heard and experienced a fair spectrum of The Scene; from the most obscure European church-burners to the poppiest platinum-album posers, from local acts who played one show in a basement to globetrotters who sell out stadiums. Somehow, unbelievably, I had not given time and attention to Enslaved! An egregious error in judgment that has now been remedied.
Enslaved is a band that I had often heard of, a name spoken in hushed, reverent tones by true metal warriors. In doing a little research for this article, I discovered that Ivar Bjornson and Grutle Kjellson launched their campaign in 1991, and while enduring a handful of lineup changes over the course of creating 13 prior studio albums, they have earned a rightful throne among the pantheon of Norwegian metal legends.
Celebrating their 25th anniversary, Enslaved has released The Sleeping Gods — Thorn, a full-length compilation comprised of select tracks that come off of rare releases. It is strange to me, having my first experience with a group of this magnitude to be reviewing what is essentially a collection of B-sides, but at the same time it's liberating to have no previous opinions coloring this particular body of work.
The songs range from brutal and basic to progressive-influenced, a fitting encapsulation of a career that explores various inspirations and spans decades. If I were to assign comparisons to what I am more familiar with, I immediately recall the work of Ihshahn and Moonspell when I hear these songs.
From the opening track "Heimvegen," the course is set at a melancholy, deliberate pace. Haunting clean vocals seem to resonate with atmospheric keys, creating a mournful but beautiful feeling that is accessible and relatable. The title track plods along at an even less energetic rate, almost seeming to personify said "sleeping gods." The song called "Striker" practically gallops by comparison, but it can be said that every offering on this record takes its own time; this is music to enjoy a chalice of wine with, as opposed to the beer-swilling, rousing speed of some of Enslaved's Northern European contemporaries.
The music remains true to their black metal roots, a fact that must be considered when the production quality seems to poorly represent such accomplished artists. Upon reading that much of the material was self-produced, I found it easier to overlook the slight distraction, and at times it actually seems to accentuate the sound. For instance, on the track "Disintegrator," the growled vocals sound evil and ghost-like, as if the track were recorded without a singer, in a haunted room, with the wailing of the deceased accompanying the instruments. The gritty vox seem to crawl up the wall, and the chilling sound captures a feeling that might not have existed with different production.
In short, I dig it! As a lifelong fan of metal music, who had not previously encountered this staple of the prominent Norwegian scene, I found the latest Enslaved offering to be enjoyable and am pleased to review it. By the third and fourth times through, I found myself settling in and looking forward to songs that had quickly and easily become familiar enough to hum along to. And I will eagerly seek to familiarize myself with the last 25 years of their music.
Review copy and photo permission provided by Earsplit PR.  All opinions are our own.
For more from Alternative Control, find us on Facebook, Twitter, Instagram, Soundcloud, and bandcamp.