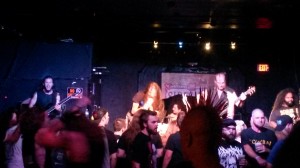 Interview by Bill Klopfer
Photos and transcription by Vegetarian Metalhead
The Summer of Doom tour featuring Crowbar, Battlecross, and Lord Dying recently rolled through town taking out everything in its path.  Alternative Control had the opportunity to interview Tony Asta of Battlecross before they took the stage at the Palladium in Worcester, Massachusetts on June 26, 2015.
AC: How is the Summer of Doom tour going so far?
TA: Pretty sweet man, the dudes from Crowbar are really fucking cool.  And also Lord Dying too are really cool guys.   I saw Crowbar live before this and they were incredible.  I couldn't help but feel how heavy they are, so when I found out we were doing this tour I was pretty excited.  It's a really cool thing.
AC: I heard the awesome new song "Not Your Slave" for the album set to come out in August.  How did you come up with the title and is it a conceptual album?
TA: Thanks! Ya there is an overall theme that we've always had as far as persevering and overcoming obstacles while staying positive; I think that this album is a little darker, a little more serious, a little more sinister in that it's kind of like inner reflections on the bad things you've done and your own inner demons.  So the album title Rise To Power is saying there are these things that hold you down that you may have done yourself but that you admit and you rise above, so that is the overall message.  I don't know if you've seen the album cover yet where this dude is being held down by ropes and he's reaching for the star in the sky.
AC:  Yes! Do you guys have a graphic designer?
TA: Yes Peter Sallai who has done some great work for Sabaton and some other shirt designs for us, so he's our go-to guy.
AC:  Being a musician, I'm always listening to guitars, bass, drums, and EQ-ing.  The guitars sounded really crisp, a deep mid-range feel.  Is there anything you do differently in the recording process versus live?
TA:  Ya basically in the studio you want to get the best sound that you can, but you're still going to sound like you. What we end up doing is the sound we got for the guitar was a special profile made for another project that Jason Suecof worked on and we took that profile and tweaked it to make it what I wanted.  Then that was our base point and he mixed and mastered it from there.
AC: Do you guys mic the guitar or just record it direct on Pro Tools?
TA: The guitar was recorded with direct input using the Kempar so we recorded raw and we didn't need to re-amp it because it came out so good we left it.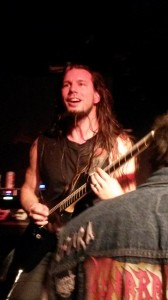 AC: It sounds great!
TA: Compared to live we used Peavey amps which has a different sound and I think it's heavier that way because it's kind of a step up. Less clarity but a little heavier.  I have a bad ass 27 fretter, I'm not a super shredder, I like playing melodies.  When I'm in the studio I got a guy back home, Don Smith, who makes Iconic pickups however I want them real fast — so I told him, "Dude for the guitar tones, I want to use this guitar because it's deadly sounding," so that also helps with how it sounds on the album.
AC:  Here's a question that everyone asks, who are the biggest influences that make up the Battlecross sound?
TA: Oh dude, hands down,  fuckin the greats — the obvious ones, Metallica, Pantera, Slayer, Testament, Gwar, Cannibal Corpse, all that shit is right up there… Some newer bands as well, more modern rock thrash bands, Havok, Revocation, Black Dahlia Murder, more Death stuff it's a wide range… Type O Negative is (also) a big influence.
AC: What do you guys tune to?
TA: We're tuned to standard E and dropped D so some songs are one way some are another — you'll notice on stage we switch.
AC: I saw you guys twice at the New England Hardcore and Metal Festival.  Each time you guys tore it up and I saw nothing but charisma playing fuckin awesome on stage.  Would you say it's hard to put on such a dynamic performance every night?
TA: No it's easy because we're having a good time and we're enjoying ourselves; the hard part is playing tight and correctly.  The best thing about playing live is the new member of our band, drummer Alex Bent.  He's been doing this about a year now and if it weren't for him, we wouldn't sound as tight because he's a fuckin awesome drummer.
AC: Did he have anything to do with the writing process?
TA: Ya he definitely had a lot to do with the writing process — not necessarily from the ground up because the way we write it always starts with the guitars first, but as far as drum parts he threw down on that shit big time.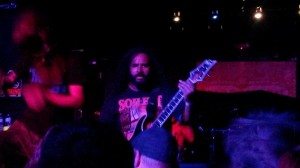 AC: At what point did you go from being a local band to professional musicians?
TA: I'd say when we got signed by Metal Blade honestly.  We started in 2003.  Me and my buddy Hiran started the band and always wanted to do this; the hardest part is finding the right like-minded people.  The name came up then and we didn't start playing shows until we had the right guys in 2007, and that's when we got our sound. We got a new drummer Mike Kreger on the first album who really opened up doors so that we could really thrash out, instead of being hard rock we really got to thrash out from 2007 to 2011.  That's when we signed with Metal Blade and started touring, so I'd say 2011 was the breaking point.
AC: How would you describe touring life?
TA: It's pretty cool — once you get broken in, it's just second nature. It's not cut out for everyone, (but) I love it because I get to spend time with my best friends and we all know each other so well it's a piece of cake.  There's nothing like being stuck in a van with someone you don't get along with which has happened but everything is fuckin awesome right now.  We love touring.
AC: Do you prefer a larger or smaller audience?
TA: Both, we like playing any place people will come. Both have their ups and downs.  It's way more personal in smaller venues but from a band's perspective at a festival you're playing for a bigger audience which means you might have a bigger crowd reaction.  There are always upsides to wherever you play.  I'll play you're fuckin back yard.  (AC: Alright we have that on record!)  By the way that's 50 grand! haha
AC: So what's the most memorable experience you've had on tour?
TA: Dude, right off the bat, we did the Orion Festival with Metallica and I got to meet my biggest idol, James Hetfield and talked to him for about 10 minutes, and he introduced us on stage. I will never forget that, it was the highest high I've ever felt.
AC: What does one talk to James Hetfield about?!
TA: Just regular stuff, it was one of those things where you are in the moment and it was pretty natural.  Gumby was there, they were talking about their kids, super, super nice guy.
AC: What upcoming bands would you recommend?
TA: There is a band back home if you like Maiden meets Priest meets Dio, check out Wolfhook.  Another cool band is Wilson from Michigan. They're like straight up rock n roll, intense shit.
AC: Do you have any advice for metal musicians trying to break into the business?
TA: As far as breaking into the business I put that second because for me, as a musician I care about the music number one.  If I were to give a fellow musician any advice I'd say focus on making the music what you want, make it tight, be in a band with people you trust, stay positive, and other things will come after that.  The business side can be the ugly side to me but it's a necessity because you have to sell stuff to get to your next show and put gas in your van.  It's a necessary evil, you have to sell shirts, be on social media, you have to promote, you have to keep in contact.  There is no right answer.  Just keep spreading the word, be easy to work with, don't complain, be on time… You gotta do that kind of stuff!
AC: Can't wait to hear the new album Rise to Power in August.  Have a great show!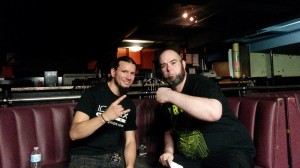 For more photos, visit Alternative Control's album on Facebook.  You can also find us on Twitter and Instagram!  @AltCtrlCT
Battlecross is:
Tony Asta – guitar
Hiran Deraniyagala – guitar
Don Slater – bass
Kyle "Gumby" Gunther – vocals
Alex Bent – drums
Visit www.battlecrossmetal.com for all their latest news and releases.
Thanks to Earsplit PR and Freeman Promotions for arranging this interview.