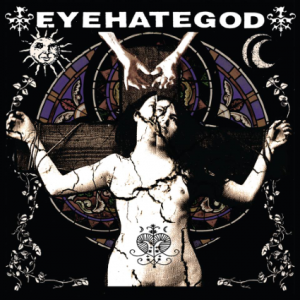 When these miscreants emerged from New Orleans about 25 years ago, few people were prepared for their vicious combination of Black Sabbath and My War-era Black Flag.  Their sound was noisy, ugly and very real, almost too real. Their shows often went out of control, and members of the band have spent time in jail or wrecked on various illicit substances. This was a brutal art, the type most people shouldn't try at home.
They have gone through various periods of activity and inactivity with certain members of the band being involved with other bands, most notably Down and Soilent Green. They have been a functioning band for the past seven years, but haven't released a new album since 2000's Confederacy Of Ruined Lives.
But before we get to their excellent new album, they were struck with more tragedy. Earlier this year, drummer and founding member Joey LaCaze passed away. A band that courted tragedy was hit with another major blow. It gives this comeback album a bittersweet feeling. But if there is a slight silver lining in this cloud, it contains the best performance by LaCaze on the cans. He may have checked out, but he checked out on a high note. This record is a testament to his talent.
Seriously, you would think with all the drama surrounding the band, they would phone it in, but in the case of this new self-titled debut, they definitely sound like a band with something still to prove. They took their time and crafted and album that not only stands as one of the better ones, if not the best, in their catalog, it is also one of the best loud rock records of the year. It bristles with a feral anger and a chip on its shoulder, it doesn't sound like a band going through the motions.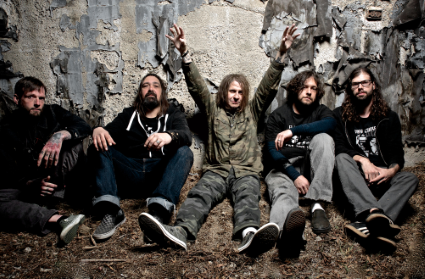 They open the album with the fast, noisy hardcore of "Agitation! Propaganda!", which is powered by LaCaze's drumming and vocalist Mike Williams' bile-laden vocals. You see, they want to upend expectations from the outset. You may have been expecting a sludgy trawl to open the album, but instead they go fast and grab you by the throat.
"Trying To Crack The Hard Dollar" breaks out the noisy doom riffs that hurt, while "Parish Motel Sickness" has Williams coming unglued and practically puking out the vocals.
"Quitter's Offensive" has a boogie rock groove to it, while "Worthless Rescue" features a big electrified blues riff played for maximum impact. It shows that the blues is just as an important component of this band's sound as the more obvious reference points mentioned earlier in this review. But it's not just the blues in sound, they capture the spirit of this venerated form of music. "Framed To The Wall" brings back fast hardcore of the opening track.
"Flags And Cities Bound" starts off as art-damaged heavy rock, with Williams angrily intoning a spoke word rant, while a calm voice repeats what he says, over white noise feedback. Then a heavy riff comes crashing in and it gets even crazier. "Medicine Noose" brings back the blues, while "The Age Of Bootcamp" ends the album on angry, lurching note.
So, the band has managed to find a kind of dark triumph in the face of their recent tragedy. This album is a vicious return to form, showing the imitators how it's done. It's an excellent slab of vitriol-laden loud rock. One thing, just don't try this at home. These guys are professionals.
Photos courtesy of  Earsplit PR.
Upcoming Tour Dates
5/30/2014 Chop Shop – Charlotte NC
5/31/2014 611 – Frederick, MD
6/01/2014 Underground Arts – Philadelphia, PA
6/02/2014 Rex Theater – Pittsburgh, PA
6/03/2014 Strange Matter – Richmond, VA
6/04/2014 American Legion Post 80 – Binghamton, NY
6/05/2014 Brighton Music Hall – Boston, MA
6/06/2014 Even Flow – Long Island, NY
6/07/2014 Europa – Brooklyn, NY
6/08/2014 Basement Transmissions – Erie, PA
6/09/2014 Bug Jar – Rochester, NY
6/10/2014 Loving Touch – Detroit, MI
6/11/2014 Now That's Class – Cleveland, OH
6/12/2014 Birdy's – Indianapolis, IN
6/13/2014 Cobra Lounge – Chicago, IL
6/14/2014 Pyramid Scheme – Grand Rapids, MI
6/15/2014 Bottom End Bar – Appleton, WI
6/16/2014 Triple Rock – Minneapolis, MN
6/17/2014 Diamond Pub – Louisville, KY
6/18/2014 Fubar – St. Louis, MO
6/19/2014 Hi Tone – Memphis, TN
6/20/2014 Southport – New Orleans, LA
6/21/2014 Dollhouse – Savannah, GA
6/22/2014 Orpheum – Tampa, FL
6/23/2014 Looseys – Gainesville, FL
6/24/2014 Zydeco – Birmingham, AL
6/25/2014 The Handlebar – Pensacola, FL