As they have been a staple in the scene for, well, ten years, everyone who's involved in the loose network we call Connecticut Metal has some connection to Eyes of the Dead.  Mine probably doesn't involve as much alcohol as other people's – Jill, who co-founded this blog with me, went to high school with some kid named Ryan Kiekel, and I vaguely remember sharing a bill Deadwait at the Webster Underground almost ten years ago, at one of those dreadful ticket-selling shows.  (Or am I thinking of 8 Weeks Dead?  Doesn't matter.)
Over the years, I would repeatedly see the same two long-haired metal bros at any local show I went to in New Haven County, and also a guy who I dubbed "Fake Lee."  (These people later turned out to be Matt, Brian, and Frank.)  Then my old friend Rob joined Eyes of the Dead, a band that I had heard was kind of a big deal but existed in the periphery of my metal vision.  And a little bit later, as Burn the Bodies was calling it a day, my bandmate James auditioned for them on drums.  Obviously he was a shoo-in.  *cough*
I took more of an interest in the band once James joined, going out to support him when I could.  Since that time, I still haven't figured out which of the three original-ish members is the "nice one" and which one is the biggest dick – and after this interview, the jury is still out!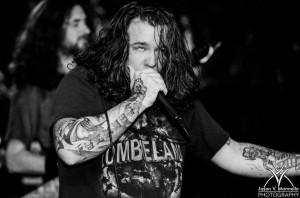 But in spite of their constant stone-breaking, and the fact that half their songs are about "remov(ing) your legs for easier access," I love their music and their live show.  Frank is a demon of a frontman and Matt and Pat's guitar work never fails to catch my ear.  Of course no band can impress without an impressive rhythm section – James adds unexpected creativity on drums and Brian sews it all together like he's reattaching a limb.
So when Brian asked if Alternative Control could do something on the band's upcoming ten-year-anniversary show – he was on the "nice one" end of the spectrum at the time – there was no way I could say no.  (Even though I'm a living girl…)  This interview was conducted via email; Brian brought the questions to the rest of the band and typed up everyone's responses.
Without further ado, here it is straight from their own lips, er, Brian's fingers…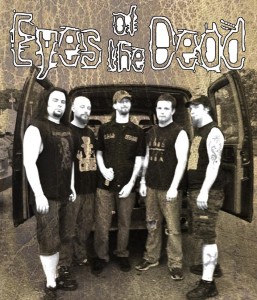 Alternative Control: Ten years is a LONG time to have a band.  Can you give me a run-down of the various lineups?
Eyes of the Dead: It all started with the thrash metal band Aggressia, which featured Ryan Kiekel, Matt Talarczyk, Tim Price, and Rich Wandell. In 2004 they changed direction, and joined with Deadwait vocalist Frank Connors. That was the original lineup for Eyes of the Dead, which recorded the original demo and What Nightmares Are Made Of.
In 2008 Rich was replaced with Chris "Junior" Tallerdy on drums, who previously had played with Frank in Deadwait. This lineup went on to record The Weak and the Wounded and remained constant until later that year when Tim was replaced with Brian Greene on bass. Ryan left shortly after to pursue nightclub DJing as opposed to metal. He was then replaced with a guitarist who we no longer speak of, until 2011 when Rob "Hobbit" Moore joined on lead guitar.
Later that year we parted ways with JR, and Rob "Mouse" Brown filled in on drums until the permanent addition of James Stolfi in 2012. That same year we mutually parted ways with Hobbit, and Mouse again filled in for us, only this time on guitar — until we brought in "Shredmaster" Pat Seymour on guitar, who had previously played with Mouse in the band A.L.B.
The current lineup of Frank, Matt, Pat, Brian, and James has remained constant for the past couple years now, and we are all eager and ready to get some new material out there for everyone!
AC: Why do you think that even with many different lineups, Eyes of the Dead has lasted as a band for such a long time?  What challenges have you overcome to keep making music?
Matt: Communication. Communication is vital. In this band, we communicate how much we hate each other.
Brian: It's easier that way as opposed to keeping things bottled up; everything is always out on the table, and we are all ball breakers. Being in this band you quickly develop thick skin, and cirrhosis of the liver.
AC: What have your more recent additions, James and Pat, brought to the table?
Frank: 2 dicks, and 5 balls.
Matt: Well, they haven't been kicked out yet…
Brian: Drum noises and guitar widdlys.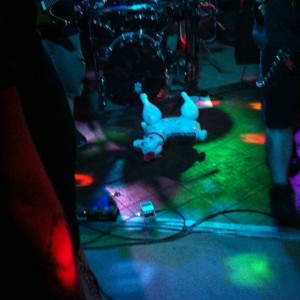 AC: Why the hazing process?  Pat with the goat, Rob with the blow-up doll… And is it just me, or did James get significantly less hazing than those guys?
Frank: We don't talk about what happened to James…
Matt: He wasn't even officially in the band until (one year later when) Pat joined.
Brian: Anton [James] got a decent hazing from OFNR. The whole hazing process actually started with me. My first official show with the band was at BB Kings in NY, opening for Suffocation. What they had me do was walk around Manhattan — backstage, restaurants, etc. — with a thermos shaped like a giant dick. It was the only thing I was allowed to drink out of the entire day.
Needless to say it was an embarrassing way to start my time with EOTD. The staff of Dave and Busters did get a good laugh when we asked them to fill it up though.
AC: And how about your discography?  From what I can figure out, on the interwebs: What Nightmares Are Made Of (2006), The Weak and the Wounded (2009)… And there's a more recent one, right? Dead Girls Never Say No or something??
Brian: We've put out quite a bit. There was an original demo recording when the band first got together, then 2 full length albums, Nightmares in '06 and Wounded in '09, which was recorded and produced by Joey Z from Life of Agony/Carnivore.
We won a battle of the bands in 2010, and one of the prizes was studio time; we didn't have anything prepared so we got drunk and recorded some covers, and released Let's Play Drink The Beer!! that same year. After that we put out a couple of EPs. Evil EP in 2011, and Dead Girls in 2012. Then in 2013 we released a digital single on the 4th of July, "Postmortem Glory." That one's still available for free download on our Reverbnation page. We will be recording another full-length album this month and releasing it later in the year.
The original demo, Beer and Evil EP are out of print now, but you can get the rest from our live shows, or through iTunes, bandcamp, Reverbnation, etc.
2005 – 4-Song Demo
2006 – What Nightmares Are Made Of
2009 – The Weak And The Wounded
2010 – Lets Play Drink The Beer!!
2011 – Evil E.P.
2012 – Dead Girls Never Say No
2013 – "Postmortem Glory"  [Editor's note: I fucking love this song.  I just listened to it three times in a row.]
AC: Who or what is Black Picket Fence Records?  I Googled it, but got some weird singer/songwriter site with nothing about you guys on it.
Brian: Black Picket Fence Records is what we use for our self-released albums. We print, distribute and release most of our material on our own, and use that as a moniker. It's also been used for other bands that Frank has duplicated and released albums for.
Frank: It basically looks better than saying self released.
AC: How has the band's songwriting process evolved over the years, and what can longtime fans expect from the upcoming album?  (Speaking of which, what is the new album called??)
Matt: The same shit.
Brian: The process has remained pretty consistent over time. Someone will bring a song to the table, generally Matt or whichever other guitarist, and the band will all write their own parts, and everyone has a say in changing riffs, rearranging sections, etc. Each song really becomes a collaborative effort this way.
Longtime fans will be very pleased with the new album; but it has a little something for everyone. There are some old school sounding sections, some faster parts, and of course lots thrash/death. It's a bit more melodic than our previous releases. I don't want to give too much away, but rest assured it sounds like a natural progression in the EOTD catalog. Still no title as of right now.
AC: You guys have a very strong fan base in CT.  What is it about your music, your band, your beards…. that you think appeals to people so much?
Frank: We do?
AC: What would you say to people who are like, "You guys have been around for ten years, why aren't you world famous, headlining MSG, etc?"
Frank: I'm not?!? What are you trying to imply, bitch?
Matt: Stop stealing music.
Pat: I think it was either Gandhi or Martin Luther King who one said "It's a long way to the top if you want to rock and roll."  Ya know?  "It's not what ya do, it's who ya do."
AC: What are your thoughts on the current state of the metal scene in CT?
Matt: You tell me. Go to a show or two and tell me what you see. It should speak for itself.
Brian: There are tons of different scenes, and each one is different from the next. Go play a gig or go to a show in NY, NJ, MA, in the Midwest, on the west coast, wherever have you. Each and every one will be unique. I can't honestly say that the CT scene is the best scene in the world, but it is home; and there is always a good feeling when playing a good hometown show. There's something to be said about familiarity.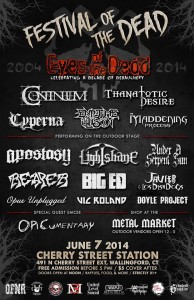 AC: Tell me a little bit about Festival of the Dead on June 7th.
Brian: Festival of the Dead is an all day festival I put together in honor of EOTDs 10 year anniversary. There are 16 of the best bands from CT and surrounding areas, playing on indoor and outdoor stages all day long. Each one we share some history with.
We also have some vendors selling various items outside, from 12-5 p.m. There will be food, raffles, the whole nine yards. We decided to keep the price low for it too, before 5 it's completely free, and after its only $5 at the door. You really can't go wrong.
We have some special surprises hidden up our sleeves for our set that you won't want to miss.  It's been said before, but I'll say it again – this is THE show of the summer, and you won't want to miss out on it.
AC: What else do you guys have coming up this summer?  Any mini-tours?  And when do you think the new album will be released?
Brian: Outside of that we will be doing some scattered shows through the summer, followed by a full tour in late summer/early fall. We also have Friday Sept 26 booked at the Webster with Overkill and Prong.
The new album will be out this year, there is no definite date yet though.  To keep up on what we're doing we have some social media that is updated frequently. Get us on:
While on the Reverb page, be sure to download the free Eyes of the Dead Android app.
What you can also do to stay current, is our favorite method: come out to a show, share a beer, and have an actual conversation. We realize it's a thing of the past, but boy is it effective.
And there you have it.  The band, the myth, the legend.  Help Eyes of the Dead celebrate ten years of riffage, whiskey, and slaughter on June 7th at Cherry Street Station in Wallingford – the show starts at noon and everyone will be there, even prissy school librarians with no sense of humor.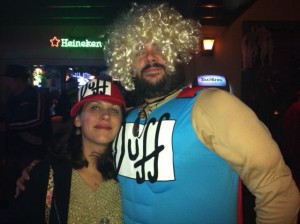 What's your Eyes of the Dead story?  Leave a comment below!