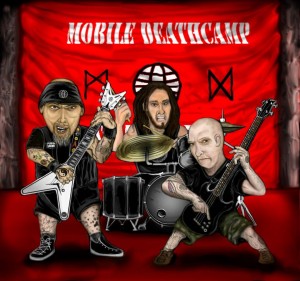 Editor's Note, 2/20/2015: Scroll all the way down for updated 2015 tour dates!
Ohio thrash band Mobile Deathcamp is playing two Connecticut dates on their current tour: 3/8 at Cherry Street Station in Wallingford and 3/10 at the Downtown Café in Bristol.  Alternative Control talked with guitarist and frontman Todd Evans, formerly Beefcake the Mighty of GWAR, about human nature, the thrash "resurgence," and much more.  Here's some of what he had to say… 
Jessie: Do you ever get tired of being the guy who used to be in GWAR?
Todd Evans: Hell no, it's cool!  It opens doors and gets feet in doors…  And sometimes I'm not indoors, I don't know where I'm going with this — but no, it doesn't get tiring.
J: Okay, cool.  I saw also that you guys are unsigned and do everything, like, independently yourselves, so it must help with that.
T: I thought someone'd pick us up for sure […] We don't have the fast hair and the tight pants, we're not quite trendy enough right now – but soon those trends will die.  'Cause breakdown music, let's face it – that breakdown shit can only last for so long.  That's gonna go the way of the grunge scene.
J: What you guys play is classic, timeless, y'know? That shit probably came out when I was a toddler and now everyone's listening to it again and it's like the greatest thing.
T: What stuff?
J: Like the thrash, the speed metal – what you guys play.
T: Well y'know what?  When people say that there's a resurgence of it, and like, "You guys are bringing back that retro" and all that… Have you ever heard of Slayer? […] And where did they go?  They never went away.  So saying it's a resurgence is ridiculous.  That's always been here.  Anthrax has always been here.  Metallica, for what they are now, they were once pioneers and warriors in the struggle…  Megadeth, they used to be kinda speed-metally and thrashy…
J: Well, that's an excellent point that those bands didn't go away.
T: It does make my heart smile when I see bands like Havok and Ex Mortis and bands like this coming up and doing the thrash… Exploder from Dallas…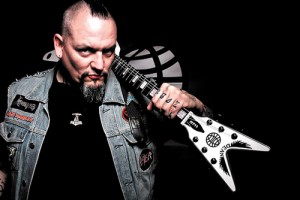 J: For someone like myself who didn't grow up listening to like Anthrax, Megadeth, Slayer, and just hearing it for the first time from local bands who are getting back into it and bands like you guys who have come out in the past couple years, it does seem like definitely a resurgence in popularity if nothing else.
T: People are going to come back to what's good.  It never went away.  […]  People are like, "Oh shit, this is still here, listen to this!"
J: Okay, that's fair.  What do you guys do when you're not going on three-month tours of the country?
T: We plan our next three month tour of the country.  (laughs)  Write music, record…. Our drummer Chad (Smith) is a mule skinner back in Indiana…
J: Really?
T: Yeah, he's a mule skinner and he also cans salmon on the side.  And one of us is a marine biologist, our bass player (Boe Skadeland) – he's working on the irukandji problem off the coast of Australia on the Great Barrier Reef.  And I basically just like panhandle and ride my bicycle around town.  We keep busy!
J: Wow, some unexpected side jobs there.
T: Yeah, we're in a thrash band if nothing else.
J: Cool. This might be a dumb question but when did your last album come out, the Clear and Present Anger one?
T: I believe it was 2011, which, uh, it came out.  It didn't really "come out."  The shitbag label that said it was gonna come out made a bunch of promises – "it's gonna be here, it's gonna be there, we're gonna do this, we're gonna push it in Europe…"  Well, they ended up not doing anything, and what they really did was try to charge us to get some to sell them on the road.  And I was like, y'know what, that's kinda a crazy concept for a label to sign a band and to sell them their own record.  And that's how they made their money.
J: Huh.
T: Yeah, they're kinda schiesty.  They're really schiesty, actually – try to get bands in and charge them a bunch of money to record and reproduce, and then charge them for their own CDs on top of that.
[…]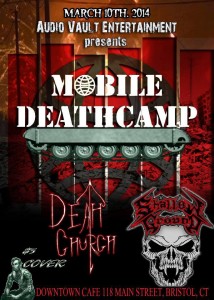 J: Yup.  Hopefully you guys have a good turnout (at the Connecticut shows).
T: We're gonna come in with the three-piece musical terror pocket and we're gonna burn wherever we play.  We're sawing stages in half even as we speak, like, the remnants of the last shows.
J: Nice!  Well, that's the right attitude…. Monday night in Bristol, fucking tear it up.  But I have a weird question for you: do people ever ask you if you're Nazis because of your name, Mobile Deathcamp?
T: Do people ever ask us about the name Mobile Deathcamp?
J: Yeah.
T: No, you'd be the first one to ever ask me about that.
J: Really?  Okay, so where'd the name come from?  Where'd you guys get that idea?
T: Mobile Deathcamp, now you're not gonna think I'd be able to get so deep on you, Jessie, but it's gonna happen this way.  The earth travels around in space, or at least we believe it does, making the earth mobile.  And what do humans do best?  They kill each other.  So it's a death camp – the earth is a mobile death camp.  Just like another name for Earth, but we couldn't use Earth because Black Sabbath used that in the 60s.
J: Wow that is a really deep answer.
T: Did you just call me a jackass?!
J: No!
[…]
J: I have a last question for you — if Beefcake the Mighty heard Mobile Deathcamp, what would he think of it?
T: He would be completely appalled, but at the same time enamored.  He'd have a hard-on because he'd want to kill Mobile Deathcamp, but at the same time he'd want to be in the band.  So I guess the short answer is he would hate it, but love it – and hate himself for loving it.
To hear even more about Todd's life as Beefcake, and what it's like to be in an independent band – as well as a lot of Todd and Jessie not being able to hear each other – listen to the full interview on our Soundcloud page.
Plus, Audio Vault Entertainment is giving away a pair of tickets to each show!  (Thanks, Eric!)  Enter using the Rafflecopter widgets below for your chance to get "on the list" – the contest ends at midnight Thursday night and winners will be notified by email.
a Rafflecopter giveaway

a Rafflecopter giveaway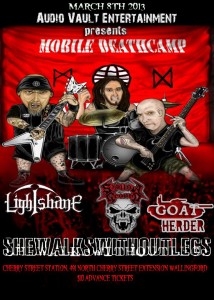 Upcoming Mobile Deathcamp Tour Dates
03.04.14 – WILMINGTON, DE @ Mojo 13
03.05.14 – BRISTOL, PA (Philadelphia) @ Freddie's Bar ( a Mikey Primadonna production!)
03.06.14 – LONG BRANCH, NJ @ Brighton Bar w/ Saint Diablo
03.07.14 – BROOKLYN, NY @ Saint Vitus
03.08.14 – WALLINGFORD, CT @ Cherry St. Station w/ Shallow Ground, Lightsbane, Goat Herder, and She Walks Without Legs
03.09.14 – KINGSTON, NY (Woodstock) @ The Anchor
03.10.14 – BRISTOL, CT @ Downtown Cafe w/ Shallow Ground, Goat Herder, and Death Church
03.11.14 – PLYMOUTH, MA @ Michael's 390
03.12.14 – PROVIDENCE, RI @ Firehouse 13 — with David Carradine and more
03.13.14 – Fahkin WOOSTAH, MA (Worcester) @ Lucky Dog w/ Carnivora
03.14.14 – FLORENCE, MA @ The 13th Floor (upstairs at JJ's)
03.15.14 – AUBURN, ME @ Club Texas w/ Carnivora
03.16.14 – MANCHESTER, NH @ Milly's Tavern w/ Carnivora
03.17.14 – BURLINGTON, VT @ Nectar's
03.18.14 – SYRACUSE, NY @ Lost Horizon
03.19.14 – SARATOGA SPRINGS, NY @ Putnam Den
03.20.14 – BUFFALO, NY @ Broadway Joe's
03.21.14 – AKRON, OH @ Chuck's Steak House
03.22.14 – PITTSBURGH, PA @ Smiling Moose
03.23.14 – CAMP HILL, PA @ The Champ
03.25.14 – CHARLESTON, WV @ Blue Parrot
03.26.14 – ELIZABETHTOWN, TN @ The Bonnie Kate Cafe
03.27.14 – KNOXVILLE, TN @ Blackstock
03.28.14 – NEWPORT, KY @ Thompson House
03.29.14 – INDIANAPOLIS, IN @ 5th Quarter (re-scheduled from 1/7)
03.30.14 – KOKOMO, IN @ Centerstage Bar (re-scheduled from 1/6)
Upcoming 2015 Tour Dates
02.20.15 – RALEIGH, NC @ The Maywood
02.21.15 – FREDERICK, MD @ Cafe 611
02.22.15 – CHESAPEAKE, VA @ Riffhouse
02.23.15. – WILMINGTON, DE @ Mojo 13
02.24.15 – BALTIMORE, MD @ Sidebar
02.26.15 – PHILADELPHIA, PA @ Legendary Dobbs (Hey Mikey!)
02.27.15 – ELMHURST, NY (Queens) @ Blackthorn 51
02.28.15 – STAMFORD, CT @ Seaside Tavern w/ Lyra, Jimmy Junk Bird and Stiffs, and The Shape
03.01.15 – CLIFTON, NJ @ Dingbatz
03.02.15 – PROVIDENCE, RI @ Firehouse 13
03.04.15 – WORCESTER, MA (Fahkin Woostah!) @ Palladium W/ Disguise The Curse
03.05.15 – WALLINGFORD, CT @ Cherry St. Station w/ Goat Herder and Disguise The Curse
03.06.15 – CHICOPEE, MA @ Maximum Capacity w/ Goat Herder and Disguise The Curse
03.07.15 – LEWISTON, ME @ Irish Twins Pub w/ Ascent To Power and Carnivora
03.08.15 – REVERE, MA @ Sammy's Patio w/ Ascent To Power and Carnivora
03.09.15 – BURLINGTON, VT @ Nectar's w/ Ascent To Power (Rick's Birfday!)
03.10.15 – WATERTOWN, NY @ Flashback Lounge
03.11.15 – MATTYDALE, NY (Syracuse) @ Mac's Bad Art Bar (Mel's Birfday!)
03.12.15 – ITHACA, NY @ The Haunt
03.13.15 – LAKEWOOD, OH (Cleveland) @ The Foundry
03.14.15 – COVINGTON, KY @ Backstage Cafe
03.15.15 – DANVILLE, KY (Lexington-ish) @ The Dungeon
03.16.15 – CHARLESTON, WV @ Blue Parrot
03.17.15 – CANTON, OH @ Buzzbin A&M Shop
03.18.15 – INDIANAPOLIS, IN @ 5th Quarter
03.19.15 – CHICAGO, IL @ Red Tap Linew/ ArmoRED ASSault
03.20.15 – FT. WAYNE, IN @ The Brass Rail
03.21.15 – TAYLOR, MI @ Perfect Pitcher
03.22.15 – DEFIANCE, OH @ Spanky's