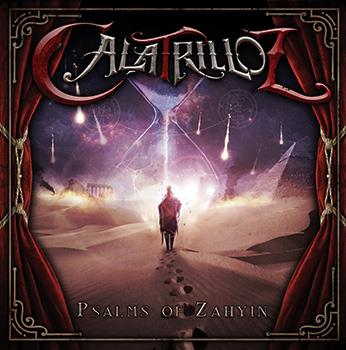 In March, Alternative Control reviewed "I Am Alive," a track from London rock quintet CalatrilloZ's upcoming EP Psalms of Zayhin.  They liked it so much that we got the opportunity for an advance review of the entire album!
"Origins" starts off at a fast clip, introducing listeners to CalatrilloZ's trademark sound: lustrous clean vocals and symphonic guitar arrangements, backed by a driving, restless rhythm section.
"Lords of Misery" pounds along with a march beat, then briefly dropping into dramatic strings that sound right out of a Game of Thrones wedding.  But Calatrilloz ratchets the music right back up before long….  The break about two minutes in will give listeners a chuckle.
The opening guitar riffs on single "I Am Alive" give the song more of a hard rock edge than the previous two.  It's currently the only one that's public on Soundcloud, so have a listen:
"The Long Winding Road" drops in volume compared to the other tracks, but not in intensity.  A vocal counterpoint in the chorus adds depth; it's one of the catchiest parts on the album.  "A Glimpse At a Fool's Destiny" is the most unusual song in terms of feel changes.  The band describes it on Soundcloud as "an epic journey allying different music styles in an awakening journey through the self-relisation of choices and consequences."  It's some sort of journey — no question there…  Fortuitously, the band posted it on Youtube just in time for this review.
The EP closes with the grandiose opus "Z the Psychopath."  Overall, Psalms of Zion will be a good listen for fans of prog and symphonic metal, especially Dream Theater and Circus Maximus.  Don't bother with the backstory — bottom line, the dudes wear a lot of makeup and say they're searching the world for "five marionettes, in each of which is imprisoned a powerful demon lord…"  Doesn't matter.  Just listen to the music.
CalatrilloZ is…
Zahyin – vocals
Vargovar – guitar
Azriel – guitar
Mobius – bass
Jimmy Sticks – drums
The real question here is, how do four of the guys have Biblical-prophet-sounding names and the drummer decides to call himself Jimmy Sticks??  Perhaps this will be explained in the liner notes!
Psalms of Zahyin will be available for purchase June 22nd.
This post was sponsored by Independent Music Promotions.  All opinions are our own.