My first thought when I read the words "Lithuanian alt rock duo" was, "Jesus, what the hell is this going to sound like?"  And my second thought was, "Where the hell is Lithuania?"
It turns out that Lithuania is the "southernmost of Europe's Baltic states, a former Soviet bloc country that borders Poland, Latvia, and Belarus."  #themoreyouknow
(All that means nothing?  Here's a map:)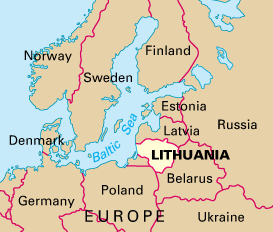 And if Linchette Marcel is any indication of Lithuania's music scene, it's firmly rooted in the music of the 1990s United States.  Their self-titled EP (or "maxi single," not sure what that means) is dripping with Soundgarden and Stone Temple Pilots.  "Off All the Gain" even gets a little 311 in the mix.
Overall, these guys aren't putting a new spin on 90s radio grunge, and the songs are about a minute too long for my tastes.  "Hurricane" was the high point for me because it was bluesy and heavier hitting than the other tracks — and coincidentally it was the shortest, clocking in around four and a half minutes.
To make your own judgments, find Linchette Marcel on Facebook, Twitter, and bandcamp.
And for more from Alternative Control, find us on Facebook, Twitter, Instagram, Soundcloud, and bandcamp.
This post was sponsored by Independent Music Promotions.  All opinions are our own.