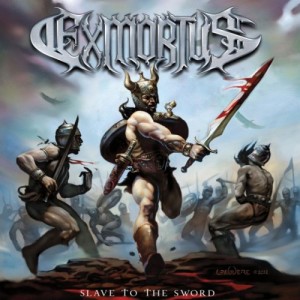 By Bill Klopfer & Vegetarian Metalhead
Earlier this year we saw Dark Tranquility at the Palladium in Worcester, Massachusetts and little did we know we were in for a majestic treat.  Expecting to see a copycat Swedish opening act, we weren't prepared for the impact the band would have.  Exmortus, looking very young, proved they were well beyond their metal years when they began to shred.  Their stage presence, incredible technical skills, melodic approach on guitars, and overall tightness had our undivided attention.  They captivated the audience with extreme brutality and charisma.  The fills, time signatures, arpeggios, and transitions make this band unique.  They were exquisite in their technique and put on a fantastic show that we won't soon forget.  After the show we picked up a copy of their new release, Slave to the Sword which proves to be a victorious album and we bet will be influential to many upcoming musicians.
Let the games begin with a battle axe in hand.  I picture warriors on the battlefield with nothing to lose but their head on a spike.  Cannons are fired in all directions and the infantry is there to take the fall with pride.  Flags are being waved and drums are pounded.  The whistle has blown and the full attack has begun.  The rage of their music is reminiscent of the Brave Heart movie where they lash out with swords and axes, killing face-to-face.
Exmortus' musicianship is tangible; floating in the air for the audience to smell, touch and feel its extreme power of metal.  The guitars shredding away with absolute perfection and brutality are enough to make a musician want to go home and relearn their instrument.  The song structures are old school but modern with lots of transitions and fills between various catchy riffs.  The vocals are harsh and guttural like a beast calling for its mate.  All of this sums up Exmortus!
"Rising" is an introduction to the battlefield massacre. Its guitar tapping madness with full on rage and double bass drums builds up to the thrash style verses that bash you directly in the face.  As the song continues, it keeps a hard grip on your attention with thunderous drumming and hammer-on guitar leads.
The second track "Slave to the Sword" is the ultimate anthem for epic thrash metal.  It reminds me of the build up from old school Testament in "Disciples of the Watch" except with a fresh and modern twist.  It has a wicked solo with powerful bass rhythms.  The way the vocalist approaches melodies reminds me of the band The Crown.  Listen to this track first and you'll want to hear more of what this band has to offer.  The crowd went ape shit when they played this song live.
"Foe Hammer" is a powerful song that's both catchy with various hooks and mind-blowing solos.  "Ancient Violence" has masterful guitar leads and upbeat rhythms; reminds me of Sepultura's Beneath the Remains.  The album Slave to the Sword makes me want to join the battlefield and kill like a warrior with it playing as the soundtrack.  The songs keep beating the enemy into submission with a gallop and machine-like drums.  The riffs are screaming with hostility and the guitar leads shriek with harmony.
Another notable track is Moonlight Sonata (Act 3).  Exmortus did a brilliant job of tackling this instrumental by Beethoven and making it their own.  Their neoclassic style made this cover song an excellent choice.  "Metal is King" is the perfect song to conclude this album where, "the reaper makes his deal."
This release is a relentless and hungry fuckin' beast!  It's well-written, well-produced, and makes me feel like I'm on a battlefield with the gusto to destroy everyone around me.  Listening to Exmortus made me come to the obvious conclusion that they are the next big thing and also that I suck at guitar.
https://www.facebook.com/exmortusofficial
http://store.prostheticrecords.com/bands/exmortus