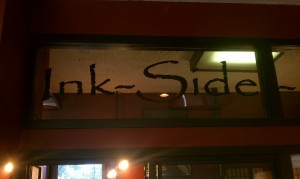 I thought I'd better do a "Places to Go" article before people start thinking I'm some kind of shut-in. I'm not really into the downtown scene, nor am I that much of a food nut to comment accurately on the quality of my favorite restaurants. Concerning food, if my head doesn't hit my plate with a thud from poisoning, and it has nothing to do with cooked vegetables, chances are I'm giving it a solid A. There's a few bars I like going to, but I usually end up leaving in such a disheveled state that I can't remember exactly just how great or shitty the service was, the type of lighting used, or the exact number of beer taps there were. This brought on a bit of a dilemma, until I had an epiphany in the shower one night which prompted me to write an article about something I can definitely and accurately critique: Tattoo parlors.
Out of the 50 or so tattoos that adorn my body, Ink-Side-Out is responsible for at least 80 percent of them. Why is this so? On one hand, it's quite common to start your body ink collection with a certain artist, and stay loyal to that artist out of respect for the individual's work and to keep a devoted relationship going. But my relationship and loyalty with this parlor goes beyond all that simply because of the welcoming atmosphere it's always encompassed. There's a genuine feeling of comfort as you walk into the establishment, no doubt aided by the dark and calming aura of the room and the colorfully artistic paintings and portraits that line the walls – some of them authored by owner Josh Glasser himself.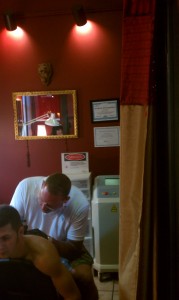 The staff that works at Ink Side Out is sincerely friendly, welcoming and eager to make your experience comfortable and satisfying. Artists Josh, Eliot and Anthony are all experts at their craft and each artist brings his own specific tattooing style to the table. They have an immense collection of books with all sorts of flash that cover a wide array of designs, and yet they're also completely confident in custom work of all types. In fact, their custom work has garnered them a respectable amount of praise in the press. I know for a fact that Josh immensely enjoys doing portrait work, and I highly recommend his talents. He's been my personal tattooist for years now and I've never walked away disappointed. You really don't have to take my word for it though. Ink-Side-Out has won numerous awards including multiple honors in the Fairfield Weekly Best and Reader's Polls. Did I even need to write this article?
Even if you're not interested in getting a new tattoo but interested in removing an old one, they now offer laser tattoo removal. I don't have any need for it yet, but we'll have to see just how difficult it is to be an English teacher with these little Saturns tattooed on my neck. I've heard the process is safe and easy, although I hear the pain is pretty constant and potentially intense. So, be really sure you want that Judas Priest logo on your forehead.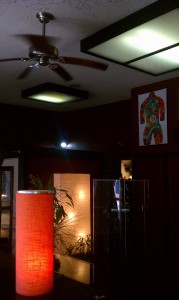 I must also mention that Ink-Side-Out provides body piercing as well. I personally have only a single ear piercing that I got when I was ten, so I really don't qualify in having an opinion. From what I've witnessed though, the service is just as professional, safe and comforting. They have a wide variety of piercings to choose from and there's no appointment needed. Just walk on in!
 In closing, I give Ink Side Out Tattoo an A+. I assure you this isn't a biased review, even though I'm a faithful customer. The prices are fair, the quality is excellent and the people are simply awesome. Also, the location is quite convenient for those who live in the southern Fairfield Country area. It's located on Wall Street right in downtown Norwalk, across the street from My Three Sons. Be sure to check out their awesome website for more information and pay them a visit. Seriously, I wholeheartedly recommend it.