One thing modern heavy metal can be hopelessly devoid of?  Fun.  It's all gloomy doom rituals or shredding as fast as you can in as many time signatures as possible…. But sometimes girls/boys/all genders of people just want to have fun.  Mangata and Covet are two fun bands I've come across on my quarantined April vacation.
Mangata hails from Louisiana and delivers what they call "lollipop gospel."  For fans of the Pixies, Amy Winehouse, and Erykah Badu, fairytale vocals dance over smart guitar lines and a groovy rhythm section.  They'll be reissuing their 2018 EP Hososhi with expanded material later in 2020 to introduce some concepts they've been working on for an upcoming full-length.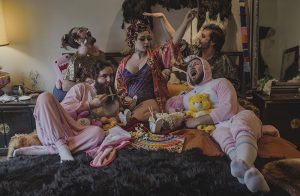 Have a listen to the original version here — just the glittery bubblegum I needed to take my mind off current events for a while.
Another band I've recently discovered is Covet, a mostly-instrumental prog trio from San Francisco.  They'll be releasing their sophomore album, technicolor, on June 5th via Triple Crown Records.  The lead single "nero," which they just put out a video for, is transcendent — and that's not an adjective to use lightly.  Lush guitar melodies evolve throughout the six minute song, playing cat and mouse with intricate percussion yet always sounding effortless.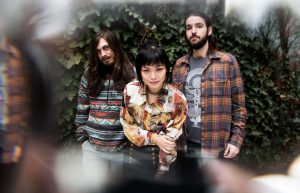 "But what about the fun, Jessie?"
If just listening to this song and imagining you're in a beautiful forest communing with talking chipmunks isn't fun enough for you, watch the video.  PEW PEW, gotcha!
Covet photo credit: Conner Feimster
For more from Alternative Control, find us on Facebook, Twitter, Instagram, Soundcloud, and bandcamp.  Plus, follow our 2020 coverage playlist on Spotify to hear Covet, Mangata, and many more!