Teachers have a lot of drinking to catch up on over summer vacation… But at long last, here are free downloads of Quality Control Volume 1, tracks 1-6.  Betcha never heard of Crawling Chaos…
1. 1942 by Black Table
This New York/New Jersey metal band has been a favorite of Alternative Control for some time. Read our interview with their bassist Matt Mellon here, and like them on Facebook to find out when they're coming to town!
2. Justice by RAIL
This Stamford band formed in 1997 and rocked area audiences for several years before taking time off to be "real grown-ups." But now RAIL is back in action with a giant drumset and a sound that blows the roof off. Keep an eye on these guys — any day, they could be tearing down a bar near you!
3. Faithful Unto Death by Crawling Chaos
Unless you hung around Danbury in the Myspace days, you've probably never heard of Crawling Chaos. But if you've seen Lyra, Lightsbane, Burn the Bodies, or Jimmy Junk Bird — or even defunct bands like Arcane Malevolence, Pink Missile, or Oriax — then you've seen CC members on stage doing whatever it is they do. (Mostly, being awesome.)
Disclaimer: Crawling Chaos does not endorse killing your girlfriend! It's called a narrator, people…
4. The Sword That Could Not Be Broken by Lyra
Fantasy nerds. Guitar-Pro wizards. "Green" enthusiasts. Great musicians. Lyra is more than the sum of its parts, taking inspiration from literature and mythology to create a unique, powerful addition to the Connecticut metal scene. Find them on Facebook; also, read the musings of vocalist Ryan Bair and bassist Johnny Pluckman on Alternative Control.
5. Down in The Elm by the Lost Riots
They're not called The Lost Riots for nothing — these patchy punks literally STARTED A RIOT on the New Haven green last year. How's that for street cred? Gotta be watch your back when you're down in the Elm… Check them out on Facebook and enjoy some fashion tips from bassist Matt Mullarkey.
6. Graves by Xenosis
"Progressive death metal is an oft-overlooked genre in the vast expanses of Metal-dom. While sharing in the knuckle-dragging brutality of traditional death metal, the progressive side adds elements of jazz and prog-rock to create a more cerebral, angular product. The newest release from CT-based Xenosis, entitled Haunted Skies, is tech-death to the core and an example of what can happen when great musicians stretch out their collective abilities." — Jeffrey Miles
For more on the kings of Connecticut death metal, read here and like them on Facebook.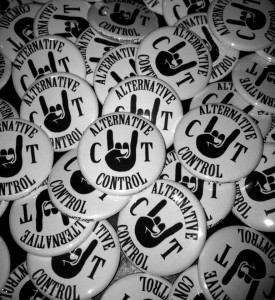 Thank you for downloading, sharing, and supporting local music!
Quality Control Volume 1 album artwork by Jim Clegg.
Remastering by UP Recording Studio.
Alternative Control on Soundcloud