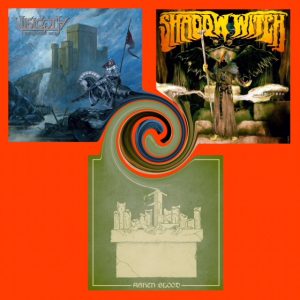 One thing these columns have made me realize is that I do most of my serious music listening in the car — so a recent three-hour round trip was the perfect opportunity to soak in some new tunes.  My band was playing a show in Norwich, which is our furthest destination to date; drummer Chris and I packed up the Corolla of Doom at his Norwalk home and set off on our journey.
First up was Green Druid.  This Colorado band will be putting out their LP Ashen Blood on March 16th; as one might guess from the home state and band name, this is a stoner band.  (Their press release describes them a "psychedelic stoner doom unit," to be exact.)  The opening track "Pale Blood Sky" lays out the heavy riffs nice and early.  Good thing, because Green Druid likes their songs long — at nine and a half minutes, "Pale Blood Sky" is actually one of the shorter ones.  The music is foreboding and enveloping, like hiking hours into the forest and realizing you're a little too stoned to find your way back.  No matter which way you turn, everything is green…  And once "Nightfall" kicks in, you know you're in trouble.  Preorder here to get lost in the woods.
But ultimately, Green Druid was not the music to listen to on a long car ride when you need to get pumped.  We switched over to Visigoth, driving the remainder of our journey in succinctly packaged triumph.   Imagine a medieval battle with Van Halen playing in the middle, and that's what you can expect from the Salt Lake City outfit's sophomore release Conqueror's Oath.  Released February 9th via Metal Blade, I bought the album upon hearing "Steel and Silver" and "Warrior Queen," and reading my favorite local journalist's interview with the band on New Noise.  So worth it.  These guys go all in.  Chris's review from the passenger seat: "This is fucking dope."  I don't know what else to say, except get your own dose of victorious American power metal here.
Riding high on Visigoth's swaggering riffs, we pulled into Strange Brew Pub and played what turned out to be an appropriately triumphant show opening for Kingston, New York's stoner rock sensation Shadow Witch.  These guys released their second full-length, Disciples of the Crow, in December 2017 via Salt of the Earth Records.  They put on a mesmerizing performance, with samples weaving between the songs and vocalist Earl Walker Lundy dancing barefoot around the stage like a shamanic Jim Morrison.  Just when I was thinking, "Something about all this reminds me of Soundgarden," Lundy dedicated the next song to Chris Cornell.  Disciples of the Crow is the sound of a band that's honed its craft and is now flying to new heights.  If you buy this album, pay the extra three bucks and get yourself a digipack CD because the artwork and layout are really cool. Plus, reading the lyrics gives an eye into the esoteric and political ideas that Shadow Witch has ensconced within their riffs.
There's certainly no shortage of good metal out there, both on the local and national scenes.   (And on a side note, Strange Brew has an extensive beer selection and chill atmosphere, should you find yourself on that side of the state.  Read up on some things to do in Eastern Connecticut here.)  What's the soundtrack to your journey?
Green Druid promo courtesy of Earsplit PR.  All opinions are my own.
For more from Alternative Control, find us on Facebook, Twitter, Instagram, Soundcloud, and bandcamp.