Editor's Note: Howdy, folks!  Alternative Control is taking stab at an oft' debated and oft' blogged-about topic: metal manners.  There are so many lists of "39 Stupid Things Your Band Does" or "12 Ways to Be a Dick at a Show," but still poor behavior prevails.  Will one more metal etiquette column change this?  Probably not, but our writers are adding their two cents anyways.  Lets begin with Vegetarian Metalhead…
I have attended hundreds of metal shows so I have plenty of experience on the subject of metal manners. I love metal heads and our culture but like any group there are annoying attitudes and behaviors we have to endure.
Short people observed.
Please be cognizant of short people. We try hard to find a spot where we can actually see the band and it crushes our soul when some tall douchebag plants himself in front of us.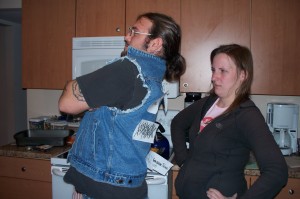 Get off the stage.
I'm often asked to take pictures or record local shows. I do this discretely from the audience in an effort to stay out of everyone's way. Don't be the girlfriend who is all over the stage getting close up shots of band members. It comes across as if YOU are trying to be center attention. Get the hell off the stage, especially if you're wearing mom jeans, and let the band do their thing.
No such thing as a free lunch.
As a band member's wife I don't expect to get in to his show free. If I can get in free, that's great more money for drinks but if I'm asked to pay I will. It's going towards the bands so they can get gas, pay for merchandise and possibly get loaded.
You don't own floor space.
There's always people who show up early and claim their spot by the stage but as far as I'm concerned once you leave that space for the restroom, it's no longer yours.
Stop talking.
I understand it's a metal show and people are singing and getting rowdy. That's fine but when I'm having a religious experience listening to Opeth, I'd better not hear a long, loud conversation that should be taking place by the bar.
Stop fucking around on your phone.
I want to see the show not the glare of your phone. You're distracting me when you're recording some shoddy footage for Instagram that no one is going to see. And stop texting or checking Facebook, you're letting everyone know you're bored. Enjoy the show! Live in the moment and stop wanting to be somewhere else.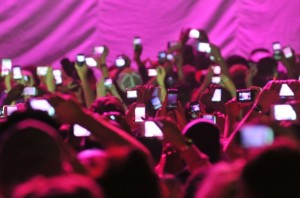 Don't get annihilated.
The pit is a place of chaos, physical release and possible injury but for the most part, it's fun for all. If you're wasted and flailing around, you're not looking out for people and someone is likely to get hurt.
Stop requesting a song…over and over.
Don't you love when you're enjoying the show and someone is shouting the title to a song the entire time? Shut up dummy, the band cannot hear you nor cares what you think their set list should be.
Not a fashion show.
Metal attire for men and women is typically jeans and a metal shirt. On occasion you'll see girls dressed like hookers who don't seem to know the first thing about metal. That's fine if you want to be eye candy but just know that no one respects this in the metal scene.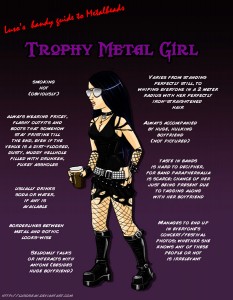 Relax, it's a metal show.
Although I just outlined all the things that annoy me at metal shows and I'm sounding really hypocritical, I have realistic expectations. It's important to be flexible at metal shows. People are going to bump in to you, block your view, spill beer on you etc. Don't take these offenses personal and just have fun!