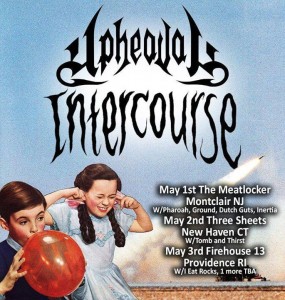 Our favorite purveyors of weird, noisy hardcore, Intercourse, are going on a brief three-day tour with Boston sludge merchants Upheaval at the end of this week. The run of dates will see the band play in Montclair, New Jersey at The Meatlocker on Friday, May 1, with Pharaoh, Ground, Dutch Guts and Inertia.  The Connecticut show takes place on Saturday May 2 at Three Sheets in New Haven; there they will be joined by crusty doom band Tomb & Thirst, who just put out a well-received album on Safety Meeting Records. The final date of the tour takes place on Sunday, May 3 at Firehouse 13 in Providence, Rhode Island and will feature I Eat Rocks and another one of our favorites in Grizzlor, who just recently wrapped upped a tour with Norwegian noise-punkers Barren Womb.
So, there really is no excuse why you shouldn't be at the show in New Haven on Saturday. But if you are feeling like traveling, you could go to "exotic" New Jersey or Rhode Island (which is also home to a bunch of fine, weird punk bands like Fucking Invincible, Lightning Bolt and Daughters, just to name a few.)
Do you have anything better planned this weekend?