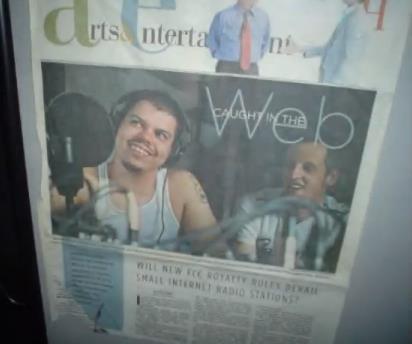 The local metal scene is full of characters, and Bob Marino of Official FN Radio is definitely one of the protagonists.  He has promoted Connecticut metal bands (and many others) through his online radio station for the past ten years, seeking no tangible benefits beyond the fun he has doing it.  As OFNR's tenth anniversary show approaches, Alternative Control took a few minutes to talk with Marino, a.k.a. Knob, about the station's past, present, and future.  Make sure you celebrate with him on Saturday, September 24th at Cherry Street Station in Wallingford!
It's clear that you've kept OFNR going for ten years because of a love of music and a desire to spread the word about independent artists.  What are some of OFNR's proudest moments over A FREAKIN' DECADE of existence?
Before we get started, I just want to thank each and every person who has ever tuned in, come to one of our events, donated, or otherwise supported OFNR over the past 10 years. Without that support this simply would not exist. I am humbled and very fortunate to have as much support as I do.
We've done a lot of really awesome things over the past decade. But as far as proudest moments, I think being on the front page of the Entertainment section of the Waterbury Republican in 2007 for being at the forefront of internet royalties and keeping things fair for small webcasters was the biggest. That has been such a huge part of OFNR as a station. I genuinely care about the internet radio industry as a whole. It's more than just about me, or my station.
In that vein, another proud moment for me has been helping my friends over at Bullspike Radio, run by two brothers with muscular dystrophy who rock harder than anyone I know.  When they first started out six years ago they had no idea what to do or how. I was there to give them a hand and help them set up. Then again when Live365 went out of business at the beginning of this year, I was there to ensure they didn't go out of business. I love those guys, they are like family to me. I would do anything for them, no questions asked.
Another proud moment would be winning $1000 From Live365.com for this video (below) in 2010. That was pretty awesome.
Most recently, being the featured metal station for Stream Licensing this past July was a huge thing especially being so long in the tooth at this. Knowing that we still do it at such a high level is important. Quality programming and delivery is just as important today as when we started. Even though we are a small station, I want people to listen and hear as good quality, if not better than, the big stations out there.
Have there been times when you've thought about throwing in the towel?
There have been many times when doubt has crept in. When I have felt that what I do isn't really that important or appreciated, when things get out of balance…  There are days when I think to myself, "What the fuck am I doing? Why am I spending so much money and time on this? No one cares."   But, then I go to a show like Slothfest and Ron's brother makes a point to come up to me and thank me personally for broadcasting, recording, and just being there. When people say thanks like that, and genuinely mean it, I never quite know what to say. It's humbling. Those moments keep me from quitting.
Though if you remember I did stop. Back when my youngest son was going to be born in 2013. I pulled everything down off the studio walls. I sold all my gear. I stopped 100% I actually cried that day… I felt like I tried so hard to do something bigger than myself for the community and I failed.
That lasted all of two months. And it was two months of nonstop calls, emails, and Facebook messages from some of my closest friends, and bands like Stagger, Continuum, & Cyperna, saying I had to find a way to make it work out. That's when ofnrforever.com came to be. As a reminder to myself to never do that again. That this is something special to keep going. I cannot possibly thank those people enough.
What's the latest news with that HR-1733 stuff?
No real movement to change anything right now because it's an election year, though just recently I saw that Live365 was making a comeback. Though I'm not sure in what capacity exactly. Nevertheless seeing them make a return really means a lot to me even though I haven't used the service in six years. They are a company that changed the way internet radio was delivered, and they were the first platform where I got started. If not for their service, and maybe even more so their forums, I wouldn't have had a clue what to do. There was no manual on how to start a radio station. In 2006 internet radio was not what it is now what with Pandora and Spotify and the like.
You seem to have a resurgence of talk shows on OFNR lately.  Tell me a little bit about your music and talk programming.
When I go live, I want to talk. We play music 24/7 so I feel that when we go live, we should provide that human element. I don't want to be a disc jockey as much as a talk show host. I love getting on the air and venting, or talking to guests both on the phone and in studio. I'm a huge fan of talk radio, well let me correct that, of THE talk radio king, Howard Stern. I don't try to emulate him because there's only one king. I'm just a pauper in his kingdom, but I do thoroughly enjoy what he does and his show is truly the best thing on radio.
Recently adding Josh and Doug of Fear The Masses biweekly for their politics show has been an interesting dynamic as it is strictly talk with very few music breaks. Those guys are highly educated, super passionate and all around great guys to do a show with. It's been really awesome to do something way out of my wheelhouse with that show.
We also syndicate shows Maximum Threshold Radio, The Asylum, and Johnny Demon's Radio Show. This helps round out the music with that human element without having to physically be on the air myself. We've also recently picked up the League of Extraordinary Frontmen which is a great show from Metal Cyndicate. The nerd in me loves listening to a bunch of close friends geek out so I'm excited to be adding that to our programming.
You're the main dude on the Indie 180 show — what do you think it takes to be a good interviewer?
I think there are a few key things: knowing your audience (and) knowing your interview subject. Those have to come into play.  Interviewing Angela and Marrissa is a much different interview than talking to a band and certainly different than one that has been on before. You can't take a formula and apply it to everyone who comes in. Really it's all about what what i think people want to know or would be entertained by.
Also, one of the coolest aspects of a show like Indie 180 is the idea of taking conversations you might hear at a metal show and putting them on the air. It becomes more of a discussion than an interview.
Having a passion for what the guests are discussing is vital as well. I'm genuinely interested in what my guests have to say. And if they are playing music, that's a real treat because it's like getting a private concert and having the ability to talk about the music and what the song means, and why it was written.

How do you balance objectivity with a desire to "support the scene"?
One of the best parts of OFNR is I don't have to play politics. I'm honest and upfront. I'll give you my straight forward opinion, because at the end of the day who am I really? Just one music fan out of how many?  But since no one pays me to do this, I don't have to say something is great because it might hurt someone's feelings to say otherwise.
I don't like everything, or every band I come across, but, a lot of times I'll still spin it if the music is good. Generally, if I really don't like something, I just don't play the music or even talk about that particular artist or band.  I don't make a big deal of it. I just don't play it or discuss it. If a guest brings up a band that I don't like or am not into, I don't censor them. It makes for interesting conversation and sometimes I will see or hear something I might have missed the first time around. Music is super subjective.
I definitely tend to avoid discussing other radio stations for the most part. They are irrelevant to me and what I'm doing in the sense that I'm not competing with them. I feel I do something different.  OFNR is more than just a radio station. I do as much as I can to try and help bands, from videos to flyers. Whatever I can to help. I know my radio reach isn't as big as some of the big name outlets so I try to use OFNR as a sort of volunteering in my community. At the end of the day, I actually care about the bands and just want to support them and their art. I don't really care so much about "listeners" or money. That's what makes OFNR different from any other radio station in this state.
What kinds of shifts have you seen in The Scene over the past ten years?
There are ebbs and flows in the scene. I remember going to Toad's in our early years and watching local bands sell that venue out without a national headliner. Now that's almost unheard of.
Venue deaths have been a big problem as well
I also have been fortunate to be a part of a sort of camaraderie, like a big family at shows. There are people I see at almost every show I go to. And it doesn't matter what venue it is.
What is the most positive thing going on in CT's local metal scene right now?
There is a huge amount of ridiculous talent out here — so many bands that really blow me away every time I see them.
If you could change one thing about The Scene, what would it be?  After listening to the "Angie and Marrissa" segment, I have an idea about what it might be…
Booking is still a big problem in our scene, and one that I don't think will ever be fixed. Shows fighting each other on the same night sucks. As a fan, to have to pick and choose which show you want to go to is sometimes super difficult. For me, being committed to one show and have another pop up with a ridiculous bill sucks because while the show I'm committed to will be amazing, there is another amazing show happening across the state and I am going to miss out.

I feel that if someone could figure out a way to unify everyone, show numbers could increase. I think the idea of Promoter Town was a good effort to attempt to bring people together, but it's hard. There are too few venues, and too many bands. Bands want to play, need to play, venues need those bands to play, and lots of times they have no choice but to book over each other. It's really the nature of the business.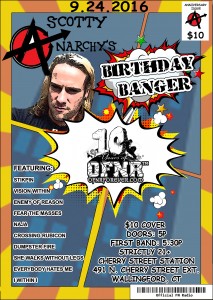 Speaking of which, tell me about the lineup for ten-year anniversary show at Cherry Street on 9/24.
This year we have 10 bands from the tri-state area for $10. That's $1 a band! I really hope people come out to support the amazing lineup of bands this year. It's a mixed bill meaning we've got rock and metal sharing the same stage so its a little bit of something for everyone.
The bands include: Vision Within, She Walks Without Legs, ,Crossing Rubicon, Fear The Masses, Everybody Hates Me, Stikpin, NAJA, Enemy of Reason, Dumpster Fire, & I within I.  Plus, this year, Scott of Crossing Rubicon asked to combine his birthday show with the FN festivities which as a big fan of Crossing Rubicon seemed like a no brainer. I'm very excited for this show, being the 10 year and all and I'm super fortunate and grateful to have each band on the bill.
Of course holding the event at Cherry Street is a must. They have been so good to me and OFNR over the years. I truly cannot thank Dennis, Holly, Sarah, and Scott enough for being such amazing people and giving me a place to see and broadcast great shows. They have gone above and beyond.
Any last words?
Go out support a local show wherever you are. The talent and heart in the local underground scene will be ten times what you will usually get from the big name national acts and for a fraction of the price. Be a part of something bigger than yourself. In the end you'll thank yourself.
For more from Knob and crew, find OFNR on Facebook, Twitter, Youtube, and the web!
And for more from Alternative Control, find us on Facebook, Twitter, Instagram, Soundcloud, and bandcamp.